Top Things To Do
Save 40%

at 5 top New York attractions.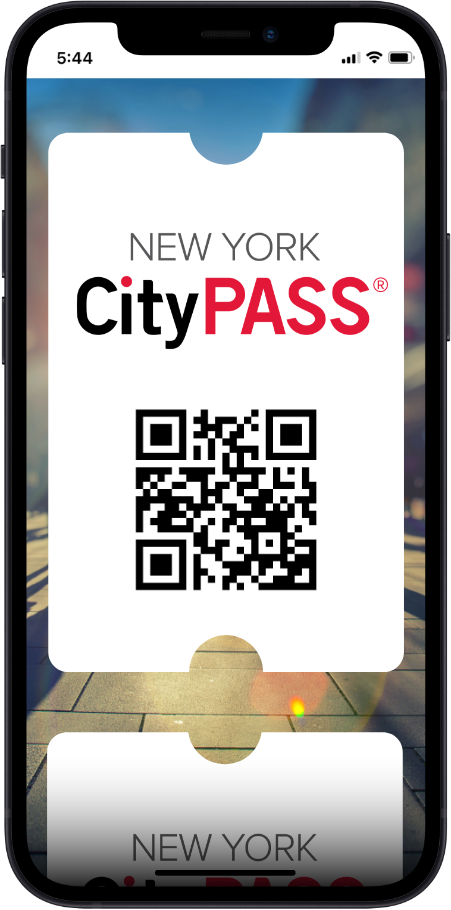 Get ready for your trip to New York City!
Smart Savings. Best Value.
The research is done. The savings is significant. If you're looking for the best things to do in New York, you'll love the simplicity and convenience of New York CityPASS® tickets.
Includes admission to 5 attractions
Visit each attraction below.
Plus get admission to 3 more attractions of your choice. No need to choose now—decide later.
What's Included and What You Save
Frequently Asked Questions
Want to See More Options from CityPASS?
CityPASS offers three ways to see New York: CityPASS, our best seller; C3, great for short stays; or C-All, for those who don't want to miss a thing. View a comparison.
Instant Delivery of Mobile Tickets
365-Day Risk-Free Returns
Read reviews from CityPASS® travelers.
New York CityPASS
Totally worth it! Saved us a lot of time and energy! In the city that never sleeps, every minute counts!!!
New York CityPASS
A great way to view the wonderful city of New York on a budget! My partner and I thoroughly enjoyed all of our days out on this pass and were impressed with the amount we saved, leaving me more money to shop with!!
Great trip to the greatest city in the world
My family loved New York City and New York CityPASS enabled us to see many attractions in a very short time. We were only in New York for four nights, but we packed those days and nights with exciting things to see and do. We are very likely to use CityPASS again in a different city, as we try to see the USA!
Lovin' the Big Apple
This was our first time using a CityPASS. We were planning our trip when we saw several activity passes for New York. This was the best option for us since we were only staying for 5 days. When we got to the various attractions, we compared prices. We saved a lot! I've now recommended this pass to friends who plan a trip to the Big Apple. We would definitely buy one again when we visit another big city.
New York CityPASS
My daughter and I each had a New York CityPASS and were thrilled with every venue we visited. We both thought that the New York CityPASS encouraged us to visit some different sights we may not have even considered in our original trip planning sessions. The New York CityPASS was a great deal and I would highly recommend it to anyone who visits New York.
New York CityPASS
is rated out of
5
by
17848
.
Rated

5

out of

5
by
TFaye
from
The CityPass was AWESOME!
I bought the CityPass for my twin daughters and my trip to NYC and it was money well spent! We could schedule the attractions we wanted to see and then built our trip around those excursions. It was so nice to skip the line and just go right in with our tickets or the CityPass itself.
Date published: 2022-06-12
Rated

5

out of

5
by
DylanC
from
Great value for great attractions!
My wife and I went to NYC for the first time last month and we bought a city pass and I am so glad we did! It guides you easily to see all the landmarks of New York and you can book everything to your schedule and you can change the times if your schedule changes easily! The price is great and pretty much booked our whole trip up! Great value and recommend to anyone coming to NYC, especially for the first time!
Date published: 2022-06-09
Rated

5

out of

5
by
Happytravel
from
Brillant!
I bought this pass for my in laws for when they went to New york with us. It was a last minute buy and it was so easy and straightforward to use the pass and reserve each attraction as we were going to new york memorial day weekend. We saved so much money buying this pass and the fact that you can reserve your time slot with no queues is great. Myself and my partner ended up buying another pass a couple for months prior that did not allow us to reserve a time slot and we had to queue and we ended up not being able to get to one attraction because of this where as the in laws who had reserved a time slot of the attraction with the city pass got in. overall a great saving easy using pass.
Date published: 2022-06-06
Rated

5

out of

5
by
JellyKelly42
from
So great and worth every penny!
I bought this because the discount was quite big on 5 attractions and I am so happy I did. The booking process was so simple and the pass gave us access to so many extras we weren't expecting! We got all 4 of the extra exhibits at the natural history museum (also make sure you set a whole day aside for that it's worth every minute!!). The passes were clear and easy to use and we got to see all the things we wanted to and more. Absolutely loved it and would recommend to anyone visiting.
Date published: 2022-05-20
Rated

5

out of

5
by
Nick
from
Great Pass
Used the one that visited 5 places! Helped us plan our trip. Loved all the places!!
Date published: 2022-03-27
Rated

5

out of

5
by
allaynaw
from
Absolutely amazing.
CityPASS saved me so much money in NYC and let me experience plenty of things I haven't for such a low price. It was very easy and understandable to use.
Date published: 2021-08-15
Rated

5

out of

5
by
Sanford5
from
Awesome NYC Trip
Half way through a 7 day vacation in NYC. CityPASS made it so easy and saved $. It had all of the main tourist attractions that we were interested in and the ticketless entry (via iPhone instead) is simple and easy to use. We did Statue of Liberty and Ellis island (great history), 9/11 memorial and museum (so moving, plan on 3+ hours) and Empire State Building at sunset (incredible). Still have Top of the Rock, The Met and the National History Museum to go. Making reservations is important but is also easy to do. You need to plan your days in order to make the reservations.
Date published: 2021-06-08
Rated

5

out of

5
by
GettingAroundTheCountry
from
Money well spent!
I am so glad that we purchased this Pass. I took my q8 year old daughter to NYC for the first time (for both of us) as her high school graduation present. We only had 4 nights in the city and it was so helpful to have this pass and plan our days according to activities in the same area each day. The pass saved us money and was super easy to use and make reservations. I would definitely purchase again.
Date published: 2021-06-02
Rated

5

out of

5
by
Princho3
from
Absolutely unforgettable
My experience with City pass was very pleasant and I would use it on my next trips
Date published: 2021-05-26
Rated

5

out of

5
by
FastPass
from
Convenient
CityPASS was pretty easy to use and convenient when arriving at places. If you have a smart phone just pull the the email with code to avoid wait times. With a time packed trip- this made our experience faster and more enjoyable.
Date published: 2021-05-05
Plan your visit.
The My CityPASS™ app has all of the details you need for a great experience, including reservation and entry information, attraction details, maps, and extra offers and discounts from our partners.
Explore attraction locations.
About Us
City Pass was created in 1997 by founders Mike and Mike to inspire travelers to see the most iconic attractions in North America, all while saving money.
Still family-owned today, City Pass is a small company of 50+ employees who share a passion for travel. We love to see our customers have fun and explore new places, and we hope you'll share your memories with us, too.
Instant Delivery of Mobile Tickets
365-Day Risk-Free Returns