Save 40%

at 5 top New York City attractions.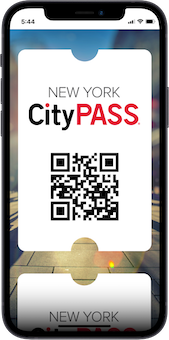 New York attractions may be sold out or require a wait for the next available entry; for details, view the Availability Calendar.

We suggest making reservations as soon as possible as attractions may sell out or require a wait for next available entry. To see reservation requirements or to make reservations, visit the CityPASS Travel Guide.
Spend less. Experience more.
Get smart savings and the best value with CityPASS tickets. See the best attractions in New York City in one simple, convenient purchase.
What's Included and What You Save
CityPASS Travel Guide: Reservations & Planning
Tips for Using CityPASS Tickets
Short on time?
CityPASS also offers New York C3, a ticket option that saves you up to 34% on your choice of 3 attractions. View a comparison.
Instant Delivery of Mobile Tickets
365-Day Risk-Free Returns
Read reviews from CityPASS travelers.
New York CityPASS
Totally worth it! Saved us a lot of time and energy! In the city that never sleeps, every minute counts!!!
New York CityPASS
A great way to view the wonderful city of New York on a budget! My partner and I thoroughly enjoyed all of our days out on this pass and were impressed with the amount we saved, leaving me more money to shop with!!
Great trip to the greatest city in the world
My family loved New York City and New York CityPASS enabled us to see many attractions in a very short time. We were only in New York for four nights, but we packed those days and nights with exciting things to see and do. We are very likely to use CityPASS again in a different city, as we try to see the USA!
Lovin' the Big Apple
This was our first time using a CityPASS. We were planning our trip when we saw several activity passes for New York. This was the best option for us since we were only staying for 5 days. When we got to the various attractions, we compared prices. We saved a lot! I've now recommended this pass to friends who plan a trip to the Big Apple. We would definitely buy one again when we visit another big city.
New York CityPASS
My daughter and I each had a New York CityPASS and were thrilled with every venue we visited. We both thought that the New York CityPASS encouraged us to visit some different sights we may not have even considered in our original trip planning sessions. The New York CityPASS was a great deal and I would highly recommend it to anyone who visits New York.
New York CityPASS
is rated out of
5
by
16979
.
Rated

5

out of

5
by
Nick
from
Great Pass
Used the one that visited 5 places! Helped us plan our trip. Loved all the places!!
Date published: 2022-03-27
Rated

5

out of

5
by
allaynaw
from
Absolutely amazing.
CityPASS saved me so much money in NYC and let me experience plenty of things I haven't for such a low price. It was very easy and understandable to use.
Date published: 2021-08-15
Rated

5

out of

5
by
Sanford5
from
Awesome NYC Trip
Half way through a 7 day vacation in NYC. CityPASS made it so easy and saved $. It had all of the main tourist attractions that we were interested in and the ticketless entry (via iPhone instead) is simple and easy to use. We did Statue of Liberty and Ellis island (great history), 9/11 memorial and museum (so moving, plan on 3+ hours) and Empire State Building at sunset (incredible). Still have Top of the Rock, The Met and the National History Museum to go. Making reservations is important but is also easy to do. You need to plan your days in order to make the reservations.
Date published: 2021-06-08
Rated

5

out of

5
by
GettingAroundTheCountry
from
Money well spent!
I am so glad that we purchased this Pass. I took my q8 year old daughter to NYC for the first time (for both of us) as her high school graduation present. We only had 4 nights in the city and it was so helpful to have this pass and plan our days according to activities in the same area each day. The pass saved us money and was super easy to use and make reservations. I would definitely purchase again.
Date published: 2021-06-02
Rated

5

out of

5
by
Princho3
from
Absolutely unforgettable
My experience with City pass was very pleasant and I would use it on my next trips
Date published: 2021-05-26
Rated

5

out of

5
by
FastPass
from
Convenient
CityPASS was pretty easy to use and convenient when arriving at places. If you have a smart phone just pull the the email with code to avoid wait times. With a time packed trip- this made our experience faster and more enjoyable.
Date published: 2021-05-05
Rated

5

out of

5
by
Lts923
from
Always great!
Used city pass before in other but cities. Always great attractions. Price is always fair once you realize the value you get for your money. Easily downloads to your apple wallet or Google pay. Great service use them every vacation in a new place. New York was amazing!
Date published: 2021-03-31
Rated

5

out of

5
by
Moni
from
Great Purchase!
First time going to NYC so I bought the city pass and I am so happy I did! I was able to go see all the major attractions for a great price! It made everything super simple for me to make reservations to see all the attractions and the tickets were right in my phone.
Date published: 2021-03-26
Rated

5

out of

5
by
AnnPinheiro
from
Definitely worth it
I was in New York for four days last year and didn't have much time to plan the visit ahead. CityPASS was a great helper for me since I didn't have to book the main attractions by myself, which made me save time and money and enjoy the trip without stress! Also, the translations available on the website were very useful. Definitely using CityPASS again next time.
Date published: 2020-08-10
Rated

4

out of

5
by
Marie1094
from
Worth the price
I bought City Pass for my first time in New-York to do all the essentiels monuments and I don't regret it ! Just make sure you have enough time to do all of them (I had 8 days in New-York and I had enough time to do the 6 attractions).
Date published: 2019-09-04
Plan your visit.
The CityPASS Travel Guide has all of the details you need for a great experience, including reservation and entry information, attraction details, safety measures, an interactive map, and extra offers and discounts from our partners.
Explore attraction locations.
About Us
CityPASS was created in 1997 by founders Mike and Mike to inspire travelers to see the most iconic attractions in North America, all while saving money.
Still family-owned today, CityPASS is a small company of 40+ employees who share a passion for travel. We love to see our customers have fun and explore new places, and we hope you'll share your memories with us, too.
Instant Delivery of Mobile Tickets
365-Day Risk-Free Returns