Articles by City & Category
Where To Find the Best Authentic New York Pizza
June 12, 2023 By CityPASS
There's a lot of good pizza in the world, but if you've tried it in New York or Staten Island, you can taste the difference. Something about authentic New York pizza sets it apart from your typical neighborhood pizza, but it can be hard to pinpoint what that is. What is New York style pizza and what makes it unique?
This article breaks down one of the city's most iconic dishes: New York pizza. Keep reading to learn more about how it's made, what makes it special, and where to find it.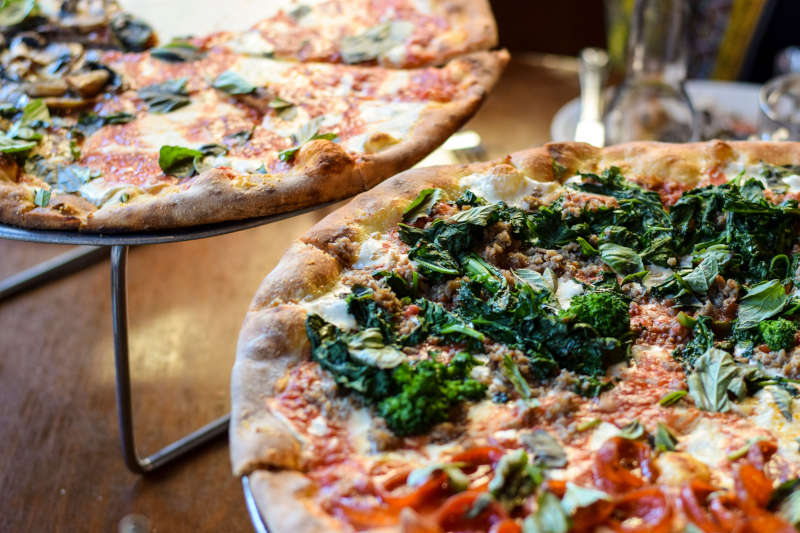 What Is Authentic New York Style Pizza?
Since the original New York pizza was made by Italian immigrants, it closely resembled the Italian pizza style. Coal ovens were the standard back then, and the pizza was made with fresh ingredients and served whole. There was more sauce than you're likely used to, topped off with a little bit of fresh mozzarella.
Over time, a distinct style of pizza emerged in New York. This new style was made to be served by the slice, making it easier to grab and go. The switch to gas ovens necessitated the use of low-moisture mozzarella, which almost completely covers a thin layer of sauce.
What Makes New York Pizza Different?
What gives pizza from New York its unique taste? There are multiple theories. It might be the water used in the dough. The tap water in New York has different minerals from the water in other places. Some people think that they contribute to the pizza's flavor when cooked. Some out-of-state restaurants even import New York tap water for use in their pizzas, which seems to improve its flavor, according to blind taste tests.
Others think the repeated use of ovens gives them a unique flavor from particles captured in the cooking process, and that flavor seeps into pizzas cooked in those ovens.
The unparalleled taste of New York pizza can't be denied. Maybe the answer lies in history and tradition itself. After all, many New York pizzerias cook with the freshest ingredients imported straight from Italy, and that has to count for something.
Traditional Styles of New York Pizza
There are many types of pizza in the Big Apple — far too many to list here. Instead, check out a few of the most popular styles and what sets each type of pizza apart:
Classic coal oven: The original New York pizza style is still popular today. This crunchy pizza is served whole, topped with a little bit of fresh mozzarella, and eaten with a knife and fork.
New York slice: The "modern" New York pizza is covered in low-moisture, full-fat mozzarella. It's usually served by the slice on a paper plate. Each slice of pizza is quite large, so you might find even one slice filling!
Sicilian: These thick-crust pizzas are served in rectangular slices. They're cooked in gas stoves like the "normal" New York slice, but you'll find more sauce on them and fewer toppings.
Must-have Fresh and Quality Ingredients
A pizza isn't New York style without three things: tomato sauce, mozzarella cheese, and crust made from high-gluten flour. While there is room for creativity, each of these three ingredients is a necessary part of a true New York pizza.
The spices of choice are dried basil, oregano, and red chili pepper. You'll usually find them in shakers for use at your discretion.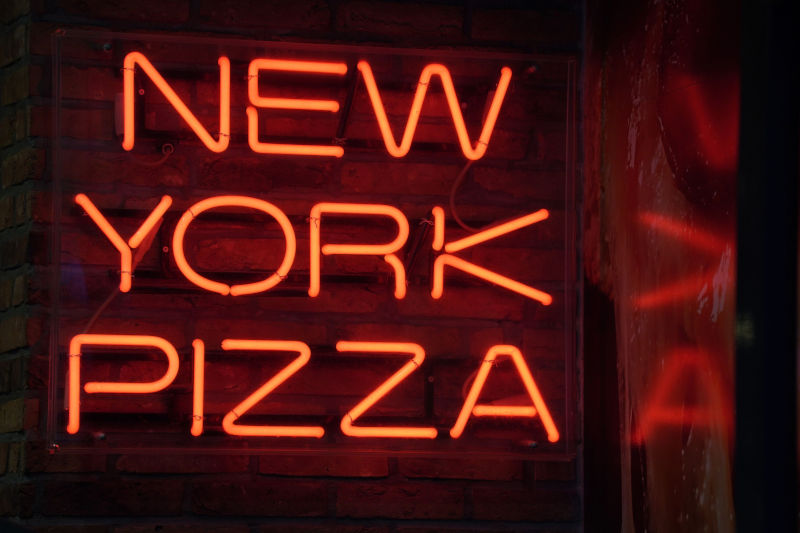 Our 5 Top Picks for Best New York Authentic Pizza Joints
If you're looking for the best pizza in New York City, we've got you covered. Here are a few of our favorite places to get New York style pizza:
Lucali
When Mark Iacono's favorite childhood candy store closed down, he bought the space and opened a pizzeria despite having no experience. Six years later, he served Beyonce and Jay-Z after the Grammys.
Lucali isn't just famous — it's often called the best pizza in the city. This pizza spot is old-school with surly servers and dough rolled out with wine bottles, and the pizza is thin and chewy, made with three cheeses and mounds of basil. Getting in can be a pain, but with just one bite of Lucali's brick oven-cooked pizzas, you'll understand why.
Rubirosa Ristorante
Rubirosa has been serving Italian food since 2009, but the restaurant's pizza is based on a family recipe that's more than 60 years old. Add a Michelin Bib Gourmand award, and it's clear that you'll enjoy your time here.
Here you'll find classic pizza, but you'll also find unique options like pizza with vodka sauce, sausage and broccoli rabe, and the Honey Pie which is made with spiced honey.
In 2022, Rubirosa began selling its sauces, pasta, and olive oils online. This is a good way to experience the restaurant's signature flavor even if visiting in person isn't an option.
Joe's Pizza
Founded in 1975, Joe's has made quite a name for itself, with appearances in multiple movies like "Spider Man 2." It's not hard to see why. Its owner, Joe Pozzuolli, comes from Naples, the birthplace of pizza. You can get Joe's Pizza whole or by the slice.
In addition to its multiple New York locations, you can find this famous pizzeria in Michigan, Florida, and even China! No matter where you get it, you'll get an authentic, iconic New York flavor.
Ops
Ops is a restaurant and bar with a cozy atmosphere. Once a garage, this space now has a relaxed, laid-back vibe with indoor or outdoor seating.
Choose from Margherita, Sicilian, and other flavors on sourdough crust. Ops also offers calzones, salad, and wine.
Lombardi's Coal Oven Pizza
If you're looking for the most authentic New York pizza, this is probably it. Lombardi's is often called America's first pizzeria. It opened in 1905. While the details of Lombardi's history are up for debate, its iconic, cuisine-defining taste is not.
Lombardi's is one of the few pizza spots in New York still cooking with coal ovens. Here, you can also try Buddy's "Cake Boss" pizza and the restaurant's famous Clam Pie. If you want to experience a blast from the past that still holds up to this day, this cultural icon is a must-visit.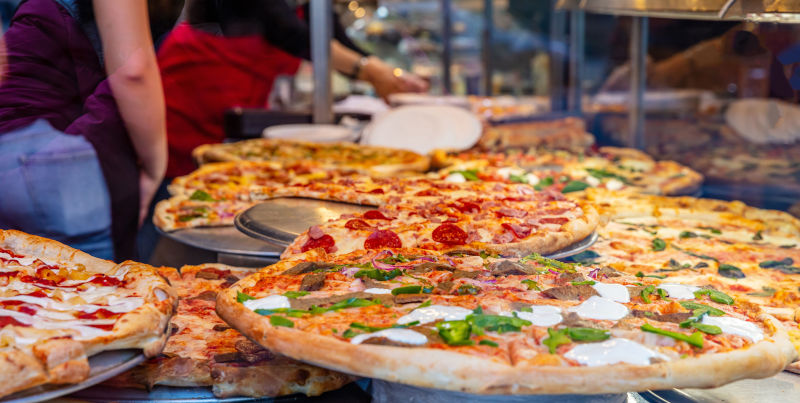 Grab a Slice After Your Day at New York's Finest Attractions
While any of these New York best pizza restaurants are worth visiting, why not plan a New York vacation to get the most out of your trip? With CityPASS® tickets, you can save on NYC's top attractions. See the Big Apple's most iconic locations, then relax in the evening with the best pizza New York has to offer.
New York's pizza scene is waiting, so get CityPASS® tickets and start planning your trip today!
New York City Lodging
To get the most out of your stay in New York City, we recommend finding lodging near New York City's top attractions. Use this map to find the right lodging for you: