Articles by City & Category
Best Little Italy Restaurants in NYC
September 18, 2023 By CityPASS
New York City is famous for its culinary scene that tells the tales of the people that helped shape the city through delicious dishes. From dim sum to delis, New York has it all. However, no trip to the Big Apple is complete without a stop at an Italian restaurant in Little Italy.
Whether you're looking for fresh pasta, pizza fresh from a wood-fired oven, or other Italian delicacies, you're sure to find it in this charming neighborhood. Here are some of the best Little Italy restaurants NYC has to offer.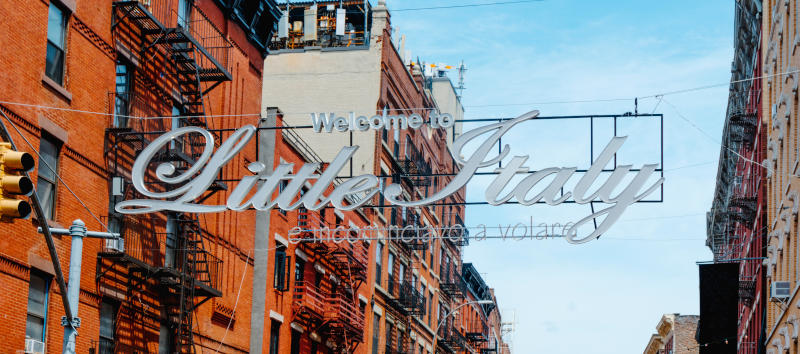 The History Behind Little Italy in NYC
During the 19th century, New York saw a massive influx of Italian immigrants who decided to make this city their new home. With them, they brought their language, culture, traditions, and, of course, food.
Once New Yorkers got a taste of the authentic cuisine, Little Italy restaurants became a hotspot for Italians and non-Italians alike. Over the years, the neighborhood has shrunk in size, but there's no shortage of eateries where you can sample classic dishes.
Where Is Little Italy Located?
The neighborhood is defined by these Little Italy NYC directions: north of Chinatown and divided from the East Side by Canal Street. While the neighborhood used to be bigger, it's now mostly clustered around its main thoroughfare, Mulberry Street.
What Makes the Italian Food in Little Italy so Unique?
No place does pasta or pizza in Little Italy NYC quite like the restaurants you'll find on this list. Little Italy was shaped by the Southern Italian culture of the immigrants who settled here, meaning many recipes on the menus of Little Italy NYC restaurants remain unchanged. You're literally taking a bite out of New York history with each twirl of pasta or nibble of Neapolitan pizza.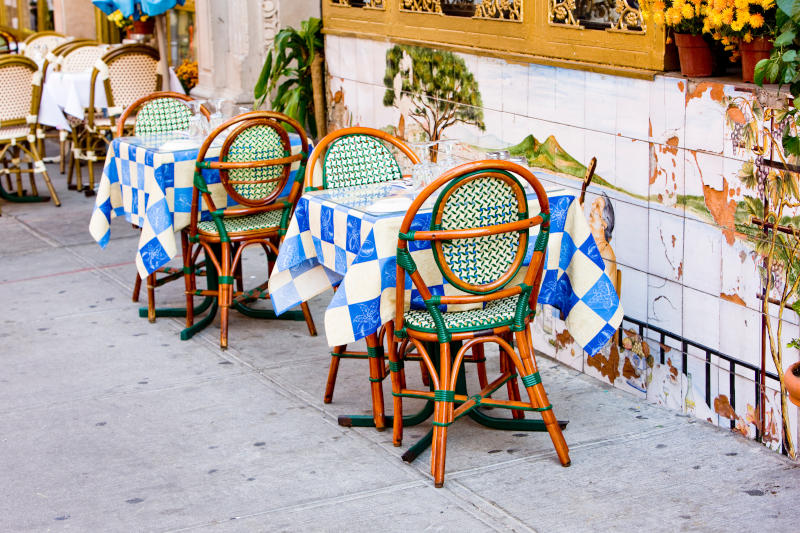 Our Top Picks of Famous Little Italy Restaurants in NYC
While it's no easy task to narrow down a list of the best Little Italy New York restaurants, we've picked some of the most iconic spots that mix Old World comfort food and New York charm. So, if you're wondering where to eat in Little Italy NYC, here are eight spots where you can't go wrong.
Da Nico
Da Nico is a family-run restaurant that's been serving classic Italian favorites since 1993. The lunch and dinner menus feature brick oven pizzas, fresh pasta, and tasty salads. While the dishes are straight from the Old World, you can get whole wheat or gluten-free options upon request.
In the warmer months, ask to sit outside in the garden to experience Da Nico's full charm and ambiance. Leafy plants and twinkling lights set the magic mood for a dinner you won't soon forget.
Puglia
Puglia is one of the most famous Little Italy restaurants in NYC, with 104 years of history and counting. Locals and visitors alike come for the live music, old-school memorabilia lining the walls, and tasty Italian dishes. This place is cozy, a bit noisy, and very fun, so don't be afraid to get up and sing and dance with those around you.
The menu has various antipasti, like baked clams and bruschetta, and a full menu of pizza, pasta, and seafood dishes. If you want to try something unique, opt for Puglia's Famous Rigatoni Vodka Pizza.
Zia Maria
If you're looking for something more modern, Zia Maria delivers on aesthetics without sacrificing taste or tradition. When it comes to Little Italy restaurants NYC, this eatery is all about the diner's experience from start to finish. The sleek interior contrasts with classic dishes straight from Nonna's recipe book.
Another plus is that Zia Maria is an excellent vegan option inLittle Italy. While not wholly gluten-free, Zia Maria offers several options for anyone looking for gluten-free restaurants. Try the mouth-watering Caprese salad with fresh mozzarella or Salmone al Forno to get a GF-friendly taste of Italy.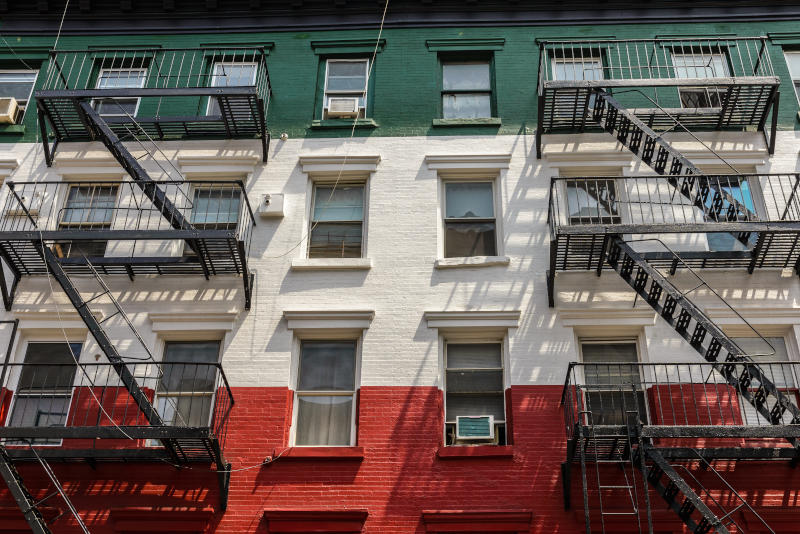 Il Cortile Restaurant
While many of Little Italy's best restaurants specialize in Southern Italian cuisine, Il Cortile features dishes from the north. Opened in 1975, this restaurant retains much of its original charm, with classic dishes and a beautifully decorated atrium that feels like a cozy Italian terrace.
Il Cortile has both an a la carte menu and a fixed-price menu for groups and special occasions. As this restaurant is more upscale, you won't find pizza here.
La Mela Ristorante
Want an authentic Italian experience? La Mela Ristorante is a family-style restaurant serving up big portions meant to be shared. The extensive menu features all kinds of antipasti, pasta, meat, and seafood dishes.
One big draw is the $ 19 lunch menu featuring salad, bread, and a tasty entree. The portions are very generous, so you'll definitely get your money's worth. And be sure to leave room for dessert, as there are several sweet treats to finish off your meal with.
Aunt Jake's
Noodle lovers should head to Aunt Jake's, which is all about handmade pasta. Choose your favorite noodle shape from the menu and pair it with a sauce to create your perfect bowl of pasta, just how you like it.
Besides pasta delights, Aunt Jake's also has a few house specialties featuring meat and seafood and innovative starters. While not as old school as many others on this list, Aunt Jake's is undoubtedly a must for anyone who appreciates a good plate of pasta.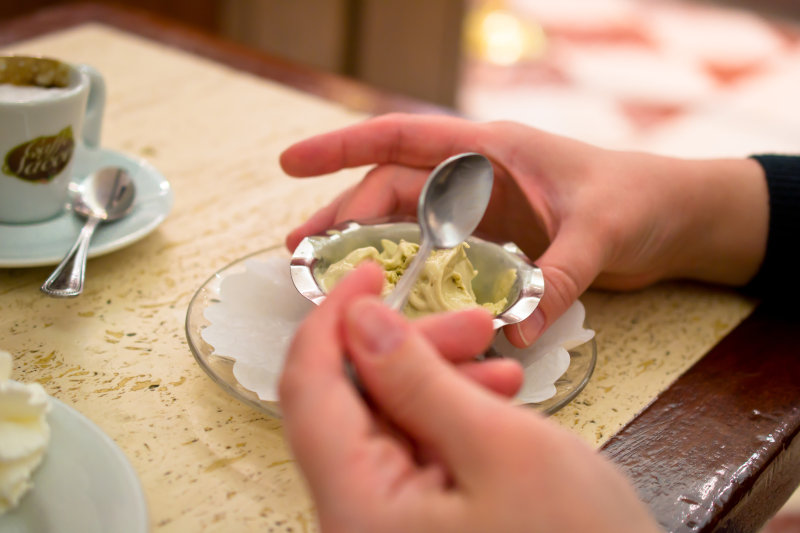 Di Palo's
Part shop, part wine bar, Di Palo's is an excellent choice if you want to experience Italian cuisine a bit differently. The focus here is on tasty deli meats and cheeses that perfectly pair with all kinds of Italian wines.
Fresh mozzarella, authentic mortadella, and crusty bread are just a few of the treasures that locals and tourists come to sample and buy. Grab a number on your way in to ensure you get served.
Pasquale Jones
Pasquale Jones is a modern take on classic Italian cooking that's open for brunch and dinner. The drinks list features several Italian wines to pair with small plates or entrees. The menu isn't very extensive, but you'll find pizza, pasta, and antipasti that are all perfect for sharing (or not!).
Explore Little Italy and Experience Italian Cuisine Like Never Before
If you want to save money to spend at the best restaurants in Little Italy NYC, buying a New York CityPASS® ticket is just the thing. With three options to choose from that can save you up to on NYC's top things to do, it's the easiest way to stretch your New York budget.
Saving some cash on attractions — including the Empire State Building and the American Museum of Natural History — leaves more moolah in your wallet for pizza, pasta, and tiramisu. That's a vacation win-win!
New York City Lodging
To get the most out of your stay in New York City, we recommend finding lodging near New York City's top attractions. Use this map to find the right lodging for you: