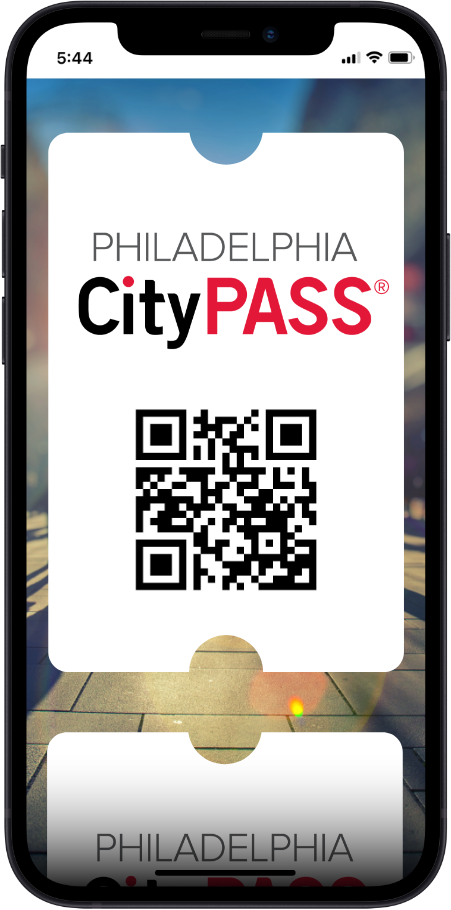 Top Things To Do
Save up to 50%

at Philadelphia's top attractions.
Ticket Packages
| | Adult (13+) | Child (2-12) |
| --- | --- | --- |
| 3 Attractions | $54 | $42 |
| 4 Attractions | $72 | $52 |
| 5 Attractions | $82 | $62 |
Get ready for your trip to Philadelphia!
Create your own experience.
Looking for the best things to do in Philadelphia? Choose 3, 4 or 5 attractions and save money. There's no need to choose your attractions now—decide later.
What's Included and What You Save
Frequently Asked Questions
Instant Delivery of Mobile Tickets
365-Day Risk-Free Returns
Adventure Aquarium
Adventure Aquarium is home to more than 15,000 aquatic animals exhibited throughout two million gallons of water and offers unforgettable, once-in-a-lifetime experiences like up-close animal encounters, the largest collection of sharks in the Northeast, and the longest shark bridge in the world.
The Franklin Institute
The Franklin Institute offers 12 world-class permanent exhibits providing hands-on learning experiences introducing and reinforcing key science concepts in fun and engaging ways.
Philadelphia Zoo
Experience Zoo360, a first-in-the-world system of see-through mesh trails passing through treetops, crossing over pathways and connecting habitats, giving animals opportunities to travel and explore. Visit award-winning exhibits like Big Cat Falls, KidZooU, PECO Primate Reserve and so many more.
Big Bus Company and Philadelphia Trolley Works
Allow Philadelphia's Premier Tour Company to show you the sights and tell you the tales of a city that cheered for Rocky, forged a nation and is home to the Liberty Bell.
Eastern State Penitentiary
Explore America's most historic prison! Eastern State Penitentiary was the world's first penitentiary: a prison designed to inspire penitence, or true regret, in the hearts of prisoners. Its vaulted, sky-lit cells held many of America's most notorious criminals, including "Scarface" Al Capone and "Slick Willie" Sutton. The prison stands today in ruin, a haunting world of crumbling cellblocks and empty guard towers.
Museum of the American Revolution
The American Revolution was dramatic, gritty, and full of uncertainty- an era of unparalleled political and social upheaval, even by today's standards. Museum visitors are invited to explore this rich and complicated era and its connections to our world today.
Battleship New Jersey Museum and Memorial
Experience a tour of our nation's most decorated and largest battleship - the Battleship New Jersey. Check out the ship's weapons systems, including the 16-inch gun turrets and the Combat Engagement Center, and learn how the crew lived aboard this floating city!
Academy of Natural Sciences of Drexel University
Founded in 1812, the Academy of Natural Sciences of Drexel University is a leading natural history museum dedicated to advancing research, education, and public engagement in biodiversity and environmental science. Museum visitors can get face-to-face with towering dinosaurs, explore a tropical garden filled with live butterflies, meet live animals, and see three continents of wildlife in their natural habitats.
National Constitution Center
At the National Constitution Center, explore interactive exhibits, discover rare artifacts, and experience live theater that brings the Constitution to life for visitors of all ages.
Barnes Foundation
A visit to the Barnes is a visual feast, as artworks from across cultures and periods intermingle to offer surprising connections and artistic revelations.
Instant Delivery of Mobile Tickets
365-Day Risk-Free Returns
Read reviews from CityPASS® travelers.
Great deal and great places to see!
CityPASS is a very convenient cost effective way to see some of the great sites of the great city of Philadelphia!!
Money saver and a good guidance on fun places
I view CityPASS as a good source to find out fun places at destination city. Philadelphia CityPASS definitely helped me with that.
Amazing Experience
I found out about the CityPASS on my 1st day in Philly and I'm so glad I did because I did not have anything planned. It was inexpensive and perfect. Loved everything about it. I was able to visit 3 attractions without any hassle. I can't wait to use this again when I travel with my kids.
This is the way to go!
We are new to the Philadelphia area and we were anxious to get out and explore some of the sites with our three kids. We came across the CityPASS and decided to take our last two weeks of summer and dedicate it to exploring. This was truly the way to do it! We used every pass and got our money's worth.
Great Purchase
I bought the city pass during my recent trip to Philly and it made getting into several sights that required timed tickets so easy. It was definitely a great purchase and well worth the price!
Plan your visit.
The My CityPASS® app has all of the details you need for a great experience, including reservation and entry information, attraction details, maps, and extra offers and discounts from our partners.
Explore attraction locations.
About Us
City Pass was created in 1997 by founders Mike and Mike to inspire travelers to see the most iconic attractions in North America, all while saving money.
Still family-owned today, City Pass is a small company of 50+ employees who share a passion for travel. We love to see our customers have fun and explore new places, and we hope you'll share your memories with us, too.