Top Things To Do
Choose 3 top attractions in Chicago and
save up to 33%.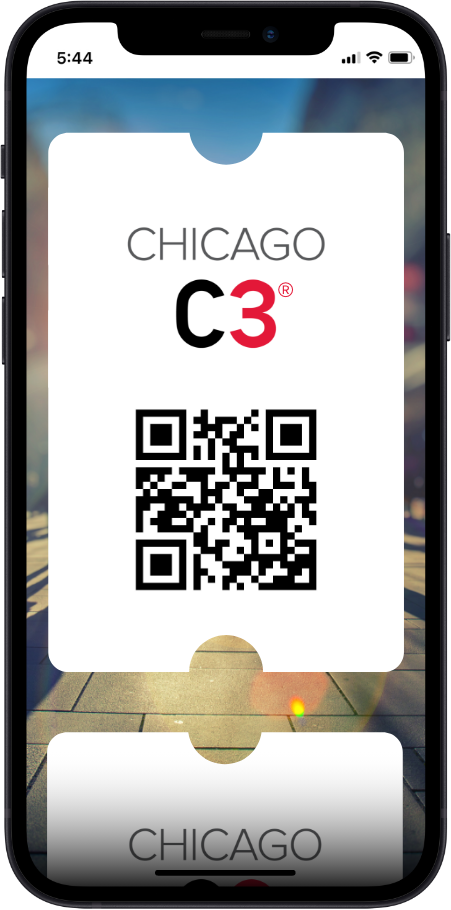 Get ready for your trip to Chicago!
For the best experience, plan ahead and make required reservations as soon as possible.

Skydeck Chicago availability may be limited, especially on weekends and holidays. Please make reservations as soon as possible after purchasing tickets. If you'd like to check availability before purchasing, please contact CityPASS customer care.
Create your own experience.
Looking for the best things to do in Chicago but short on time? Chicago C3® tickets are the perfect solution. There's no need to choose your attractions now—decide later.
One-time admission to 3 attractions
What's Included and What You Save
Frequently Asked Questions
Instant Delivery of Mobile Tickets
365-Day Risk-Free Returns
Shedd Aquarium
From belugas to bluegills, stingrays to sturgeons and sea stars to sea otters, get ready to look nature in the eye at Shedd Aquarium and experience the wonder of the aquatic animal world.
Skydeck Chicago
Skydeck is a must-see Chicago destination. Experience jaw-dropping 50-mile views and an all-new interactive museum at Chicago's iconic Willis Tower!
Field Museum
From cretaceous forests to ancient Egypt, journey on an adventure through time and explore over 4.6 billion years at the Field.
Art Institute of Chicago
See why the Art Institute of Chicago is the only museum in the world to be top-ranked by Tripadvisor four years in a row! With a collection of art that spans 5,000 years and artists and cultures across the globe, the museum has something for everyone to enjoy.
Museum of Science and Industry
Tornados to Tesla coils, ancient boats to futuristic 'bots—the interactive and award-winning exhibits at MSI bring science to life for guests of all ages.
360 CHICAGO Observation Deck
360 CHICAGO offers breathtaking panoramic views of Chicago's skyline and lakefront. 360 Chicago is home to TILT, Chicago's highest thrill ride, and CloudBar, featuring a neighborhood-inspired cocktail menu.
Adler Planetarium
Explore space at America's first planetarium! Experience hands-on activities and discover amazing facts about the universe we all share. With two domed theaters, 60,000 square feet of exhibitions, and the largest publicly accessible telescope in Chicagoland in our Doane Observatory, your day will truly be out of this world!
Shoreline Sightseeing Architecture River Tour
Enjoy state-of-the-art tour boats and see the Chicago skyline as you've never seen it before with Shoreline, Chicago's leading boat company for over 75 years.
Centennial Ferris Wheel at Navy Pier
See the Chicago skyline and lakefront from Navy Pier's Centennial Ferris Wheel.
Instant Delivery of Mobile Tickets
365-Day Risk-Free Returns
Read reviews from CityPASS® travelers.
Great value!
Bought the pass for a family trip to Chicago and was pleased with the purchase. App was easy to use, attractions were great.
Helpful
Great list of options to pick from! Choose one excursion for each day of our quick 3 night vacation.
CityPASS was well worth it!
Super glad we bought the CityPASS C3. We did the aquarium, Navy Pier Ferris wheel and Hancock 360. It was absolutely worth it!
Great Value for Short-term Stay
I bought CityPASS for my trip and absolutely loved it. You can choose to see the attractions you want to see with great savings and flexibility of time.
Great way to see the best of Chicago!
We only had 4 days in Chicago and the C3 was a perfect fit. We enjoyed each activity and reservations were easy to make, and revise, as needed.
Chicago C3
is rated out of
5
by
459
.
Rated

5

out of

5
by
Lalabugg
from
City Pass Chicago
I purchased city pass for my first trip to Chicago! It was a super easy process to buy tickets & reserve times. I will use it again when going to another city!
Date published: 2022-05-31
Rated

5

out of

5
by
Frequentflyer
from
Great value.
We used it for the architecture tour, aquarium and skydeck. I am not a Chicago resident so it saved a ton at the aquarium for a family of 4. The selection of attractions you can choose is great. I will definitely buy it again to cover the rest of the attractions. Only thing we did not read was, that we need to make advanced reservation for skydeck tour.
Date published: 2022-05-30
Rated

5

out of

5
by
Shay and Oatmeal Bear
from
Great, easy to use, worth the $
Bought city pass for my trip and so glad I did. Made admission to my 3 venues so simple and easy. Especially the Ferris wheel at Navy Pier. No line to waiting, Easy to schedule and even easier to change times/reservation when needed.
Date published: 2022-05-09
Rated

5

out of

5
by
PhoenixTraveler91
from
Good way to see Chicago for a 4 day trip!
This is my second experience with CityPass. First was in Denver and loved it. This time I bought the C3 pass for the Windy City for my brother and I. We did the Shoreline Sightseeing Architecture River Tour; Skydeck Chicago; and Shedd Aquarium. All 3 experiences were awesome and made the trip better. My favorite was the Shedd Aquarium since I love penguins. Spent a good 3 hours there. My brother's favorite was the River Tour. Seeing the architecture was a good learning experience. The views from the Skydeck couldn't be beat. Walking on the glass platform was not scary but an unique experience. Will definitely buy another pass next time I'm in town.
Date published: 2022-04-22
Rated

4

out of

5
by
Traveling4
from
Excellent choice!!
I bought the CityPASS and it was the best decision we made! We were a family visiting and it was nice to purchase online with the reservation and everything available! We were in, in no time to the museums and aquarium!
Date published: 2022-04-11
Rated

5

out of

5
by
NE Ohio Traveller
from
Best thing I did for our trip!
Family trip for the 3 of us to Chicago. We wanted to see some sights, but not have every minute of each day packed. The Chicago C3 pass let us do 3 "must see" spots in Chicago. Thanks to our timing we never had a wait at 2 of 3 attractions. Will definitely use CityPASS again when visiting other big cities.
Date published: 2022-04-04
Rated

5

out of

5
by
Mom with 2 kids
from
Easy to use!
I purchased the 3 events and it went great! Unfortunately I needed to change my dates on the original purchase and that was very easy to do! It was worth the cost and I'll definitely be using it again!!
Date published: 2022-04-02
Rated

5

out of

5
by
Lisa
from
Very easy to use & fast entry!
My family of 6 plus two babies under 3 which were free bought 6 city passes and it's definitely worth it! Super easy to use and no waiting in line. We went to the skydeck first and had no issues just scanned our tickets and then go. At the shedd aquarium there was a long line of people waiting. I went up and told them we had city pass and they allowed us to go through right away! We didn't get to go to our 3rd attraction because the babies were exhausted! Definitely recommend.
Date published: 2022-03-31
Rated

4

out of

5
by
Sandeep
from
Value of Money&Time
The CityPass gives you a good way to explore popular sites of the travel location. But there is one catch in here, you need plan your trip properly with timing then its total worth. One word of CityPass - Value for Money & Time.
Date published: 2022-03-19
Rated

4

out of

5
by
TravelingwithKids
from
Great way to save some money.
We wanted to let our kids experience some of Chicago, the C3 pass was a good way customize our activities. On the Skydeck our group of 6 was too large for a single time slot, however a phone call to Citypass resolved this. They were able to split our group in two times, but we were all able to enter as a family when we arrived.
Date published: 2022-03-19
Plan your visit.
The My CityPASS® app has all of the details you need for a great experience, including reservation and entry information, attraction details, maps, and extra offers and discounts from our partners.
Explore attraction locations.
About Us
City Pass was created in 1997 by founders Mike and Mike to inspire travelers to see the most iconic attractions in North America, all while saving money.
Still family-owned today, City Pass is a small company of 50+ employees who share a passion for travel. We love to see our customers have fun and explore new places, and we hope you'll share your memories with us, too.