Create your own Chicago experience and
save up to 36%

.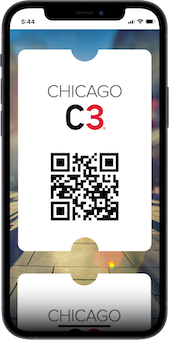 Chicago attractions may be sold out or require a wait for the next available entry; for details, view the Availability Calendar.

We suggest making reservations as soon as possible as attractions may sell out or require a wait for next available entry. To see reservation requirements or to make reservations, visit the CityPASS Travel Guide.

The price of Chicago C3 tickets is changing. On May 31 at 10pm MST, the price will increase to $88 for adults and $64 for children ages 3-11.
See your choice of 3 iconic attractions.
With one simple purchase, you'll save on admission to 3 top attractions in Chicago. There's no need to choose now—decide later. Save money and enjoy the flexibility of Chicago C3 tickets.
One-time admission to 3 attractions
What's Included and What You Save
CityPASS Travel Guide: Reservations & Planning
Tips for Using C3 Tickets
Instant Delivery of Mobile Tickets
365-Day Risk-Free Returns
Read reviews from CityPASS travelers.
Awesome!
We bought cityPass for our weekend trip and it was sooo convenient! Fast entry into all attractions.
Chicago C3
is rated out of
5
by
44
.
Rated

4

out of

5
by
Traveling4
from
Excellent choice!!
I bought the CityPASS and it was the best decision we made! We were a family visiting and it was nice to purchase online with the reservation and everything available! We were in, in no time to the museums and aquarium!
Date published: 2022-04-11
Rated

5

out of

5
by
KathyK
from
Glad we bought them
Used it for a mini getaway to Chicago and it was convenient and cheaper than regular admission, plus no buying ticket lines
Date published: 2022-04-09
Rated

5

out of

5
by
NE Ohio Traveller
from
Best thing I did for our trip!
Family trip for the 3 of us to Chicago. We wanted to see some sights, but not have every minute of each day packed. The Chicago C3 pass let us do 3 "must see" spots in Chicago. Thanks to our timing we never had a wait at 2 of 3 attractions. Will definitely use CityPASS again when visiting other big cities.
Date published: 2022-04-04
Rated

5

out of

5
by
Mom with 2 kids
from
Easy to use!
I purchased the 3 events and it went great! Unfortunately I needed to change my dates on the original purchase and that was very easy to do! It was worth the cost and I'll definitely be using it again!!
Date published: 2022-04-02
Rated

5

out of

5
by
Lisa
from
Very easy to use & fast entry!
My family of 6 plus two babies under 3 which were free bought 6 city passes and it's definitely worth it! Super easy to use and no waiting in line. We went to the skydeck first and had no issues just scanned our tickets and then go. At the shedd aquarium there was a long line of people waiting. I went up and told them we had city pass and they allowed us to go through right away! We didn't get to go to our 3rd attraction because the babies were exhausted! Definitely recommend.
Date published: 2022-03-31
Rated

4

out of

5
by
TravelingwithKids
from
Great way to save some money.
We wanted to let our kids experience some of Chicago, the C3 pass was a good way customize our activities. On the Skydeck our group of 6 was too large for a single time slot, however a phone call to Citypass resolved this. They were able to split our group in two times, but we were all able to enter as a family when we arrived.
Date published: 2022-03-19
Rated

5

out of

5
by
Cheekago
from
Fast service
I was able to easily book the tickets. However, I could not get reservations in 2 of the 3 attraction points. On calling the citypass services, my query was taken care promptly. I am happy with the overall experience. Would recommend this to all!
Date published: 2021-12-10
Rated

4

out of

5
by
Takeitall
from
Great experience
The city pass offered the exact places I wanted to go see so it was a very good deal. We also had an issue and got confused with the times that we were going to the aquarium, but we contacted customer service and they were SO NICE and helped us change the time of our entry. The only reason why I give it four stars it's because they don't explain how the Skydeck works on the website, and I was very disappointed with that place. If city pass would have shared more information about Skydeck I would've probably pick a different place.
Date published: 2022-05-13
Rated

3

out of

5
by
MGVA
from
Not enough flexibility
My sister and family came to visit for two weeks in April. We thought it would be a good idea to do the C3 citi pass for the whole family to see a few things in the area. As you know, April was a pretty rainy month. We got to do two of the attractions on the nice days, but unfortunately the rain pushed our ability to go out just outside the 9 days. We called to see if we could get an extension and they said they couldn't do anything, and on the bright side we had already gotten our money's worth. I am not going to argue that, but I was hoping to get more flexibly for being 1-2 days over. I would have understood if I was trying to attend 3 months later from purchase, but we were still within our vacation timeframe. We ended up having to pay full price for the third attraction and it was pointless to buy the C3 pass. Probably not doing it again.
Date published: 2022-05-10
Rated

5

out of

5
by
Shay and Oatmeal Bear
from
Great, easy to use, worth the $
Bought city pass for my trip and so glad I did. Made admission to my 3 venues so simple and easy. Especially the Ferris wheel at Navy Pier. No line to waiting, Easy to schedule and even easier to change times/reservation when needed.
Date published: 2022-05-09
Plan your visit.
The CityPASS Travel Guide has all of the details you need for a great experience, including reservation and entry information, attraction details, safety measures, an interactive map, and extra offers and discounts from our partners.
Explore attraction locations.
About Us
CityPASS was created in 1997 by founders Mike and Mike to inspire travelers to see the most iconic attractions in North America, all while saving money.
Still family-owned today, CityPASS is a small company of 40+ employees who share a passion for travel. We love to see our customers have fun and explore new places, and we hope you'll share your memories with us, too.
Instant Delivery of Mobile Tickets
365-Day Risk-Free Returns