Articles by City & Category
Best Philly Cheesesteak in Philadelphia: 5 Must-Try Spots
July 19, 2023 By CityPASS
Where's the best Philly cheesesteak in Philadelphia? If you ask locals, you will hear many different opinions. But the truth is that Philadelphia has many fantastic Philly cheesesteaks.
Some restaurants offer only the original, simple Philly cheesesteak. Others put their own twist on this iconic Philly dish. As a result, Philadelphia is home to some of the most amazing Philly cheesesteaks in all of America. So, if you visit Philadelphia, you'll want to know which places serve the yummiest steak sandwiches.
We've narrowed down our picks to give you this list of the best places to get a Philly cheesesteak in Philadelphia.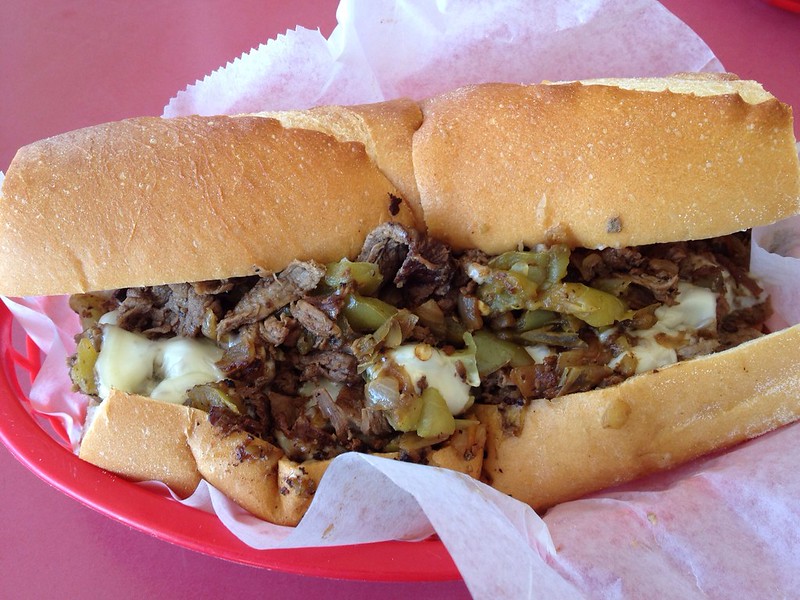 The History of the Philly Cheesesteak
So, how did this sandwich craze begin? The story of the Philly cheesesteak starts in the 1930s. Hotdog vendor Pat Olivieri, wanting to try something different, put chopped beef on an Italian roll with onions. A cab driver smelled Oliveri's sandwich and asked if he could have one too. The cabbie enjoyed it so much that he told Pat to sell these sandwiches instead of hotdogs. Word spread and other taxi drivers soon came to grab one of these steak sandwiches.
The original was just steak and onions. Then, in the 1940s, a man named Joe Lorenzo began to put provolone cheese on the sandwiches at one of Pat's King of Steaks locations. Later, Cheese Whiz became a popular addition to the steak sandwich. Over the years, more cheesesteak sandwich shops opened, including Jim's Steaks in West Philly on South Street in 1939.
In 1966, Joey Vento opened Geno's across from Pat's King of Steaks. One of the differences between the restaurants was that Geno's added hot sauce to spice up the sandwiches, and Pat's offered hot peppers. The competition between the two first Philly cheesesteak shops remains friendly on Passyunk Avenue.
So, what's on a Philly cheesesteak today? A cheesesteak comes with thinly sliced grilled rib-eye steak with melted cheese on a fresh Italian roll. You can find Philly cheesesteaks with various cheese choices: provolone, American cheeses, Swiss, and Cheese Whiz. The toppings include fried onions, mushrooms, ketchup, hot sauce, mayo, and hot or sweet peppers. Of course, some places offer newer additions to the classic sandwich.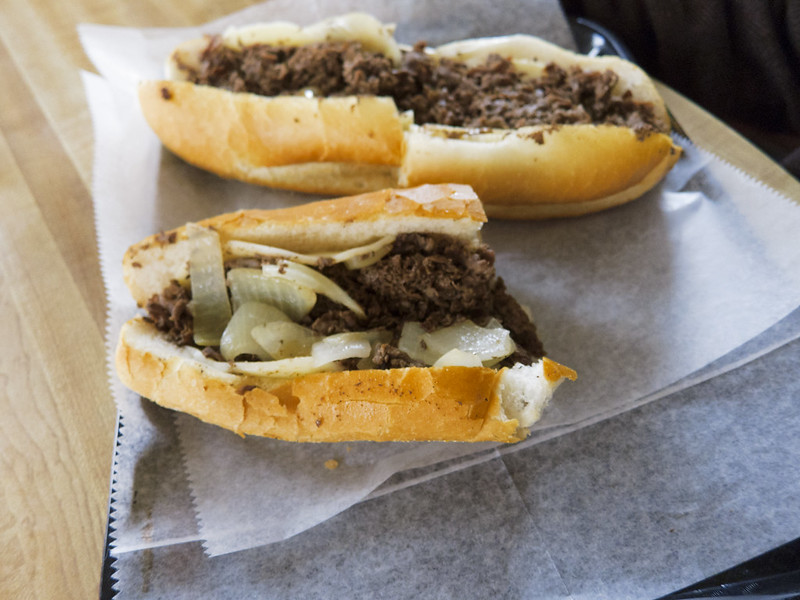 Philly Cheesesteak: Do's and Don'ts
There are some important do's and don'ts when ordering a Philly cheesesteak in Philadelphia. Because the lines to order can be long, here are some tips to save everyone's time.
You want to let the staff know in as few words as possible that you want a cheesesteak, whether you want onions or not, and what type of cheese you want. So, for example, if you're ordering a cheesesteak with Cheese Whiz and onions, you'll say, "One whiz wit." If you don't want onions, you can say "wit-out." So, to order a cheesesteak with provolone and no onions, you would say, "One prov wit-out."
Also, many of the best restaurants in Philly accept cash only, so be sure to stop at an ATM before you get in line to order. Now onto our list of the top five places in Philadelphia to get a fantastic cheesesteak.
1. Tony Luke's
Tony Luke's was founded in 1992 and now has multiple locations, with the original on Oregon Avenue. This cheesesteak shop is near the ballpark, so you could grab something to eat and catch a Phillies game. Tony Luke's offers cheesesteaks and roast pork sandwiches with freshly baked bread. They also serve chicken cutlets. In addition, Tony Luke's uses prime rib-eye beef steak. This popular Philly cheesesteak spot has been featured on TV shows like Man vs. Food and Food Wars.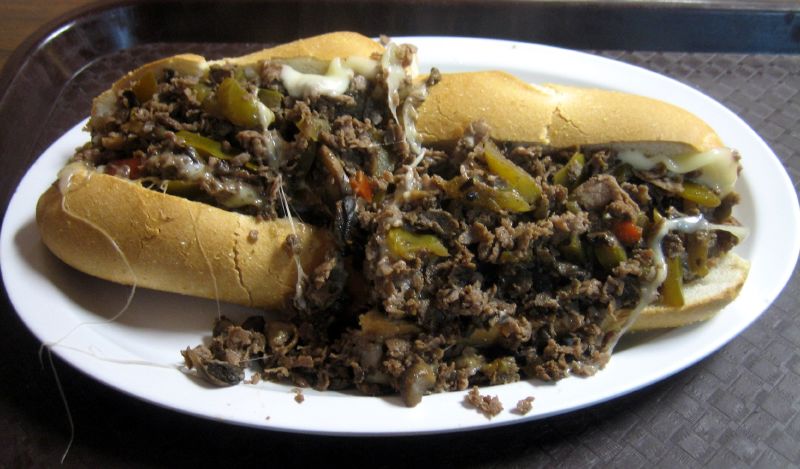 2. Dalessandro's Steaks and Hoagies
Dalessandro's Steaks and Hoagies opened its doors in Roxborough in 1960. The steak is thinly shaved and chopped into tiny bite-size pieces on a flat-top grill. But this restaurant doesn't just serve the typical cheesesteak sandwiches. They also carry chicken, pepper, and mushroom cheesesteaks. As the name suggests, they also offer select hoagies with ham, tuna, salami, capicola, turkey, or cheese. Toppings are free, although extra cheese will cost you $1. There's an ATM inside, too, for convenience, as this is a cash-only establishment.
3. John's Roast Pork
John's Roast Pork is located at E. Snyder Ave. and was established in 1930. This South Philly restaurant is known for its roast pork and for serving one of Philadelphia's best Philly cheesesteaks. What sets this eatery apart from the competition are the rolls from Carangi Baking Company. The sesame seeds on top of the bun and the 12 ounces of seasoned steak create a perfect symphony of crunch and meat topped with gooey cheese. John's Roast Pork closes its doors earlier than some competitors, so you'll want to come for lunch or an early dinner.
4. Campo's Philly Cheesesteaks
Campo's Philly Cheesesteaks is on Market Street in Philadelphia's Historic District. Established in 1947, Campo's is the official cheesesteak of the Philadelphia Phillies. The restaurant offers traditional Philly cheesesteaks, Italian roast pork, and hoagies. They also have vegan and gluten-free choices. They serve locally crafted beers and use locally baked bread for their sandwiches. Their famous grass-fed rib-eye cheesesteaks can be topped with various vegetables. The Flyers Ice Steak is popular, consisting of steak and creamy Philadelphia cream cheese with tomatoes drenched in hot pepper cheese.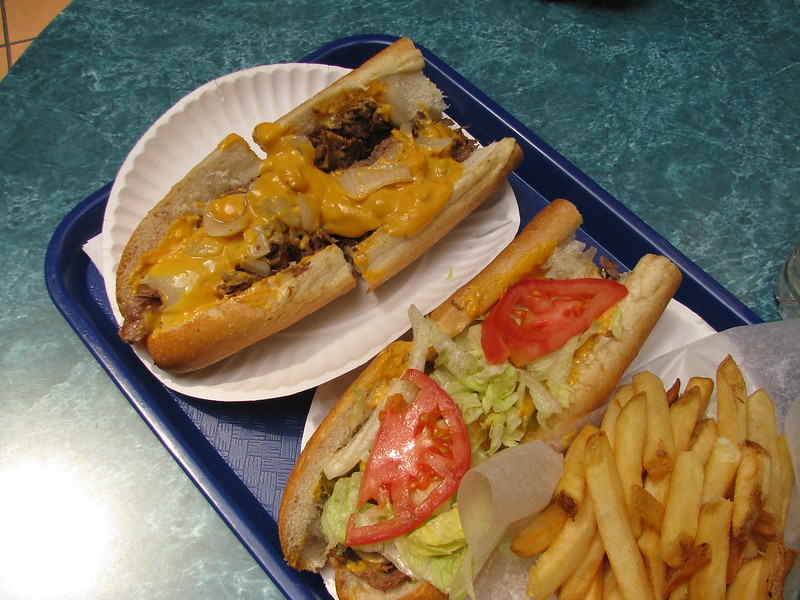 5. Joe's Steaks + Soda Shop
Joe's Steaks + Soda Shop was established in 1949 in Northeast Philadelphia. In addition to authentic Philly cheesesteaks in two sizes, Joe's also serves other sandwiches, fries, sundaes, and milkshakes. The traditional cheesesteak sandwich comes with caramelized onions and cheese neatly folded into the steak and placed into the roll. Joe's Steaks + Soda Shop does offer vegan options and even has a kid's menu.
The Philly Cheesesteak Adventure
Now that you know some of the best restaurants the city offers, why not visit Philadelphia and go on a cheesesteak adventure of your own? After you try them all, you may wonder what to do in Philadelphia between sandwich sessions. The good news is that there are plenty of fun things to do in Philadelphia, and you can save money with CityPASS® tickets.
Save today when you choose three, four, or five major attractions with Philadelphia CityPASS® tickets.