Articles by City & Category
Texas BBQ Guide: A Savory Taste of the South
February 20, 2023 By CityPASS
Texas is one of the United States' biggest states, and with Texas's unique regional culture and multiple types of regional cuisines, it's not hard to understand why so many people want to either visit or move to the Lone Star State.
Perhaps one of the most appealing parts of living in Texas is the food. In particular, Texas BBQ is some of the most decadent food around.
But if you're not from Texas, it's hard to differentiate true Texas BBQ from a wannabe restaurant. This definitive Texas BBQ guide will teach you what makes Texas-style BBQ unique and where to find the best BBQ in Texas.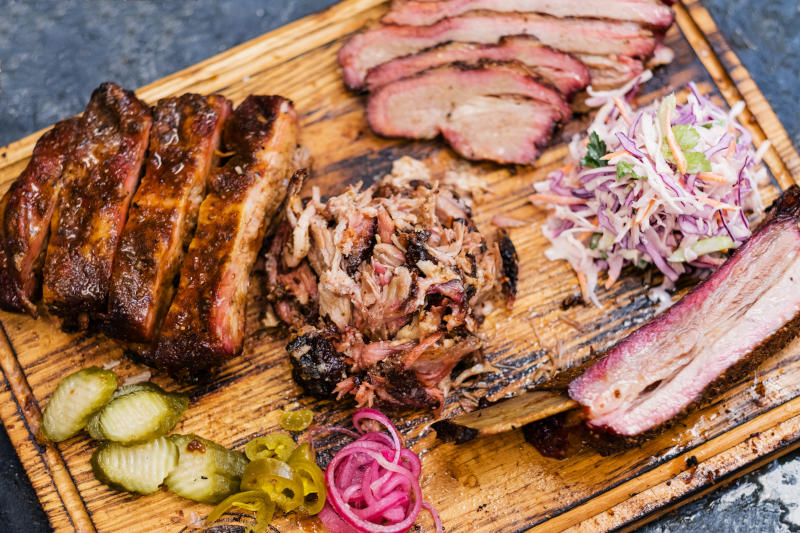 What Makes Texas BBQ Unique?
Although you've probably heard the phrase "Texas-style barbecue," you may not know what differentiates Texas BBQ from other styles of barbecue in the United States. If you peek at some Texas barbecue menus, you'll probably see many dishes on offer that you would find at any other barbecue joint: smoked pork, ribs, cornbread.
But the unique quality you can only find in Texas barbecue lies in the brisket. While people might think of the barbecue sauce as the defining characteristic of barbecue, Texas BBQ doesn't use this tangy sauce to provide flavor or moisture.
Instead, Texas brisket is prepared simply: it's seasoned with salt and pepper and smoked to perfection. This method allows the dish to retain all its natural moisture while preserving and heightening the excellent flavor of the brisket.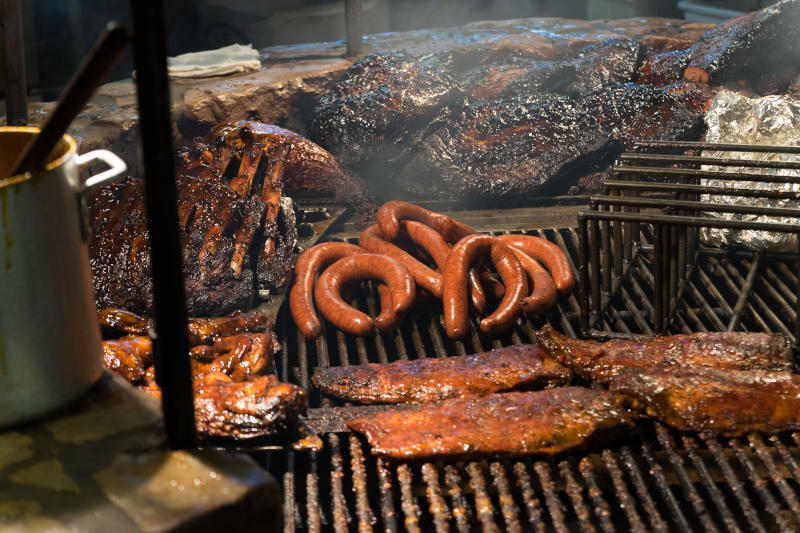 Walking Through Texas Barbecue Traditions and History
Texas barbecue has a deep-rooted history in the state, and you'll notice a fervent commitment to this style of food whether you stick to the state's major cities or venture out into smaller, more remote towns.
In the modern day, barbecue has a culture and a following that extend far beyond the delicious smoky flavor of the food. Eating barbecue is also about communing with the people around you and committing to the long process of preparing food in this style.
Barbecue is believed to have first made its way to Texas when European immigrants who settled in the state and owned butcher shops created unique methods of preserving the meat. As a way of ensuring none of the unused portions of meat went to waste, the owners of these establishments began smoking anything that wasn't sold, such as leftover pork and sausage, so that it would keep.
Because this smoked meat proved delicious and economical, the shop owners began selling it, and thus the tradition of Texas BBQ was born.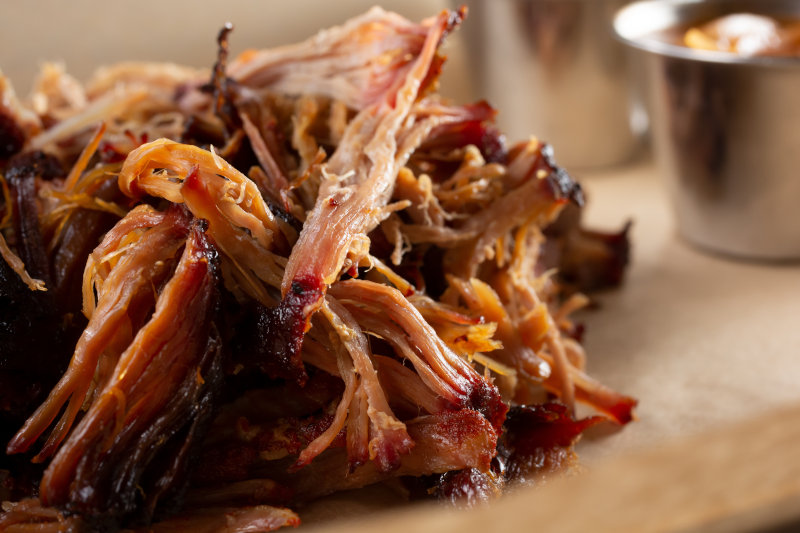 Different Texas BBQ Styles Explained
Understanding Texas BBQ takes time and effort, and if you spend a significant amount of time in the Lone Star State, you'll start to be able to differentiate between the various regional barbecue styles.
But for visitors to this massive state, it can be challenging to understand the differences between the regional variations of Texas BBQ. Below is an overview of how barbecue has evolved in each section of the state.
East Texas
In the state's eastern portion, barbecue is defined by how it's served. Unlike other regions, where the meat is sliced, it's chopped in East Texas. The chopped meat is placed onto a sandwich and served with a tomato-based barbecue sauce.
Central Texas
Central Texas covers areas like the state's capital city of Austin and the surrounding hill country. Barbecue in central Texas is unique in its focus on the dry rub. A dry rub is a method of seasoning meat before it's cooked and consists of blending herbs and spices and rubbing them onto raw meat.
In this part of the state, brisket is typically smoked over woods like hickory, mesquite, and oak for up to a day. It's then served with barbecue sauce on the side (instead of rubbed onto the meat) with white bread.
West Texas
West Texas features a wide range of meats, including sausage and chicken, grilled on an open barbecue pit. This method of cooking takes significantly less time, and the flavor profile of West Texas BBQ tends to be less smoky than the barbecue from other regions of the state.
South Texas
Barbecue from South Texas has significant Mexican influence, and this is evident in the flavor and type of meat that's prepared. With a heavy focus on barbacoa beef, the meat is cooked over a stone or brick-lined pit. The meat is wrapped in agave leaves and covered, producing extremely tender meat.
This style of barbecue is typically served in generous portions with a side of tortillas instead of cornbread.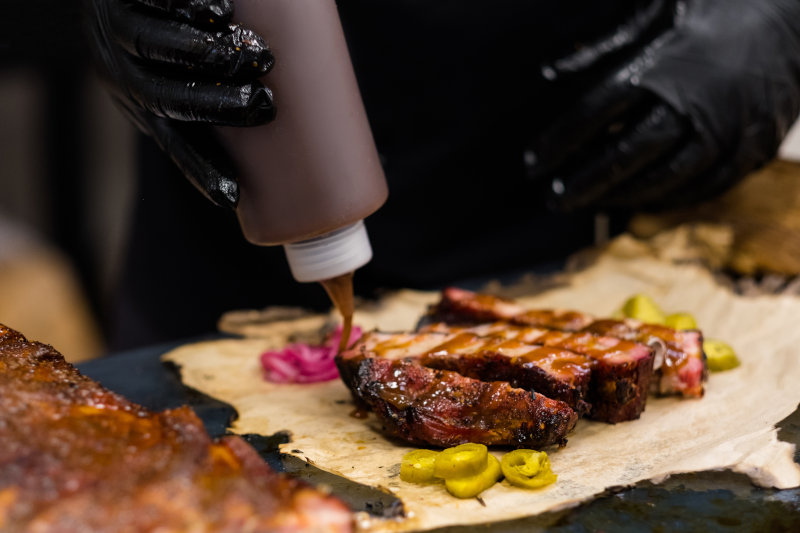 Top BBQ Joints in Houston and Dallas
If you're planning a trip to Texas, visiting two of the state's biggest cities is essential. Houston and Dallas are the cultural epicenters of much of Texas, and these two cities feature some of the most incredible barbecue joints in the country.
Best of all, when you visit these cities, you can enjoy not only the food but all the attractions that contribute to the cultural appeal of this sunny state. Stop by one or more of the following restaurants for the best BBQ in Dallas and Houston:
Luling City Market: This classic barbecue joint in Houston offers some of the most authentic BBQ in the state.
Lockhart Smokehouse: With one location in Dallas and another in Plano, this restaurant perfectly executes the dry rub method East Texas is known for.
Gatlin's BBQ: Located in Houston, Gatlin's is the place to go if you want to try the best Texas-style BBQ ribs.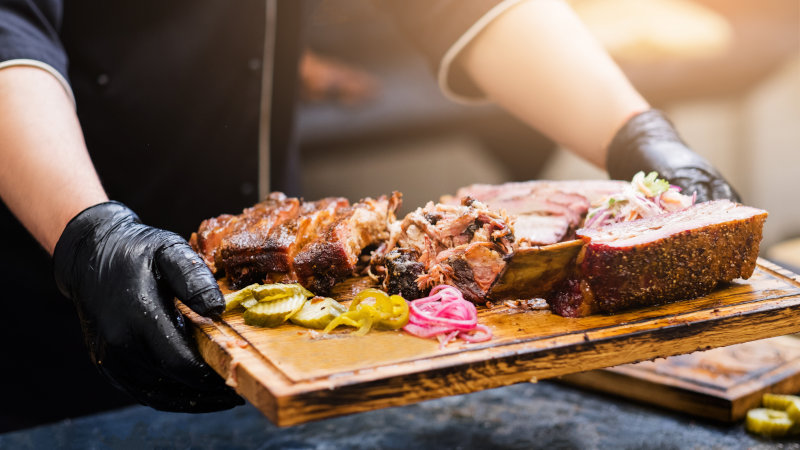 Get a Mouthful of Flavor Before Heading to a Top Texas Attraction
If you're visiting Texas, trying the barbecue is essential. Everything from the smoked meats to the Southern-style mac and cheese and peach cobbler is a true Texas experience. However, in addition to eating your way through the Lone Star State, make sure you take in all that Texas has to offer.
Save on admission to top attractions by bundling Texas's biggest destinations with CityPASS® tickets. Attractions you can access in Houston with CityPASS® tickets include:
And if you're visiting Dallas, Dallas CityPASS® tickets include: