Articles by City & Category
Chicago-Style Hot Dog: A Taste of the Windy City
November 8, 2022 By CityPASS
Are you considering a trip to Chicago and want to experience the local culture? If so, the Chicago-style hot dog is the staple of Chicago street food.
Grabbing a Chicago-style hot dog is a must if you're visiting Chicago during the sweltering summer or in the windy, cooler months. This all-beef hot dog masterpiece, dragged through the garden, dates back to the Great Depression.
So, what is a Chicago-style hot dog? First, we'll review a brief history of this classic treat and look at what makes up the Chicago-style hot dog. Then we'll tell you where to find the best Chicago dogs.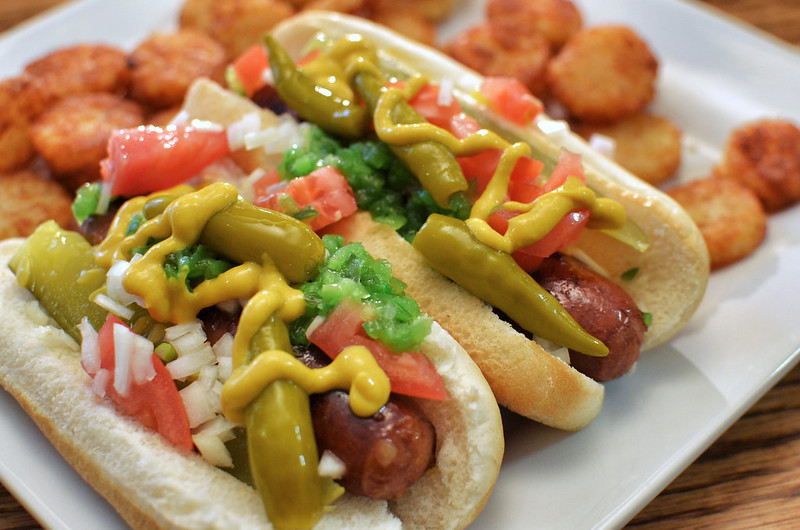 What Is a Chicago-Style Hot Dog?
So, what makes a Chicago-style hot dog stand out from the rest of the dogs in America? During the Great Depression, sausage vendors on Maxwell Street attempted to come up with something relatively cheap that could also be filling for the working-class citizens of the area. Some also had vegetable stands, so they began experimenting with adding vegetables on top of the traditional hot dogs.
After the market crash in 1929, a vendor on Maxwell Street named Fluky's invented a "depression sandwich." The sandwich was a frankfurter topped with lettuce, tomato, mustard, pickles, onion, pickle relish, hot peppers, and celery salt. The working-class people of Chicago could grab a quick meal for only a nickel.
Soon after the Depression ended, people started setting up hot dog stands all around the neighborhood, and the Chicago-style hot dog was here to stay.
What Makes Up Chicago-Style Dogs?
Oddly enough, you won't find ketchup on the Chicago-style hot dog. Ketchup is a big no-no for Chicago dogs, as the locals claim that ketchup will ruin the flavorful combo that is already mouth-watering perfection. However, seven well-known toppings will traditionally make up the quintessential treat. So, let's look closer at the seven Chicago-style hot dog toppings.
Poppy Seed Bun
The hot dog will be nestled neatly into a steamed poppy seed bun. A poppy seed bun is more appealing than a no-frills plain bun. The poppy seed bun is almost always steamed and not grilled or toasted. First, bakers spread melted butter on the bun and then sprinkle poppy seeds on the top before they bake it.
According to Forbes, the poppy seed style bun started with Rosen's bun. Sam Rosen created the poppy-seed bun and opened his shop in 1909. The bun is supposed to be soft and not crunchy.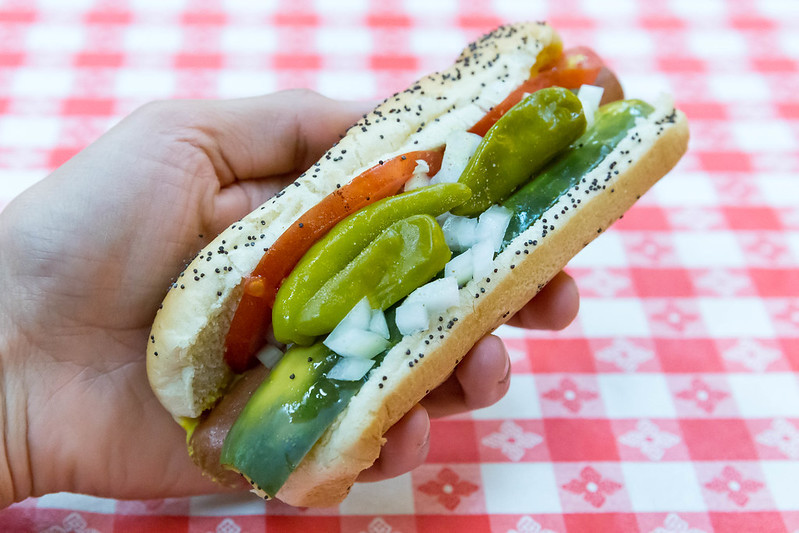 Vienna Beef
The Chicago-style hot dog sports an all-beef Vienna Beef frank—most of the time. The sausage manufacturing company began in 1893 in Chicago. Emil Reichel and Samuel Ladany, Austrian-Hungarian immigrants, developed the recipe for the hickory-smoked Vienna Beef dog. The sausage is either steamed or boiled.
Next, some of the classic garden ingredients added on top.
Onions, Tomatoes, and Peppers
First, you'll always find yellow mustard, chopped onions, and a couple of tomato wedges on top of the dog. Then sport peppers are added. You can get nutrients from these vegetables as well as a delicious taste. Lettuce used to be on the dog but not so much anymore, although some places in Chicago still offer it as an option.
The sport peppers add a spicy and crunchy aspect to the Chicago dog.
Green Relish and Dill Pickle Spears
The green relish on top of the Chicago-style hot dog is often called neon green. Forbes suggests they started to dye the relish a brighter color so it looked more appealing in advertisements. The dog features both sweet relish and sour dill pickle. The sour dill pickle offers a crunchy zest. Last but certainly not least, the celery salt goes on top, and now you have a proper Chicago dog.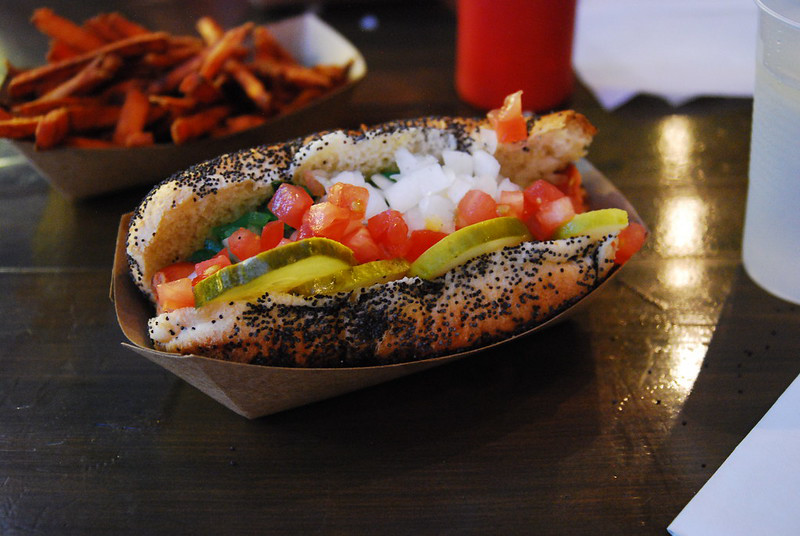 Where Can You Find the Best Chicago Dog?
Now that you know what the Chicago-style hot dog should have on it, you are probably wondering where to find the best Chicago-style hot dog. There are many options to choose from, as it is a centerpiece of Chicago culture.
If you visit Chicago in the summer, you can check out the Chicago Hot Dog Fest in Lincoln Park. Also located in Lincoln Park is the infamous "Wieners Circle." The restaurant offers late-night food, a bar, and spacious patio seating. There will be many different hot dogs to choose from and some entertainment as the place is known for its crude customer service and late-night fun.
Let's also look at a Chicago tradition and the hot dog location voted to have the best hot dogs in America.
Maxwell Street Market
Maxwell Street Market is a traditional Chicago marketplace home to live music, street food, crafts, farmers, food stylists, and more. Much like a giant farmers' market hosting local food and crafts, this special event lasts most of the year. Chicago-style hot dogs will not be difficult to find at this event. This year the celebration takes place On Sundays from 9am to 3pm between April 3 and December 18.
Gene & Jude's
Established in 1946, Gene & Jude's began selling hot dogs with fries and other menu items. You'll find Gene & Jude's located in River Grove, Illinois. The place is famous for only including the original "depression dog" ingredients and fries on top. They have been voted to have the best hot dogs in America.
They take pride in serving the dogs in the manner in which they first sold them. As a result, customers have the same simple experience as they did in the restaurant's earlier days. As the location is essentially a hot dog stand with no seating, people can come in and grab a meal, socialize with others, or carry on with their day.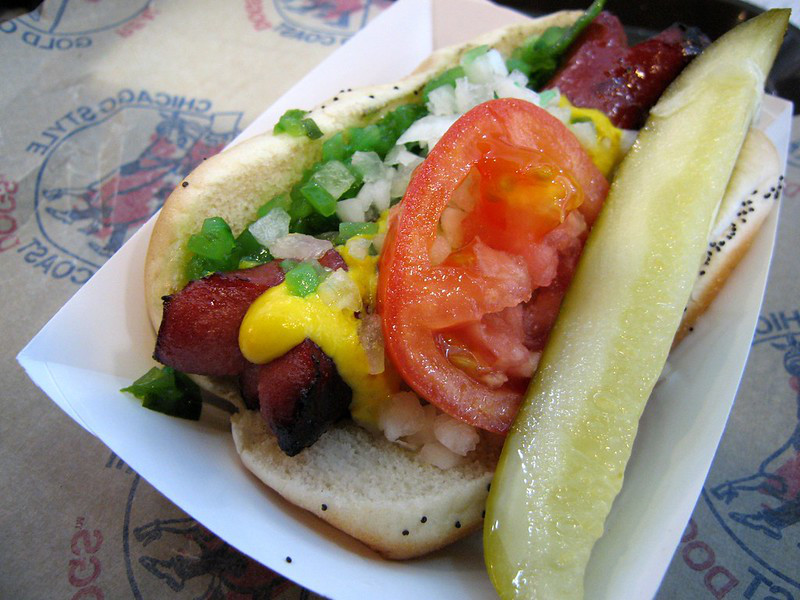 Get a Taste of Chicago on Your Way to the Attractions
Whether you're visiting the Art Institute of Chicago, Shedd Aquarium, or Skydeck Chicago — or maybe all three — you should check out Chicago CityPASS® tickets. Save money on your next trip to Chicago for an authentic Windy City experience at an affordable price. You can try a Chicago-style hot dog while exploring some of Chicago's top attractions.