Top Things To Do
Save 48%

at 5 top Chicago attractions.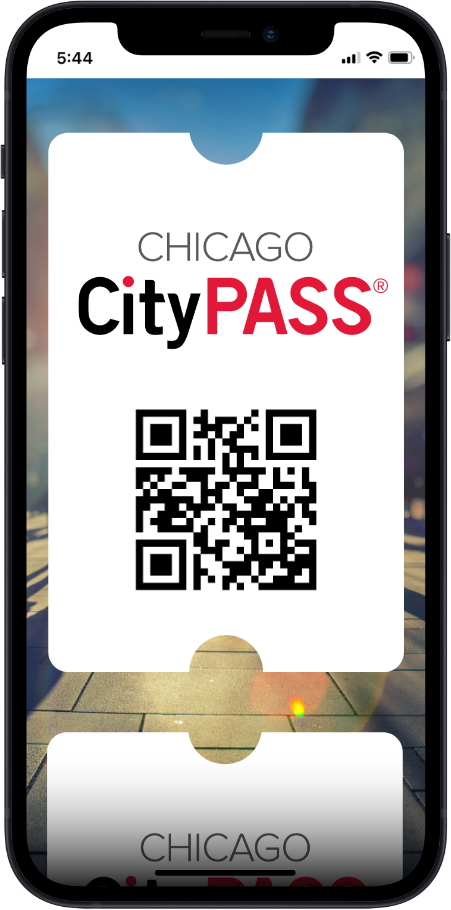 Get ready for your trip to Chicago!
For the best experience, plan ahead and make required reservations as soon as possible.

Skydeck Chicago availability may be limited, especially on weekends and holidays. Please make reservations as soon as possible after purchasing tickets. If you'd like to check availability before purchasing, please contact CityPASS customer care.
Smart Savings. Best Value.
The research is done. The savings is significant. If you're looking for the best things to do in Chicago, you'll love the simplicity and convenience of Chicago CityPASS® tickets.
Includes admission to 5 attractions
Visit each attraction below.
Plus get admission to 3 more attractions of your choice. No need to choose now—decide later.
What's Included and What You Save
Frequently Asked Questions
Short on time?
We also offer Chicago C3® tickets, an option that saves you up to 33% on your choice of 3 attractions. View a comparison.
Instant Delivery of Mobile Tickets
365-Day Risk-Free Returns
Shedd Aquarium
From belugas to bluegills, stingrays to sturgeons and sea stars to sea otters, get ready to look nature in the eye at Shedd Aquarium and experience the wonder of the aquatic animal world.
Skydeck Chicago
Skydeck is a must-see Chicago destination. Experience jaw-dropping 50-mile views and an all-new interactive museum at Chicago's iconic Willis Tower!
Field Museum
From cretaceous forests to ancient Egypt, journey on an adventure through time and explore over 4.6 billion years at the Field.
Art Institute of Chicago
See why the Art Institute of Chicago is the only museum in the world to be top-ranked by Tripadvisor four years in a row! With a collection of art that spans 5,000 years and artists and cultures across the globe, the museum has something for everyone to enjoy.
Museum of Science and Industry
Tornados to Tesla coils, ancient boats to futuristic 'bots—the interactive and award-winning exhibits at MSI bring science to life for guests of all ages.
360 CHICAGO Observation Deck
360 CHICAGO offers breathtaking panoramic views of Chicago's skyline and lakefront. 360 Chicago is home to TILT, Chicago's highest thrill ride, and CloudBar, featuring a neighborhood-inspired cocktail menu.
Adler Planetarium
Explore space at America's first planetarium! Experience hands-on activities and discover amazing facts about the universe we all share. With two domed theaters, 60,000 square feet of exhibitions, and the largest publicly accessible telescope in Chicagoland in our Doane Observatory, your day will truly be out of this world!
Shoreline Sightseeing Architecture River Tour
Travel along the Chicago River to witness the birthplace of the skyscraper the evolution of American Architecture. Hear stories of ambition, redemption and innovation that make the Windy City famous.
Instant Delivery of Mobile Tickets
365-Day Risk-Free Returns
Read reviews from CityPASS® travelers.
Vacationing with a family of 5
We have purchased CityPASS now for three cities: Southern California, New York and now Chicago. We have a family of 5 and this makes planning so easy and affordable!! Not to mention not standing in line for tickets!!!
Chicago CityPASS
The CityPASS was the perfect way to plan our stay in Chicago. I was able to show my daughter my favorite places in Chicago, and a few others as well. The CityPASS provided a better price, and skipping to the front of the line was like icing on the cake!.
Wonderful week in Chicago!
After doing much research about CityPASS and other group admission passes of the like, I knew I had to get the CityPASS. Chicago CityPASS gets you into 5 of the top sightseeing places - with an upgraded admission!
Great Price
My family came to visit us from Colombia. It was their first time in the states and I wanted to make sure their first vacation was more than what they expected it to be. When I came across the Chicago CityPASS online I knew it was just what I needed to make their trip memorable.
CityPASS Saved My Vacation and Marriage
We used Chicago CityPASS recently and it was a not only a vacation saver but a marriage saver. My husband and I would typically argue about which way to go and what to do next. The CityPASS was easy to use and offered detailed information as well as discounts.
Chicago CityPASS
is rated out of
5
by
13703
.
Rated

5

out of

5
by
Jeremy
from
Great experience!
The city pass tickets were a quick and easy way for my family and I to enjoy Chicago without the extra hassle of booking each event separately. We also enjoyed the savings and getting to use the express line at Skydeck as a result of having them. My mom grew up in Chicago and got to experience the "tourist" side of the city for the first time. My only recommendation is to make sure that you have enough time to visit each destination. My nephew was only in town for the weekend so visiting more than 2 places per day was tricky. You will get 9 days to visit all 5 destinations.
Date published: 2022-04-08
Rated

4

out of

5
by
Becky
from
Quick weekend trip to Chicago made easy
Bought the city pass for the first time. We wanted to see the field museum in chicago , so we ended up buying the 5 city pass as that was the one that had the field museum listed. It saved us 50% on cost of admission, plus gave us an expedited pass to the willis tower. The pass also included some upgrades such as seeing the short films at the 3 main attractions. I would recommend to have all city passes do the expedited lines as it was a bit confusing at the field museum . I would also encourage all tickets to have reservation time , as i was worried that the Field museum and planetarium would be full and we wouldnt be able to see them.
Date published: 2022-04-04
Rated

5

out of

5
by
lesterkat
from
Great way to see city attractions!
I purchased the city pass for my whole family for our recent trip to Chicago. I loved that it included the Field Museum, Shedd aquarium and Sky deck with the option to choose 2 more attractions. Very easy to redeem your tickets at the individual attractions. Some places require a time frame that you will attend but others do not. Either way we never waited in line to enter any attraction. The Skydeck was my favorite! Amazing views and great memories. Definitely well worth the money and I loved that the QR codes for entry were sent via email and could them be added to your Apple wallet. Highly recommend getting a city pass!
Date published: 2022-03-22
Rated

5

out of

5
by
Mitch
from
Absolutely Worth it.
This made my trip to chicago fun. I love museums and this chicago pass is a good deal for me. Plus it offers easy access to other tourist attractions like sky deck and 360 observation deck. For a brief stay, this city pass made my trip cheaper, easy and enjoyable.
Date published: 2021-12-02
Rated

5

out of

5
by
nickle
from
Great trip!
E purchased a city pass our trip to Chicago and are really glad we did. Made entry much quicker and basically had the things we wanted to see and do on it. Customer service was most helpful. Especially Scott! Thanks for making a wonderful trip even better using city pass. Would definitely use again and recommend to anyone going where city pass is.
Date published: 2021-08-31
Rated

5

out of

5
by
LoveToTravel
from
Great Deal!
I have never used a City Pass before and kind of decided at the last minute to purchase one for our trip to Chicago. I was worried about some of the reviews which stated it was hard to make reservations when using the City Pass etc. We did not find this to be an issue at all. We actually ended up visiting more attractions than we would have without the City Pass and found it to be a great deal! We were traveling with our two college age children so it saved us ALOT of money and allowed us to check the boxes on everything we wanted to see. I would definitely purchase a City Pass again!
Date published: 2021-08-28
Rated

5

out of

5
by
chammybear
from
Amazing deal for a wonderful experience!
This is my second time availing a City Pass. My 1st experience with it is over 5 years ago and I can still say it's worth availing it even after all these years. Of course the experiences pre- and during the pandemic were different with all the protocols in the different establishments but they were still educational and enjoyable nonetheless.
Date published: 2021-06-05
Rated

5

out of

5
by
jme789
from
Absolutely Worth Every Penny
We bought the city pass on a whim. We were interested in a couple of the attractions and figured, we might as well go for it. So we did. The museums and aquarium are fantastic. The sky deck was even a much more neat experience than I was expecting. I am thrilled that we took advantage of this excellent deal.
Date published: 2021-06-01
Rated

5

out of

5
by
JonInVB
from
Saves time and money. Great customer service!
Bought this kinda last minute for my trip and really glad I did. Saves you time, money and their customer service is top notch. I was a bit worried about availability of times for two of the experiences on my trip, messages the CityPass team and they not only confirmed availability with the locations, they walked me thru step by step how to easily book it and even followed up.
Date published: 2021-05-26
Rated

5

out of

5
by
jjantzerw
from
Great way to see the city!
We bought the CityPass for our trip after realizing it would offer discounted tickets to almost all the attractions we wanted to see. The fast-pass parts for the 360 Deck and Shedd were well worth it (the other attractions we saw weren't busy enough at the time to make a difference). We liked the added items at the museum aquarium, but they weren't anything that would sway us to want the CityPass. Highly recommend if you plan on doing more than 2 attractions in the city.
Date published: 2019-09-04
Plan your visit.
The My CityPASS® app has all of the details you need for a great experience, including reservation and entry information, attraction details, maps, and extra offers and discounts from our partners.
Explore attraction locations.
About Us
City Pass was created in 1997 by founders Mike and Mike to inspire travelers to see the most iconic attractions in North America, all while saving money.
Still family-owned today, City Pass is a small company of 50+ employees who share a passion for travel. We love to see our customers have fun and explore new places, and we hope you'll share your memories with us, too.