Articles by City & Category
The 2020 Guide to Visiting Walt Disney World® Resort
April 9, 2019 By CityPASS
Despite the world-weary attitude most of us publicly show the world, we all have a small child inside of us that positively sparkles with excitement at Walt Disney World. The home of Mickey, Minnie, Donald, and a whole host of other lovable characters, Walt Disney World Resort sprawls over 40 miles and encompasses hotels, four theme parks, golf courses, two water parks, and a plethora of restaurants dishing out tasty five-star fare.
Its sheer magnitude necessitates some serious planning before a trip. Use this guide to learn about the most popular rides, restaurants and attractions, and get the lowdown on how to score discount tickets so you can spend money on skipping the lines with Disney FastPass+.
Planning a Trip to Walt Disney World® Resort
Like planning a wedding or other life-altering event, planning a trip to Walt Disney World requires rigor, dedication, and a commitment to due diligence. The good news is that, if you've done your homework, you'll be well-positioned to enjoy one of the most magical vacations you'll ever experience.
Walt Disney World has plenty of resources to help you plan, including an entire site filled with videos, brochures, and more. You can download the My Disney Experience app to help you navigate the park, and even access your Walt Disney World itinerary information in one place.
For best results, start booking hotels and restaurants a minimum of six months in advance if you're planning to visit during a peak period (summer, or the winter holidays beginning around Halloween).
Visiting during a less-crowded time affords you a little more leeway. If you're looking to reserve a space at a hot ticket item, such as a character breakfast, you should definitely book as early as possible, as seats fill up quickly.
Walt Disney World® Resort Discount Tickets, Hours, and More
Walt Disney World is such a massive property that the only address you need to know is the resort name. Hours of operation for Walt Disney World vary by park and month and have different holiday hours as well. Check the official Walt Disney World calendar for more detailed information.
If you are a guest at select Disney Resort hotels, you can also take advantage of the Extra Magic Hours either before the parks open or after they close.
There are several options for acquiring tickets for Walt Disney World. You can buy them directly from Disney (where you'll also have the option of purchasing an annual pass or vacation package for your stay), or from any number of third-party ticket providers. If you'd like to save a little dough on your dream Walt Disney World vacation, be sure to check out the discounted tickets through Orlando CityPASS® tickets. Whether you're planning a weekend jaunt or a longer trip, you'll save quite a bit on tickets to Orlando's top destinations, including SeaWorld®, LEGOLAND®, and Universal Orlando Resort™.
Walt Disney World® Resort Attractions
Walt Disney World is virtually its own city complete with its own ecosystem. The sprawling complex is designed to cater to your every whim and desire.
Feel like navigating a bioluminescent rainforest at night via a gently bobbing riverboat or shaking your tail feathers with Mickey and company as part of a seemingly impromptu street dance party? Well, you're in luck, because Walt Disney World affords you the option to experience both of those events and hundreds more.
While it may seem like it's geared towards children, Walt Disney World has more than enough exciting rides, entertainment, and attractions to delight people of all ages. They don't call it "the most magical place on earth" for nothing! Here is a rundown of all the parks and attractions that will vie for your attention once you arrive:
Epcot®: An inspired combination of world cultures, quasi-educational experiences, and live shows featuring spectacular special effects or Disney favorites like the characters from Frozen and Finding Nemo.
Disney's Hollywood Studios®: Are you ready for your close-up? You'll feel like you're part of your favorite Disney movies when you visit this Hollywood-inspired theme park, complete with stunt-acular entertainment and thrilling rides.
Magic Kingdom® Park: Your chance to hobnob with timeless Disney characters or take advantage of dizzying rides with themes from your favorite Disney movies. This massive park has more than enough to keep you busy for a full day, so plan accordingly.
Disney's Animal Kingdom® Theme Park: An enchanting park filled with wondrous creatures, both real and imagined.
Disney's Typhoon Lagoon Water Park: Splash around and prepare to be drenched at this sensational water park that features an inviting beach, a lazy river, and multitudes of heart-stopping rides that will leave you amped for more.
Disney's Blizzard Beach Water Park: A one-time ski resort that has been transformed into a dazzling aquatic adventure filled with exhilarating rides, a white-sand beach, and plenty of options for young'uns.
Oak Trail Golf Course: Practice your golf swing on this lush 9-hole, par-36 course that's perfect for all ages to enjoy.
Miniature Golf Courses: Enjoy this family vacation staple at two whimsical mini-golf courses: Fantasia Gardens and Winter Summerland. Each has its own delightful theme but are equally entertaining.
ESPN Wide World of Sports Complex: Watch teams of talented players from every conceivable sport battle it out in this 230-acre sports complex that boasts state-of-the-art facilities and playing fields.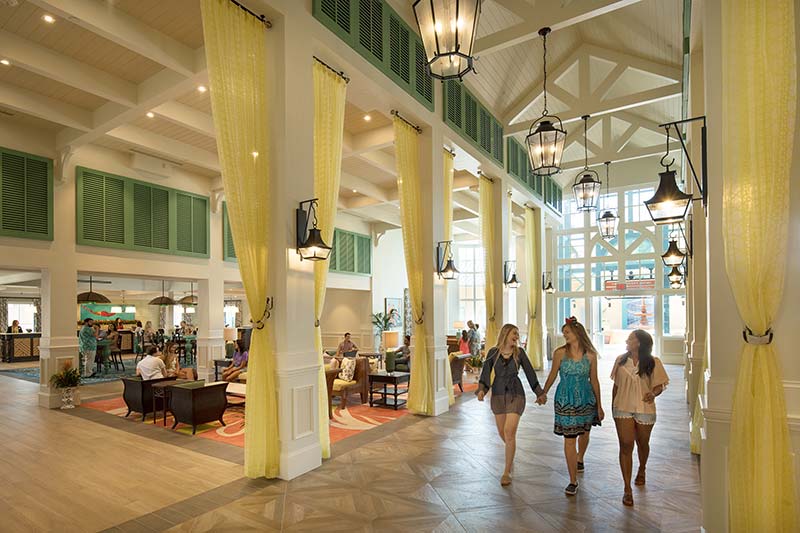 Where to Stay: Walt Disney World® Resort
It wouldn't be a "world" if Walt Disney World didn't offer magical places in which to dream about all your Disney adventures. Happily, for weary Disney enthusiasts, Walt Disney World has scads of prime options for overnight stays. Each hotel has its own special themed décor, so rest assured you'll be slumbering in accommodations that will appeal to your inner child almost as much as Walt Disney World itself.
Walt Disney World Resort Hotels
Walt Disney World Resort boasts a total of 32 hotels, ranging from basic (but still fun) to luxurious. If you're traveling in a large group, you can choose from villas, suites, and even Polynesian-themed bungalows. Prices will run you from around $100 to almost $600 per night for the most luxe (Disney's Grand Floridian Resort & Spa).
If you're aiming to get an early start on a particular theme park, Walt Disney World offers hotels that are either within spitting distance or pretty darn close to the park itself, which is especially helpful when you've got pint-sized pals who are flagging in the afternoon after having awoken at 5am bursting with excitement.
Resort guests also get more advanced access to Disney FastPass+ (which allows you to skip lines), reservations at the most in-demand restaurants, and the opportunity to take advantage of Extra Magic Hours (when they get exclusive access before and after traditional operating hours).
Since Walt Disney World visitors span a multitude of ages, there are definitely hotel accommodations that are well-suited to any combination of guests, regardless of personal preference or ability to consume food without getting it all over oneself and the surrounding floor.
Hotels Near Walt Disney World® Resort
If you decide to stay near — but not in — Walt Disney World Resort, there are plenty of options available. Disney provides a list of recommended hotels near the resort that meet their exacting standards. Prices for these accommodations are on the high side, even for the "value" level hotels.
Instead of booking just a room, if you book at a partner hotel via the Walt Disney World site, you'll purchase a package that includes a base ticket to one Walt Disney World theme park that's good for the number of nights you are staying there plus one. Keep that information in mind when you calculate your total costs, but if you're trying to save money on a trip to Walt Disney World, you may be better off booking a hotel and tickets separately, especially if you score a great deal with Orlando CityPASS® tickets.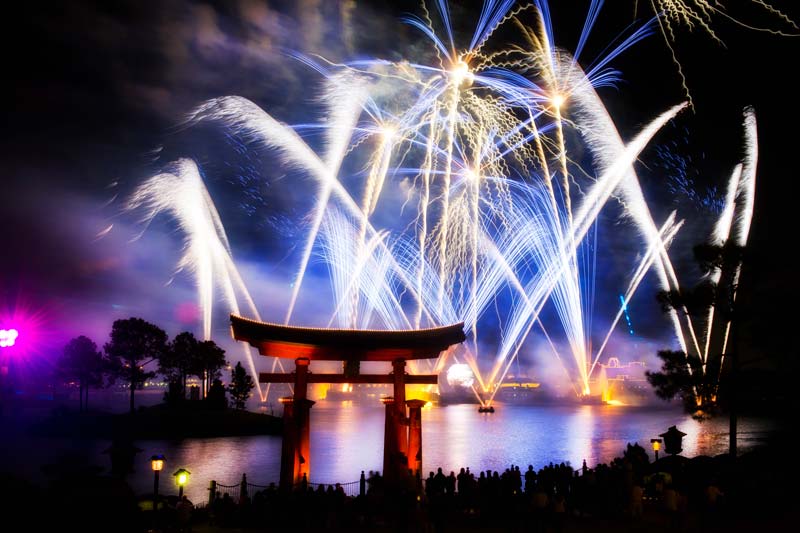 What to Do at Epcot®
Originally intended as a planned community, today's Epcot is a mélange of cultural, future-looking, and educational attractions. It is divided into two areas: Future World and World Showcase. Future World hosts the technology and innovation-themed attractions like Spaceship Earth® and Test Track® Presented by Chevrolet®, whereas World Showcase has a World's Fair-style atmosphere showcasing 11 pavilions, all created to represent different countries.
Top Epcot® Attractions
Similar to the other parks, you'll find no shortage of activities and exciting attractions at Epcot. You could easily spend a full day there so be sure to build time into your itinerary. While it may lack the fairy-tale ambiance of some of the other Walt Disney World Theme Parks, Epcot has some major not-to-be-missed attractions.
Spaceship Earth®: Housed inside Epcot's iconic geodesic sphere (giant golf-ball-shaped building), this ride takes you on a journey that explores the evolution of human communication through animatronics, all cloaked in darkness.
Frozen Ever After: While visiting the Norway pavilion, take a boat ride to the fictional Arendelle to enjoy animatronic Frozen characters as they perform music from the film.
Test Track® Presented by Chevrolet®: Design a simulated car and physically test it out via Tron-style virtual grid.
Soarin' Around the World: You'll practically be able to feel the wind rushing past your face as you fly over Earth's magnificent natural wonders in this simulated hang-glider ride.
Le Celier Steakhouse: Book a table at this carnivore-friendly hotspot several months in advance, as seats fill up quickly!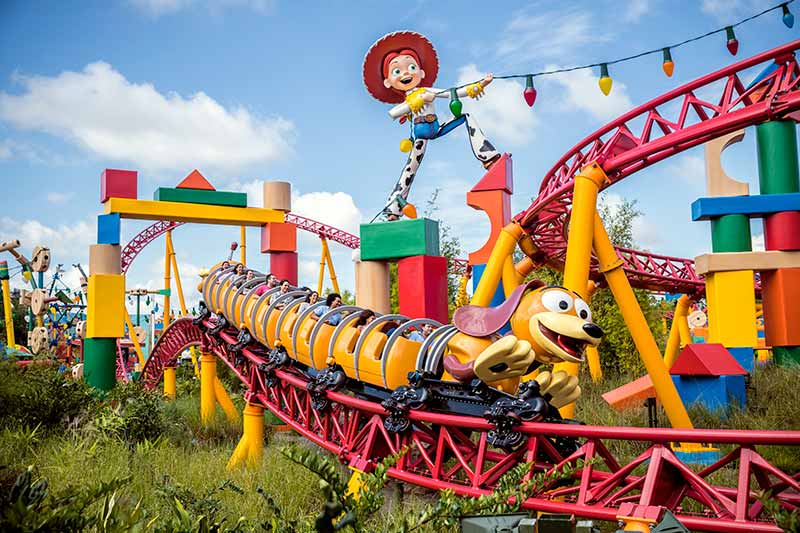 What to Do at Disney's Hollywood Studios®
It's your turn to be the star of the show at Disney's Hollywood Studios. Fans of Woody and Buzz should make a beeline for Toy Story Land, where they can relive the fun of the movies through fast-paced rides and face-to-face interactions with characters. If you're a Star Wars fiend, you'll discover how the epic saga comes alive through rides, exhibits, and even a nighttime show. Disney's Hollywood Studios is where reality meets the screen, with spectacular results!
Top Disney's Hollywood Studios® Attractions
Hold onto your hats because it's going to be a wild ride. Experience the thrills of the silver screen when you step inside Disney's Hollywood Studios. Catch a wild stunt show or be prepared for a white-knuckle roller coaster that whips you around unexpected twists and turns to Aerosmith's greatest hits. If it's an exciting, heart-pumping good time you're after, head over to Disney's Hollywood Studios. Here are some of the most popular attractions:
Rock 'n' Roller Coaster® Starring Aerosmith: Be prepared for a rollicking good time - you'll race down the dark Los Angeles freeways in a stretch limo to the thumping bass tunes of Aerosmith's greatest hits.
Star Tours® – The Adventure Continues: Experience the thrills of exploring far-flung planets and the furthest reaches of space in this simulated space flight ride.
Toy Story Land: Zap moving targets while riding Toy Story Mania!® or hop aboard the Slinky Dog Dash for a crazy curving roller coaster. In Toy Story Land, you'll think you're Woody's size as you explore his buddy Andy's playground of board games and massive building blocks. If your tummy starts growling, chow down at Woody's Lunch box for pint-sized treats!
Indiana Jones™ Epic Stunt Spectacular: This nail-biting show features non-stop action as Indy and Marion narrowly avoid thunderous bad guys and exploding vehicles in pursuit of the treasured golden idol.
Fantasmic!: A pyrotechnic masterpiece set to a guns-blazing soundtrack takes you on a journey inside Mickey Mouse's mind as he battles villains from multiple Disney films.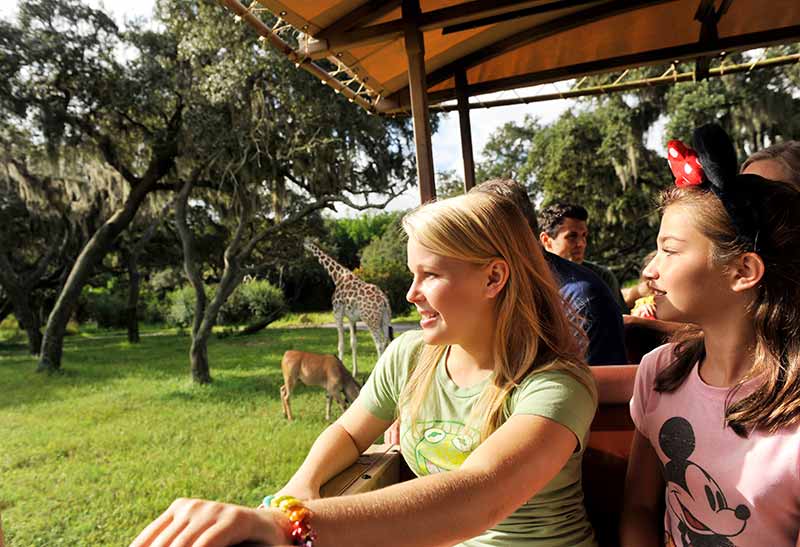 What to do At Disney's Animal Kingdom® Theme Park
Mother Nature's splendor and fictitious creations come together in a brilliant spectacle where reality merges with imagination. This zoological theme park features seven themed areas filled with fantastical beasts. From the majestic creatures of Africa to the long-dead titans of the dinosaur age (and everything in between, including the fictional creatures of Pandora — The World of Avatar), the entrancing Disney's Animal Kingdom Theme Park will keep you riveted throughout your visit.
Top Disney's Animal Kingdom® Theme Park Attractions
Explore multiple worlds on the wondrous grounds of Disney's Animal Kingdom Theme Park. Live animals reside comfortably in impeccably recreated habitats; you'll find plenty of entertaining shows and rides to keep you occupied for a day or more. If you are an animal lover, you'll never want to leave! Here are some of the most popular attractions at Disney's Animal Kingdom Theme Park:
Kilimanjaro Safaris®: You'll feel like you've landed smack in the middle of an African savannah during this safari ride that takes you through the rich and varied African biomes. Make sure you secure a spot on this ride in the morning when the animals are most active.
DINOSAUR: You don't have to a paleontologist to enjoy this spectacularly intense ride. You'll journey back to a time when these massive creatures ruled the planet, where you'll have to narrowly escape becoming someone's dinner! Take note that this ride may not be suitable for younger children due to its realistic dinosaurs and loud noises.
Expedition Everest – Legend of the Forbidden Mountain®: Careen over a mountain on a runaway train while avoiding the claws of the (allegedly) mythical Abominable Snowman.
Pandora — The World of Avatar: Even if you've never seen the movie, this incredibly imaginative area of Disney's Animal Kingdom Theme Park is worth a visit. Float down the Na'vi river to witness a bioluminescent rainforest, soar above the vast lands on the back of a flying mountain banshee on Avatar Flight of Passage, or simply meander amongst the sights in the lush Valley of Mo'ara. Wet your whistle at the Satu'li Canteen, where you can dig into flavorful yet healthy Pandorean fare.
Festival of the Lion King: If foot-tapping music, dancing, singing, comedy, and even acrobatic feats sound intriguing, be sure to save a seat at this whimsical performance.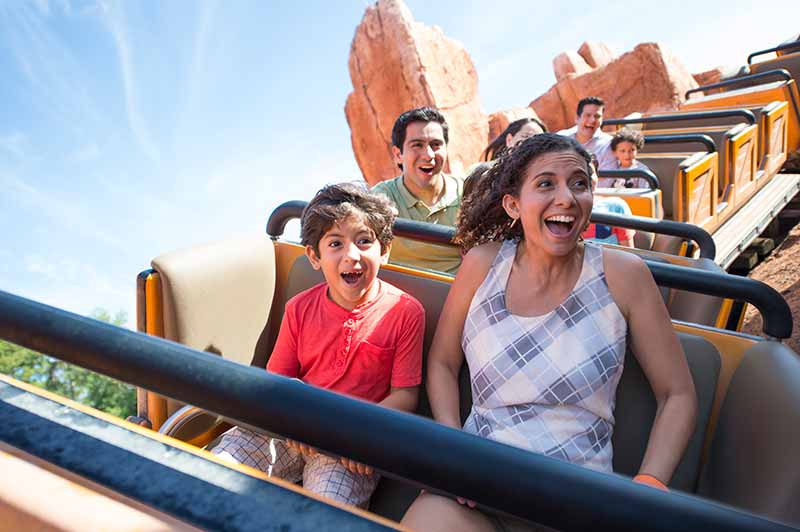 What to Do at Magic Kingdom® Park
Magic Kingdom Park, home of the iconic castle synonymous with the Disney brand, is a testament to the imagination and unbelievable vision of the man who created it. It's a land where princesses and colorful parades fill the streets, fireworks light up the night each evening, and you're never more than a few steps away from one of the many lavishly themed restaurants.
Inside Magic Kingdom Park, you'll find the classic Disney rides that have been delighting guests for decades: Splash Mountain®, Space Mountain®, and "it's a small world"®, to name a few.
Top Disney's Magic Kingdom® Park Attractions
Magic Kingdom Park is the most visited theme park on earth. Its attractions are numerous and varied, but there are still some standouts and old standbys that simply never get old. From a peek inside Cinderella's emblematic residence to a rip-roaring thrill-fest down Splash Mountain®, there are enough options here to keep anyone busy for hours. Try a few of the most beloved attractions:
Splash Mountain®: A classic log flume ride infused with Disney magic that culminates in a drop down a five-story waterfall down Br'er Mountain.
Big Thunder Mountain Railroad®: Hang on to your hats as you careen through a haunted mining town on a five-car locomotive. Be warned: legend has it that there's more than meets the eye inside this hulking peak.
Cinderella Castle: Presiding over Main Street, U.S.A., this soaring edifice clocks in at almost 200 feet tall and has no fewer than one million pieces of colored glass comprising the mosaics that regale the story of Cinderella lining the interior walls. Inside you'll also find Cinderella's Royal Table, a restaurant where you can dine with your favorite princess, or Bibbidi Bobbiti Boutique, a charming beauty salon that transforms guests into young princesses and knights.
Under the Sea — Journey of The Little Mermaid: Relive this classic tale of dreams and fortitude through recreations of recognizable scenes (Ariel's grotto!) and rousing songs from the movie. You'll feel like a guest at Ariel and Prince Eric's fairytale wedding at the end.
Be Our Guest Restaurant: Why should Beauty and Beast have all the fun? Feel like royalty when you dine inside the Beast's castle, where you can choose from three magnificently themed rooms – the Grand Ballroom, the West Wing, or Castle Gallery to enjoy French-inspired cuisine.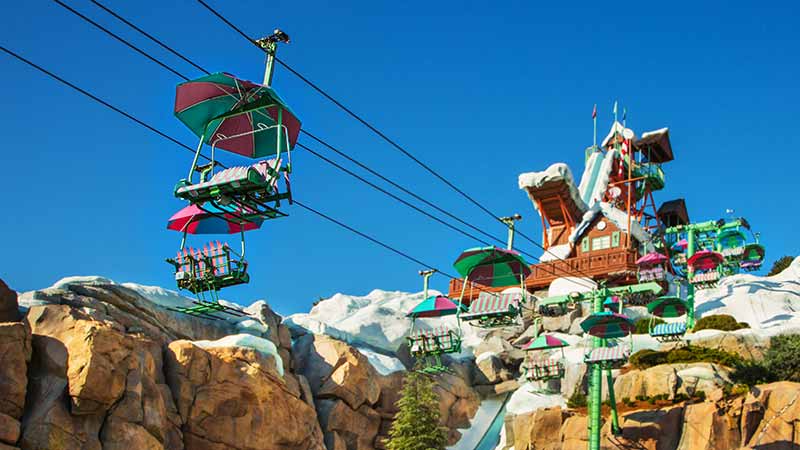 What to Do at Disney's Blizzard Beach Water Park
While it may look frosty inside this ski-resort-cum-water park, the temps inside Disney's Blizzard Beach Water Park are anything but. Heated water pumped throughout the park and Florida's balmy winters keep it toasty during the winter, and in the warmer seasons the sun does the rest!
Disney's Blizzard Beach Water Park has rides and attractions for everyone, from those who just want to soak up the Orlando sun to others whose visit won't be complete unless they scare themselves silly on heart-stopping rides. Even tiny tykes will be delighted to explore Tike's Peak, where they can hop aboard water rides perfectly suited for younger guests.
Top Disney's Blizzard Beach Water Park Rides
Unencumbered by heavy ski-wear inside this "wintery" wonderland, it's easy to navigate from one exciting ride to the next. There's something for everyone — as long as you don't mind getting a little wet! Here are some of the most beloved attractions:
Summit Plummet: Fasten your seatbelts (metaphorically speaking) because this is one crazy ride. Starting atop Mount Gushmore, you'll hurtle down 12 stories at an incredible speed as well as zip through a dark tunnel before emerging a full 360 feet later in a spectacular spray of water.
Chairlift: Enjoy a quick lift to the top of Mount Gushmore on a relaxing chairlift that offers you unparalleled views of the park. Just don't try to use the skis that pop up under your feet as you ascend.
Teamboat Springs: Grab your pals or family and head to this group-friendly whitewater rafting ride that will alternately thrill and amuse you as members of your party get drenched by passing sprays.
Downhill Double Dipper: If adrenaline-charged rides are your game, you'll love this competitive waterslide that pits you against friends and family to see who can navigate its lightning-quick waters to reach the finish line first.
Tike's Peak: Tots can embrace miniature versions of the most popular rides at Disney's Blizzard Beach Water Park including pint-sized slides and an inner tube ride, or splash around with abandon in wading pools.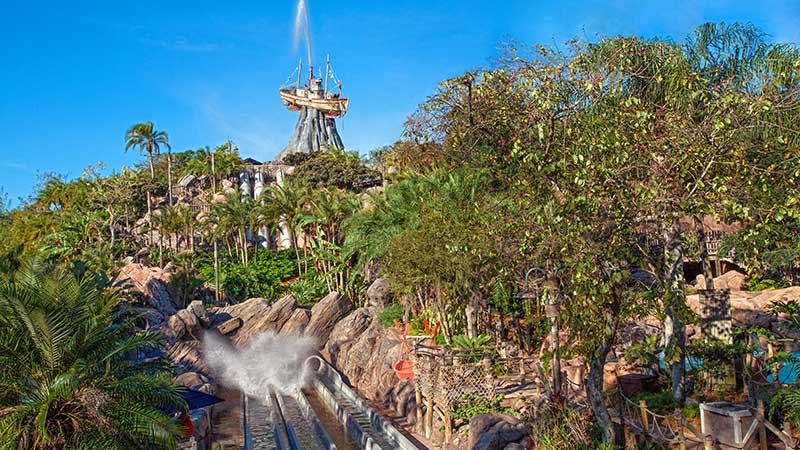 What to Do at Disney's Typhoon Lagoon Water Park
The older of the two water parks, Disney's Typhoon Lagoon Water Park has just as many opportunities for splash-tastic fun as its partner park. Instead of a misplaced ski resort, Disney's Typhoon Lagoon Water Park is styled as an idyllic resort that met with unfortunate inclement weather (witness the shrimp boat marooned atop Mount Mayday).
In the center of the action is a massive wave pool that alternates between large and small swells. Like Disney's Blizzard Beach Water Park, Disney's Typhoon Lagoon Water Park is overflowing with rides to scare the pants (or bathing suit) off you, let you explore your rambunctious side, or lull you into peaceful relaxation.
If you're feeling daring you can even get private surf lessons to ride the curling waves. It's the perfect way to stay cool during Florida's warmer months or enjoy the sunshine state's mild winter. Note on water parks: both close temporarily during the winter for refurbishment but at different times, so one will always be open for use.
Top Disney's Typhoon Lagoon Water Park Rides
If you think splashing around in a quasi-tropical paradise sounds ideal, you'll love Disney's Typhoon Lagoon Water Park's wide range of exciting activities. There's something for all ages, from kiddies to those whose driver's licenses belie their youthful spirit. Don't miss these top attractions when you visit:
Typhoon Lagoon Surf Pool: The swells of this colossal wave pool can reach six feet! Make sure to listen for the tremendous sonic boom that heralds the start of the awesome waves (which have a 10-minute duration) before the pool settles back down to gentle undulations.
Mayday Falls: Calling all adventure-seekers––this one's for you. Snuggled into a cushy inner tube ride, you'll cascade down Disney's Typhoon Lagoon Water Park's tallest water slide, over bumps and frothy water and past intimidating waterfalls.
Bay Slides: Children under five feet tall will adore this tamer version of a "big kids" slide that ends with a gentle splash in an out-of-the-way, shallow area of the Typhoon Lagoon Surf Pool. Younger kids will also enjoy Ketchakiddee (get it?) Creek where they can splash around in an aquatic playground that's just their size.
Crush 'n' Gusher: Half waterslide, half roller coaster, this fruit factory-themed attraction is full of unexpected twists and turns and defies gravity in several instances.
Keelhaul Falls: While it's not as pulse-pounding as Disney's Typhoon Lagoon Water Park's water slide options, Keelhaul falls will still throw you for a loop as you hurtle down to an enormous splash at the end of the ride.
Disney's Oak Trail Golf Course
Florida is known for its lush golf courses, and Disney's Oak Trail Golf Course is no exception. It's a sprawling expanse of rolling green hills that doubles as an animal sanctuary (Audubon certified) and you can easily while away an afternoon casually playing through its nine holes. It's a walking course, which means no golf carts, so if you plan to bring the kids make sure they're comfortable with a bit of traveling between the holes.
The course also offers junior tees for children and tweens, and all are welcome on the green. If you're a football fan, take note of their new FootGolf game, which you can play on the same nine holes. Make sure you reserve a slot for a game of either sport ahead of time!
Disney's Miniature Golf Courses
Disney's Fantasia Gardens Miniature Golf Course
Fantasia fans will swoon over the dancing fountains and animated characters acting as the hazards on this imaginative mini golf course. While it may seem easy at first glance, the 18 holes are surprisingly difficult to master.
In "The Nutcracker Suite," you'll go up against dancing mushrooms; with "The Sorcerer's Apprentice," you'll navigate a tricky group of wayward broomsticks and spectacular water effects.
You should pencil in at least one and half hours for this fanciful course, more if you're planning on visiting during a high-tourist season or if you have small kids who may take more than a few swings to get the ball into the cup. Prices are $12 for children ages 3-9 and $14 for 10 and up.
Disney's Winter Summerland Miniature Golf Course
Santa and his elves devised this inventive course after a moonlit discovery of snow in Florida one Christmas Eve. Its 36 holes are divided into two distinct themes: summer (to assuage elves who prefer the naturally warm and sunny Orlando climate) and winter (for the elves who can't get enough of the chilly weather). Both courses are fully decked out in holiday décor, but one features palm trees and peppermint-striped inner tubes while the other favors cold-weather obstacles.
You'll enjoy the challenge of avoiding Squirty the Snowman (who spritzes guests as they play through) on the cool-weather course and play past a snoring Santa on the warm-weather one. Prices are $12 for children ages 3-9 and $14 for 10 and up.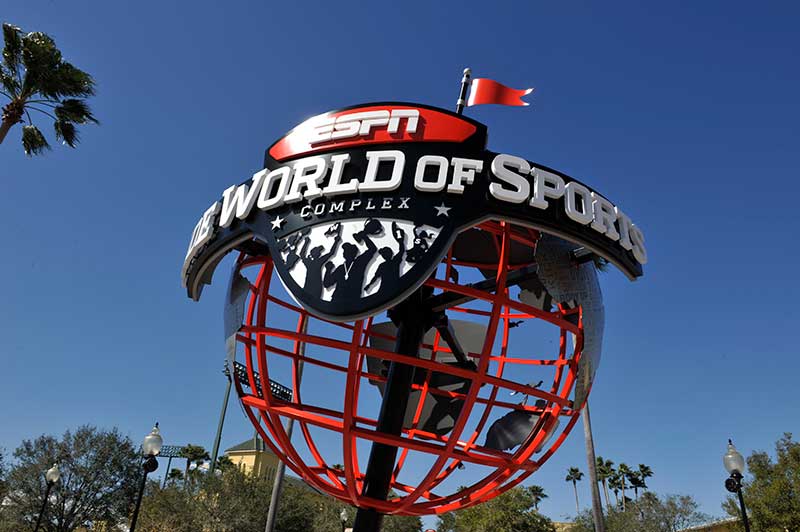 ESPN Wide World of Sports Complex
Sports enthusiasts will adore this state-of-the-art facility where they can catch the Atlanta Braves' pre-season training or watch all manner of athletic competitions and games. Take your pick from all the traditional sports, but be sure to check out the additional sports page to see if you'll be visiting during a time when the complex is hosting a special event like the International Martial Arts Festive or the Twirl Mania International Championship. Non-sports fans may want to skip this part of Walt Disney World; however, die-hard sports enthusiasts should definitely check out:
ESPN Clubhouse Shop: Snap up some gear branded with your favorite team to embrace their highs and lows as only a true fan can do.
Champion Stadium: Catch the Braves' pre-season training in this 9,500-seat retro stadium where you can enjoy the action from bleacher seats, the lush lawn, or one of four luxurious skyboxes.
HP Field House: Enjoy the Advocare Invitational and other exciting tournaments in this 70,000-foot Spanish-style field house.
Autism & Disney World - Available Services
Disney offers several services for guests with cognitive disabilities, including Advanced Ticket Purchase, Stroller and Wheelchair Rental, Strollers as Wheelchairs, Rider Switch Program, Disability Accessing service, Break Areas, Companion Restrooms. Helpful Guides for Attractions and your General Resort Experience, and Dietary Accommodations. For more information on these services and resources, please visit the official Disney website.
Maximize Your Trip to Orlando
Orlando is more than just the home of the most popular theme parks in the world. It's also a diverse, cultural city with plenty to do either in downtown Orlando or within 90 minutes driving distance.
If you're looking for some natural beauty, check out Bok Tower Gardens, a national historic landmark known for its Singing Tower and over 50 acres of beautifully landscaped gardens, or the Ellie Schiller Homosassa Springs Wildlife State Park, where you may be able to catch a glimpse of the manatees who call the in-ground manatee park home from November to March. Swimmers will delight in the consistently-72-degrees water of the various springs inside Ocala National Forest, and hikers will enjoy the Rock Springs Run State Preserve.
The Kennedy Space Center is always a surefire hit with NASA fans, and the always-hopping Dr. Phillips Center for the Performing Arts is known for its spectacular lineup of musicians, dance performances, comedians, and more. With so much to do, you may find yourself planning a return trip before you leave!
If you are planning to hit up the most popular theme parks in Orlando for more than a couple days, check out Orlando CityPASS® tickets to save some cash. You'll get discounted tickets for the top attractions in Orlando, which means more money for you to spend on all the other exciting attractions vying for your attention during your visit.