Articles by City & Category
Soaking Up the Sun at Disney's Blizzard Beach Water Park in Orlando
May 5, 2023 By CityPASS
After a full day at Walt Disney World® Resort in the Florida sun, what better way is there to cool down than to head to a water park? Blizzard Beach Water Park is located in the Walt Disney World® resort where fun and adventure await the entire family. The park is open almost every day and all of the water areas across the entire park are heated to about 80°F. This means that you can visit even on days with cooler temperatures. Here's a handy guide to help you make the most of your visit to Disney's Blizzard Beach Water Park.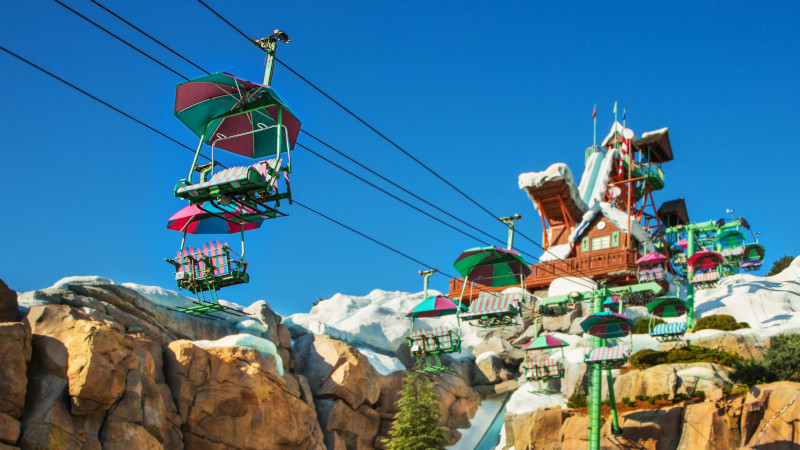 About Disney's Blizzard Beach Water Park
Legend says that years ago, the temperatures suddenly dropped one winter and there was a freak snowstorm near Orlando. This inspired developers to create Florida's first ski resort, complete with a chair lift and toboggan runs. Once the normal temperatures returned and the snow melted, plans for a ski resort were dashed. After a quick pivot, it was decided that the park and existing infrastructure would be used as a ski resort-themed water park, which opened as Blizzard Beach Water Park in Florida in 1995.
Today, guests can take the ski lift up to Mount Gushmore to discover many of the best rides and attractions at Blizzard Beach. From here, there are tons to see and do for both kids and adults, so grab your swimsuit and sunblock and get ready to hit the water!
Thrilling Attractions at Blizzard Beach
There are so many Blizzard Beach water park rides to check out that you may have trouble choosing what to do first. The park has a range of water slides, a lazy river, and an area for little ones to enjoy the water. There are single-track slides at the top of Mount Gushmore that are for individual riders to enjoy. This is where you'll find Summit Plummet, the park's top attraction, a nearly-vertical slide that whizzes you down the mountain at 60 mph. Another popular slide is the park's raft ride called Teamboat Springs, which sends up to six riders in a raft through a series of thrilling waterfalls.
There are several double-track racing slides that are designed for maximum thrill. Toboggan Racers, Snow Stormers, and Downhill Double Dipper are all slides that give riders the chance to race against the clock and other guests as they plunge down the mountain on either tubes or mats.
On the ground level of the park, check out the series of themed pools with different features and attractions. One is Melt-Away Bay, a wave pool that has a steady stream of "ice" fed into it to create the waves. If you want to relax, grab a tube and head to Cross Country Creek. More than 3,000 feet long, this lazy river takes you on an adventure through ice caves, grottoes, and a lush forest. As you float through the caves, be careful with melting snow overhead or you'll be in for a chilly surprise when it falls! Fortunately, you won't need a cave guide to make sure you get out the other side.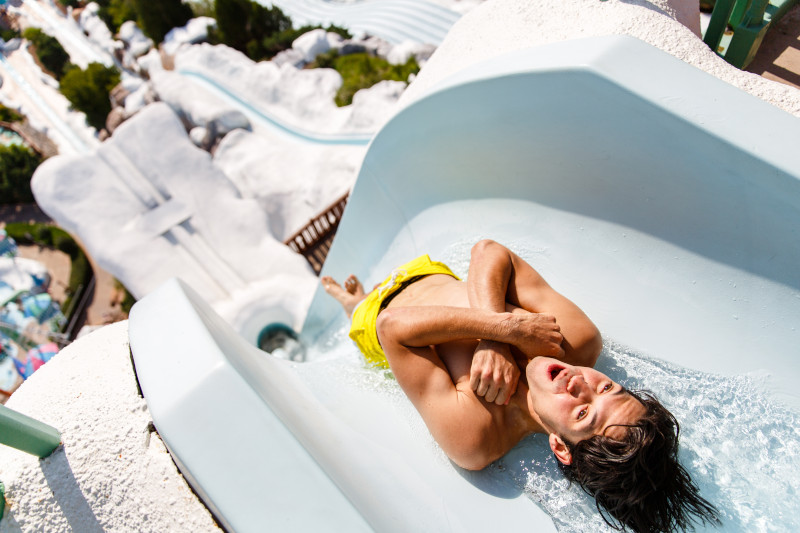 Blizzard Beach's Shops
If you're ready to take a break from splashing around the pools and slides, check out the park's stores and do a little shopping. There are two gift stores to browse: Beach Haus and Shade Shack. Both shops have plenty of apparel and knickknacks on display to commemorate your time at Blizzard Beach. There are items like tees, hoodies, houseware, and all kinds of souvenirs available for purchase. The shops also have practical items you might have forgotten to put in your suitcase, like disposable cameras or extra sunscreen.
Another useful reason to stop by the shops: you can rent both lockers and towels. If you plan on spending a good part of the day at Blizzard Beach, having a safe place to leave your belongings could be a lifesaver. And a few extra dry towels could come in handy, too!
Restaurants and Dining
After a few hours out in the sun and water, you're sure to build up quite an appetite. There are several quick-service kiosks scattered around the park that serve theme park favorites like hot dogs, nachos, and popcorn. In the mood for something sweet? Blizzard Beach has kiosks that specialize in frozen treats, doughnuts, and more. Heartier fare can be found at the Lottawatta Lodge or the Warming Hut, where you'll find specialty burgers, sandwiches, wraps, and salads.
If you really want to cool down from the Florida sun, you can grab cold drinks at any one of the park's dining spots. However, if you want to kick back and relax for a bit, stop by the Polar Pub where you can grab an ice-cold beer or a signature cocktail like the Blue Blizzard or Piña CoLAVA.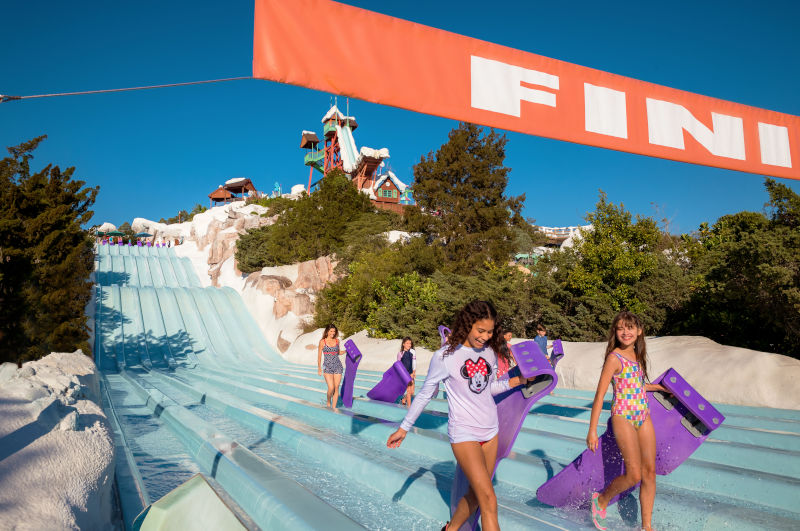 Cold Weather Closures
Weather in Florida is usually quite warm and sunny throughout the winter, but now and then a cold snap touches down and it gets quite chilly. Blizzard Beach stays open all winter with the help of the heated pools, but sometimes this isn't enough. If you go to Blizzard Beach in the winter, keep your eye on the Walt Disney World® Resort's official calendar and social media channels. Any official announcements will be made on both to let you know if the park will be temporarily closed due to weather that's too cold for even Blizzard Beach. The calendar and social media channels are also helpful places to check if the park has any special events going on that day.
How To Plan Your Visit to Blizzard Beach Water Park
Find out when the park opens and closes on the day that you want to visit so you can plan your day accordingly. Getting to Blizzard Beach early is always a good idea so that you can beat some of the crowds and have more time to enjoy the water slides and thrill rides. Take a look at the park map online so you can decide which attractions are at the top of your list and make those a priority to visit.
Keep in mind that you can bring in outside food and drinks as long as they aren't in glass containers. If you want to save a little money, pack a picnic that you can take with you and store it in a locker. You should also pack a bag with items to protect from the sun like sunscreen, rashguards, caps, and sunglasses.
Save on Tickets to Walt Disney World Resort Theme Parks
The easiest way to save on your trip to Blizzard Beach is by purchasing Orlando CityPASS® tickets. You can choose passes ranging from just three days up to 10 days with plenty of options so you can visit your favorite parks and attractions for less. Combined CityPASS® tickets are the best way to see and do more on your trip to Disney World in Orlando, so hurry and discover your ticket to big savings in Orlando!
Orlando Lodging
Part of a great vacation is finding a great place to stay. Use this map to find the right lodging for you:
Header Image ©Disney