Articles by City & Category
Experiencing Queen West: A Toronto Hub Like None Other
September 27, 2022 By CityPASS
Queen West, Toronto, is a stretch of downtown with energy like nowhere else in the city. Often compared to Soho in New York City, Vogue also named it the second coolest neighborhood in the world.
Since the 1980s, Queen West has been a hub for art galleries, live music, local boutiques, pop-up shops, and some of Toronto's best restaurants. As you stroll through this area, you'll find its gritty, immersive culture surrounds you.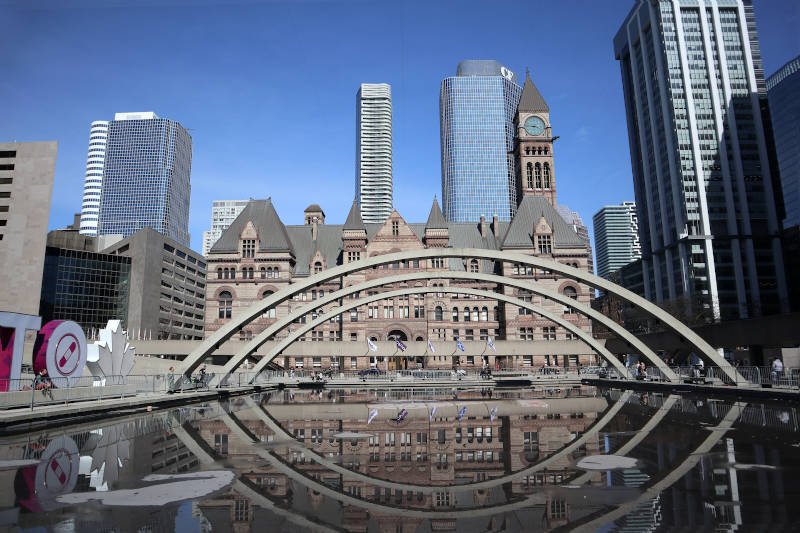 Queen Street West: A Fascinating Destination for Residents and Tourists Alike
The heart of Toronto's Queen West is situated on Queen Street West between Simcoe Street and Bathurst Street. Residents move here for its trendy lifestyle. And although the area is packed with amenities, every gourmet brasserie, vintage store, or park is within a short walking distance.
Tip: Queen West is one of the most accessible Toronto destinations. If you're visiting for the day or setting out from a boutique hotel nearby, get right into the action by taking the TTC (Toronto Transit Commission) to Osgoode subway station. Then walk or take the 501 streetcar route westbound.
A Walk Through What You'll Find in One of the Coolest Neighborhoods in Toronto
As the number of residents has boomed in recent years, the bars and restaurants in Queen West have increased too. Brunch is easy to find, with favorites like Frankie's Diner, which offers classic breakfast options.
Stroll down Queen Street West, then end your walk by relaxing in Trinity Bellwoods Park, just one of the parks in Queen West. Depending on which season you choose to visit Toronto, you can enjoy the cherry blossoms in spring, or picnic and people-watch in the summer months.
Here's a round-up of just some of the highlights of a visit to Queen West — from its thriving art scene to the best outlets to support locally-made fashion.
Tattoo Parlors
Spacious New Tribe Tattoo has been in the neighborhood for longer than the hipster beanies — since 1994. You'll see a variety of tattoo styles there, including Haida, Celtic, tribal, Japanese, portraits, traditional and more. And artists at New Tribe will sometimes do same-day walk-ins.
MY Ink Tattoo Studio is home to several tattoo artists. Along with the more typical Japanese and blackwork tattoos, they also specialize in dark trash realism, anime, and fine-line. Relax on an electronic, adjustable bed and view your new tattoo afterward through a floor-to-ceiling LED mirror.
If you'd prefer a smaller and more intimate studio for your tattoo, The Blind Tiger Tattoo fits the bill. Its tattooists offer original or custom designs and work heavily in traditional and neotraditional styles. The Blind Tiger stays open till late and promises to be a safe space for everyone.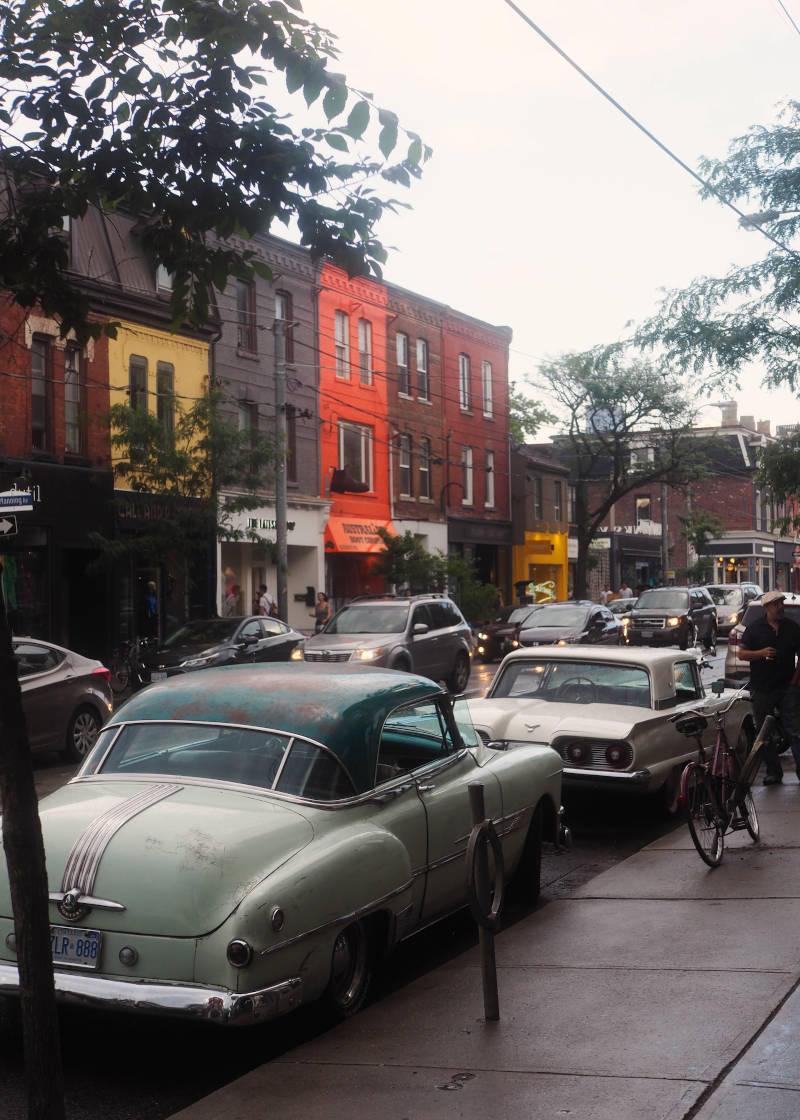 Clothing Boutiques
Eaton Centre, one of Toronto's primary shopping destinations, is located at the intersection between Yonge Street and Queen West Street. Within this sprawling complex are most of the big-name retailers. Eaton Centre is also home to Drake's October's Very Own (OVO) store and other iconic Toronto shops.
But Queen West is known as Toronto's fashion district, so head to its small, independent boutiques. Walk through the Toronto Designers Market, a fashion pop-up that helps small businesses operate within a brick-and-mortar shop. This space has hosted Toronto-based designers like Noble Sole, Andrew Coimbra, and Krane.
Find your next statement piece among a curated selection of contemporary brands at the tiny store FAWN. Their range includes womenswear, jewelry, shoes, and kidswear. For simple but bold accessories to adorn your body, visit Zane, Toronto's coolest accessories shop. Browse jewelry, watches, and bags from local brands and international favorites.
Art Galleries
Within Toronto, Queen West is the home of independent galleries. To really appreciate the local culture for the arts, walk down the strip of Queen West Street between Spadina Avenue and Shaw Street.
Meet a friend for a Queen West art walk at the bronze thimble. This giant sculpture honors the factory workers from when the neighborhood was Toronto's garment district. You'll find the thimble at the corner of Spadina Avenue and Richmond Street West, just south of Queen Street West.
Katharine Mulherin Contemporary Art Projects is one of Toronto's most respected gallery spaces. It has been showcasing the works of emerging and mid-career artists since 1998. Twist Gallery is a beautiful, high-ceilinged loft within the city. It's a hybrid exhibition gallery and event space which aims to be a more approachable art space. And John B. Aird Gallery is a non-profit, public, and socially-engaged gallery space for the community to enjoy and contribute to.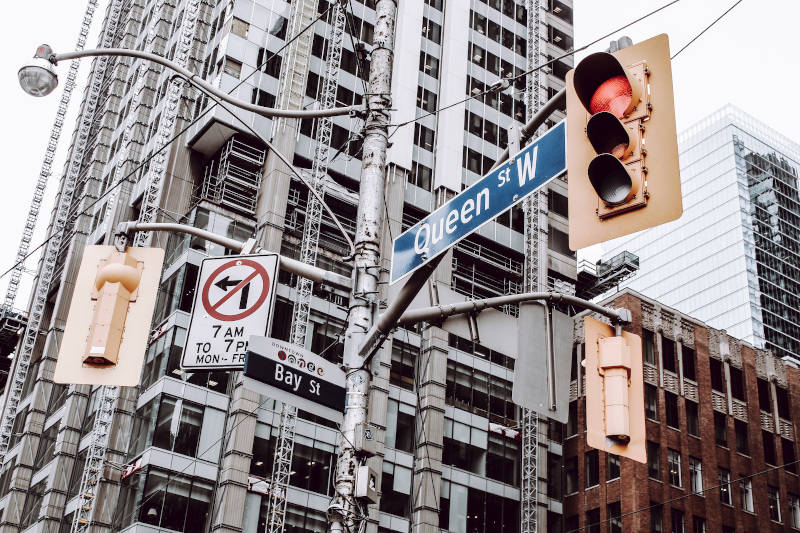 Cultural Buildings
Because the culture of downtown Toronto is so entrenched in the arts, a visit to Graffiti Alley is a must. The colorful Rush Lane is several blocks long and just south of Queen West Street. You'll find some of the city's best colorful murals and street art on this historic route, paying tribute to the local culture. Spot the raccoons — Toronto's unofficial mascot — amongst portraits of local legends.
Toronto City Hall can be found on Queen Street West, adjacent to the Old City Hall. Built only 66 years apart, they showcase how much architecture developed during the 20th century. The abundance of art-deco building architecture still standing in Queen West is a testament to this too.
But the building that perhaps showcases the culture of this Toronto neighborhood best is 299 Queen Street West. This towering gothic revival-style building opened in 1913 and has hosted countless media companies and on-location shoots. You'll spot a CP24 Breaking News truck bursting out of the east wall.
Active Music Scene
The best dive bars sprinkled throughout Queen West are popular with locals. But this neighborhood also has a robust live music scene. The Cameron House is a cultural hub dating from 1880 and has been home to local bands since 1981. It has resisted gentrification and hosts both big-name musicians and "hidden gems."
Eat delicious food, drink cocktails, or play pool while catching a show at The Rivoli. This venue hosts both hip musical performers and prominent Canadian comedians several nights a week.
Even if you're in Queen West on an early Tuesday evening and hoping to catch a show, you might still be in luck. The Rex offers live jazz and blues music twice daily, seven days a week.
Make the Most of Your Next Trip to Toronto
Thinking of a trip to the distinct destination that is Queen West or another of Toronto's most memorable neighborhoods? Save at five of the top Toronto attractions — and more — with Toronto CityPASS® tickets.