Articles by City & Category
Tropics Boat Tours: An Incredible Way To Take in Florida Waterways
March 22, 2023 By CityPASS
Wherever you go in Florida, you're never far from the beach. Perhaps that's why the Sunshine State is best known for its long stretches of soft sand, enticing waters, and opportunities to see both sunset and sunrise over the ocean.
It's true that most visitors flock to Florida to soak up the sun on its countless beaches. But how do you go beyond that? To get the most out of all that Florida and the Gulf Coast offer, look no further than Tropics Boat Tours in Tampa Bay.
What is a tropics boat tour? It's a once in a lifetime opportunity to set sail from Clearwater Bay and witness dolphins in their natural habitat, enjoy a romantic sunset in the Gulf of Mexico, and create lasting memories.
Here's a look at what the Tropics Boat Tours Clearwater Beach offers can bring to your Florida vacation.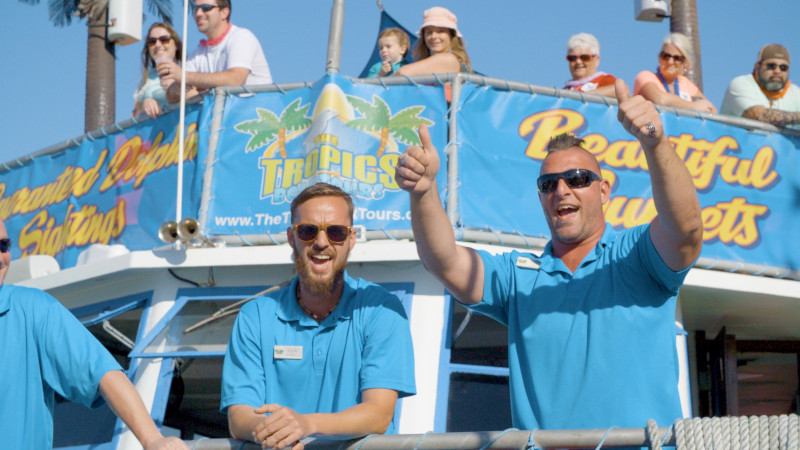 What To Expect on a Tropics Boat Tour at Clearwater Beach
With its beautiful white-sand beaches and breathtaking ocean views, Clearwater Beach visitors have much to enjoy. However, those who take off from the coastline and indulge in a trip led by Tropics Boat Tours get to see the famous location from a whole new perspective.
Here's what to expect on your tropics boat tour.
Unforgettable Views of Florida's Crystal Clear Waters
The source of Clearwater Beach's name is obvious — its beautiful emerald waters. However, leaving the sandy beach for an open-air boat tour allows you to experience the true beauty of these waters in a whole new way by traveling through Clearwater Bay and the Gulf Coast.
Boarding a boat tour is the best way to take in the majestic white-sand beaches in all their glory while enjoying the wind that rides over the water of the Gulf Coast. Whether you're relaxing on the sun deck or watching the waves part from the ship's bow, there's just no other way to get a view like this.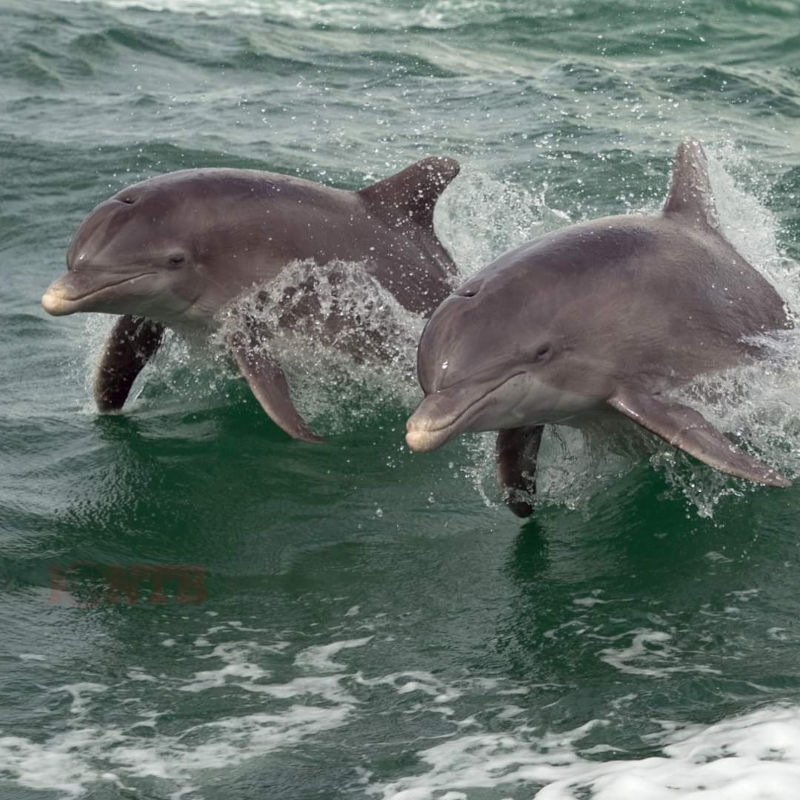 Dolphins Showing Off in Their Natural Habitat
Dolphins are among the most intelligent animals in the world, and they can be found all around Florida, especially along the Gulf Coast. Dolphins are naturally playful creatures, and one of Florida's most famed dolphins — the bottlenose dolphin — is best viewed in open waters.
Yes, sometimes dolphin sightings happen from Clearwater Beach, but if you want an up-close view of dolphins playing in their natural habitat, the only way is from the deck of a ship. Tropics Boat Tours offers you the opportunity to utilize the expertise of guides who know where to find bottlenose dolphins and get you the perfect glimpse into their world.
Breathtaking Sunsets With a Cocktail in Hand
There are tons of things to do in Tampa Bay, but there is nothing like watching a sunset over the glimmering waters of the Gulf Coast. The gentle rocking of the boat will help you relax and unwind, creating an ideal setting for romance or relaxation. And having a cool cocktail in hand as you watch nature's beauty unfold before you is sure to make any day even better.
The Tropic Boat Tours Clearwater Beach offers are timed perfectly so that you are floating gently on the Gulf Coast waters just in time to see the dwindling sunlight painting the sky.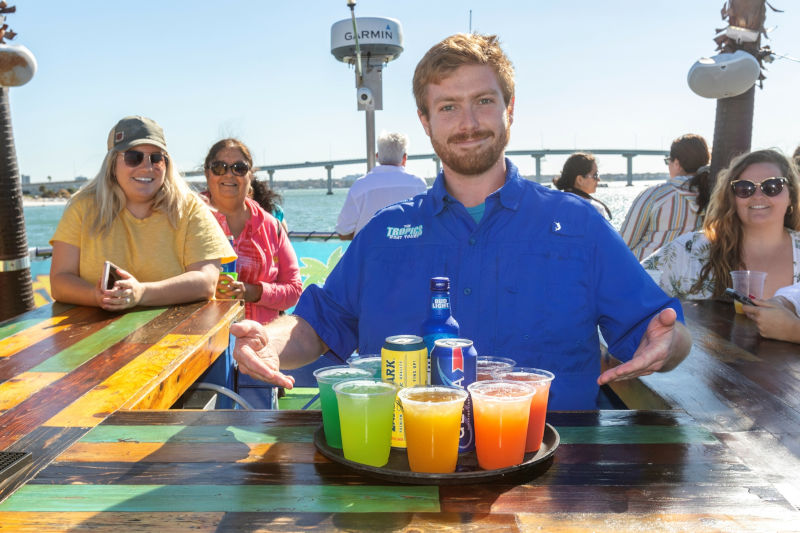 Tropics Boat Tours: Choosing Between 3 Incredible Options
Tropics Boat Tours is a family-operated business that offers the only ocean-friendly certified daily tours in Pinellas County, Florida, and was voted Clearwater Beach's Best Outdoor Activity of the year.
Tropics Boat Tours operates a double-decker catamaran that offers both a sun deck and shaded area for all ocean goers. They also host private events, offer drink packages and snacks, and provide a positive open-water experience for children and adults.
Check out these three tour options to choose from.
Dolphin Exploration Tour
Tropics Boat Tours dolphin exploration is a two-hour boat ride from boarding to dock. Departing from Clearwater Bay and traveling through Clearwater Pass to the Gulf of Mexico, their dolphin exploration tours offer a guarantee of seeing the Sun Coast's famous bottlenose dolphins.
The captain of the ship will also happily offer insights into the natural wonders of the Gulf Coast and its surroundings. At the end of your journey, you'll be able to share memories of watching dolphins play in the ocean and offer educational insights into the natural wonders of the famous Gulf Coast.
This tour even offers great drink packages, like unlimited beer and soft drinks.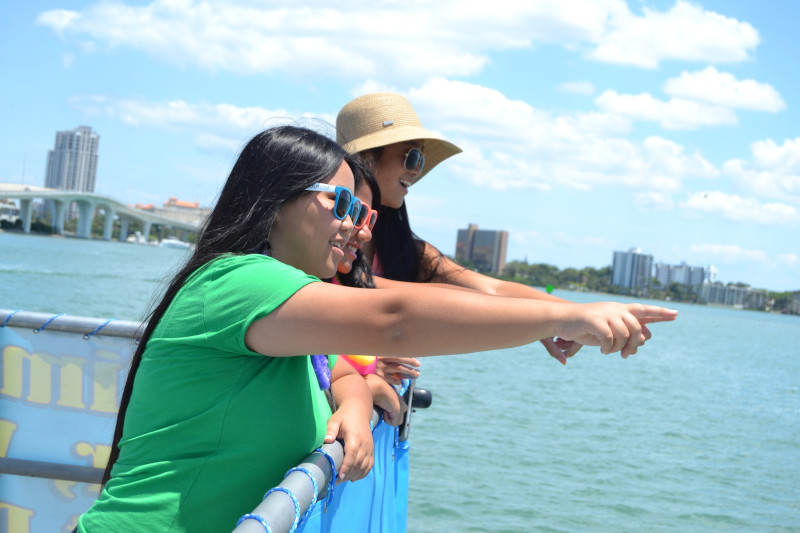 Happy Hour Dolphin Exploration Tour
If you're looking for an evening adventure that's perfect for adults, the Happy Hour Dolphin Exploration Tour is your best bet. Your adult ticket on this dolphin cruise offers a guaranteed chance to see bottlenose dolphins in their natural habitat while also giving you some insight into what makes them so special and unique.
When you book with Tropics Boat Tours dolphin exploration, your guide will point out celebrity mansions along the shore and share interesting facts about local marine wildlife while you sip on your favorite beer, wine, or cocktail.
Sunset Celebration Cruise
The Sunset Celebration Cruise is an unforgettable experience that takes you into the Gulf of Mexico for a relaxing sunset trip. Guests over 21 will enjoy a champagne toast while you eagerly await your chance to catch the legendary green flash as the sun dips below the horizon.
Whether you're looking for a romantic moment with the one you love or want to relax in nature's splendor, the Sunset Celebration Cruise will leave you with an unforgettable vision of the fiery evening sky over the Gulf Coast waters.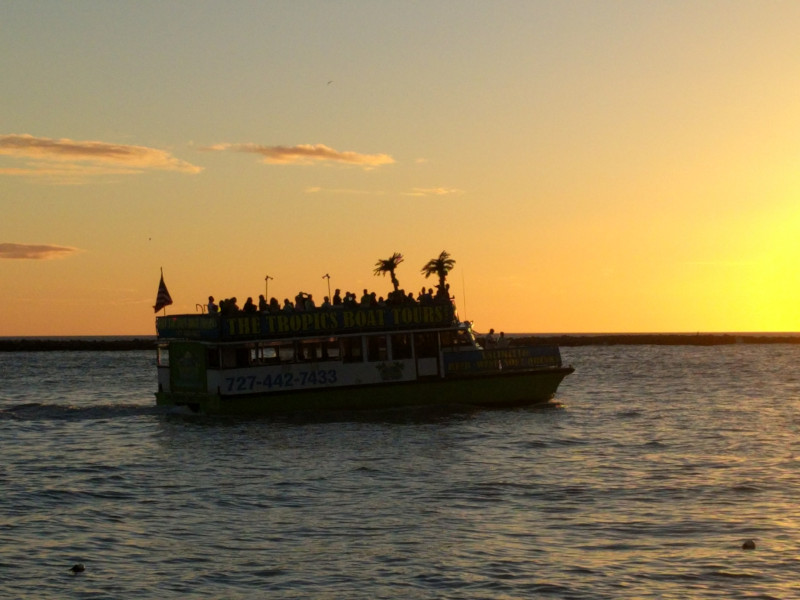 See the Natural Wonders of the Gulf of Mexico When Visiting Tampa Bay
There are so many wonderful activities available in Tampa Bay that it can be challenging to decide what to do. Luckily, CityPASS has you covered.
Tropics Boat Tours reviews speak for themselves, and you'll definitely want to book an unforgettable cruise with them, but you'll need something to do during the rest of your vacation. With CityPASS® tickets you can get a great deal on Tropics Boat Tours as well as savings on other Tampa Bay attractions. With Tampa Bay CityPASS® tickets you can save up to on five of the top Tampa Bay attractions, like The Florida Aquarium and ZooTampa at Lowry Park.
Nearby Lodging
To get the most out of your stay in Tampa Bay, we recommend finding lodging near Tampa Bay's top attractions. Use this map to find the right lodging for you:
Header Image Courtesy of The Tropics Boat Tours