Articles by City & Category
Go off leash with new Secret Life of Pets ride at Universal Studios Hollywood™
May 28, 2021 By Rachael Horne
There's something new at Universal Studios Hollywood™: The Secret Life of Pets: Off the Leash! has opened and it's super cute! It's based on Illumination's blockbuster The Secret Life of Pets animated films, which answer the question, "What are your pets really doing when you're not at home?"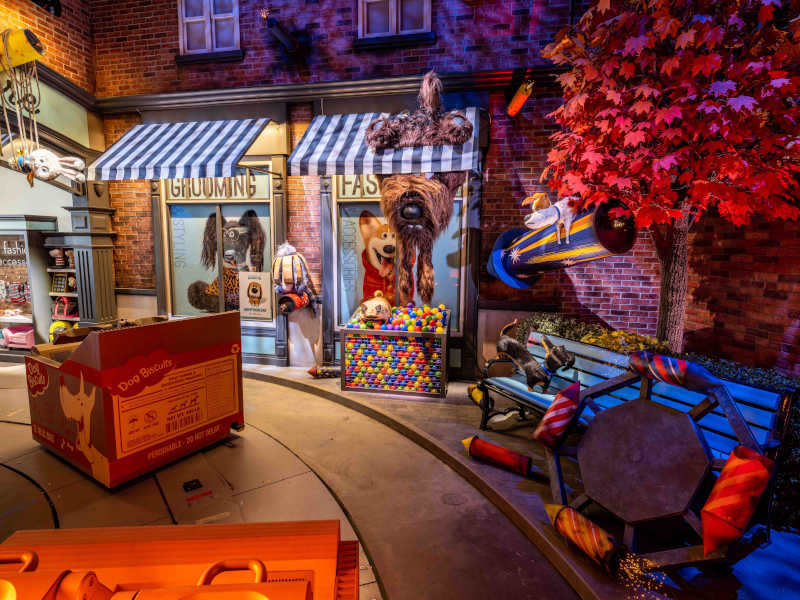 The ride invites you to transform into a stray puppy with gesture-tracking technology. As you journey through the ride, Max and his friends from The Secret Life of Pets films decide to help out albeit with a few detours along the way. The pets on the video screens mimic the hand gestures and facial expressions of riders.
Seated within ride vehicles that resemble cardboard boxes, you will travel along a track towards the pet adoption event and the ultimate happy ending: a forever home.
The heartwarming ride has a little something for all ages. Kids will love seeing the funny and furry friends while adults will appreciate the state-of-the-art, optical-enhanced gesture-tracking technology. The tracking helps identify each person on the ride as a unique stray puppy.
The ride also combines video mapping and animatronics. The animatronics bring to life the beloved characters with 64 technologically-advanced figures. From blinking eyes to eye and eyebrow movements, from head tilts to head nods, from moving mouths to smiles, from ear curls to lip curls, from full torso twists to physically walking, the depth of mobility and function programmed within each of these loveable characters creates an experience to remember.
With the addition of hyper-realistic media and projection mapping, this impressive new ride is designed to fully immerse guests in the movie's dynamic New York City setting.
Why stand in line when your phone can do it for you? Virtual Line™ technology, another component of the experience, is designed to help maximize your day at the park. Virtual Line lets you reserve a future ride time, which means you show up to ride at your designated time and spend a lot less time waiting in the actual line.
But, once you arrive at the ride, you won't want to race through the queue too quickly. That's because the adorable queuing line winds its way through the corridors of Katie's NYC apartment building. Before you reach the ride's boarding station, you'll get a peek at the pets living their day-to-day "secret" lives. You'll see dachshund Buddy's apartment and Snowball owner Molly's living room, as well as Max and Duke's apartment.
The ride is located next to the popular "Despicable Me Minion Mayhem" and "Super Silly Fun Land" attractions. With the installation of storefront facades, Pets Place will capture the charm of a busy New York City street, including an iconic NYC subway station.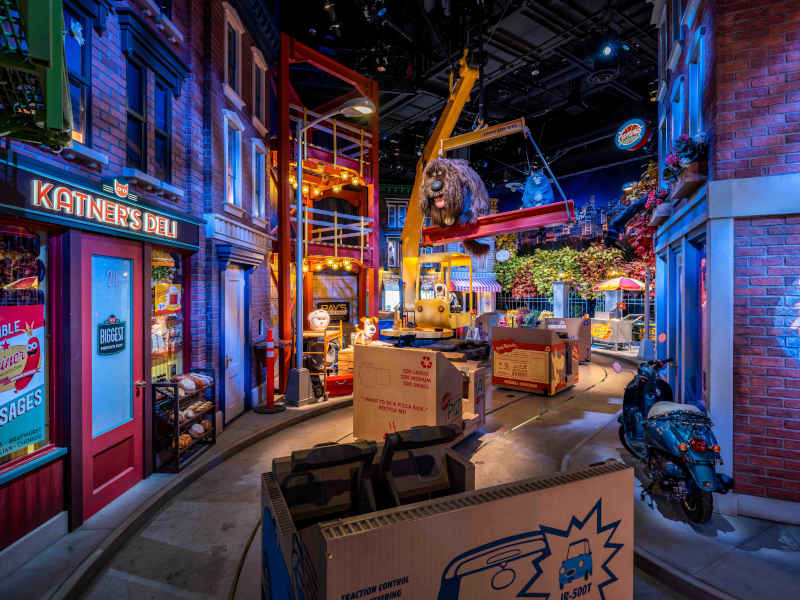 The Pets Store retail location features an adopt-a-pup (plush) station. Pick a pup, then decide if you want a bandana and/or a carrier! Each purchase comes with a certificate of adoption from Universal Studios.
Ways to Save on Universal Studios Hollywood Admission
Southern California CityPASS® tickets are a great way to save on admission to Universal Studios Hollywood and other major family-friendly attractions in the Golden State. The Southern California CityPASS® program lets visitors create and save on individualized, build-your-own ticket packages to Disneyland® Resort, Universal Studios Hollywood™, SeaWorld® San Diego, LEGOLAND® California Resort, San Diego Zoo® and San Diego Zoo Safari Park.