Articles by City & Category
Disney California Adventure Park®: Tricks, Rides, Maps & More
April 24, 2019 By CityPASS
Disneyland® Resort is a magical place, no doubt about it. Overflowing with whimsical characters and exhilarating rides, its two theme parks — Disney California Adventure® Park and Disneyland® Park — are sure to be the backdrop of many fond memories for visitors for years to come.
Disney California Adventure® Park, which opened in 2001, is the California-themed part of the duo that brilliantly combines the beauty and history of the Sunshine State with assorted Disney, Marvel, and Pixar attractions and entertainment. From Cars Land, where guests can take their favorite Cars personalities for a spin, to Pixar Pier, which showcases the fictitious characters from the Pixar universe, it's a fantastic experience for every age group. Children and adults alike will find joy around every corner — which is precisely what the Imagineers had in mind when they crafted the park.
Planning A Trip To Disney California Adventure® Park
Doing a little planning before a trip to this expansive park can go a long way towards maximizing your time there. Rule number one: get there early. It's a vacation, so not being able to sleep in can seem a little counterintuitive, but not only does the early bird get the worm, it gets the shortest lines.
Rule number two: identify your top rides and attractions, and prioritize doing them first so you'll be able to fit in your top picks. Rule number three: sunscreen is your friend. Don't underestimate the brilliant California sun, especially during spring and fall, when your guard is down. Sunscreen is available at many stores inside the park, but it never hurts to plan to pack a tube. Rule number four: look up from your phone. Don't get so focused on taking selfies or posting pics of the family on social media that you forget to enjoy the magical experience!
Disney answers plenty of questions about the parks on its FAQ page, so you may want to do a brief review while planning your trip, or conduct a couple searches on the exceptionally helpful Disney Parks Moms Panelists forum.
Disney California Adventure® Park Vs Disneyland® Park
If you're mired in the eternal debate of "Disney California Adventure® versus Disneyland® Park," it comes down to personal preference and time available for your visit. In a nutshell, however, Disneyland® Park is a more "classic" Disney experience, with original themed sections like Tomorrowland, Frontierland, and Mickey's Toontown, all set against the whimsical Sleeping Beauty Castle. Disney California Adventure® Park is filled with themed sections as well, but they reflect newer Disney creations and the entire park has a California slant (witness Buena Vista Street in comparison to Main Street USA in Disneyland.)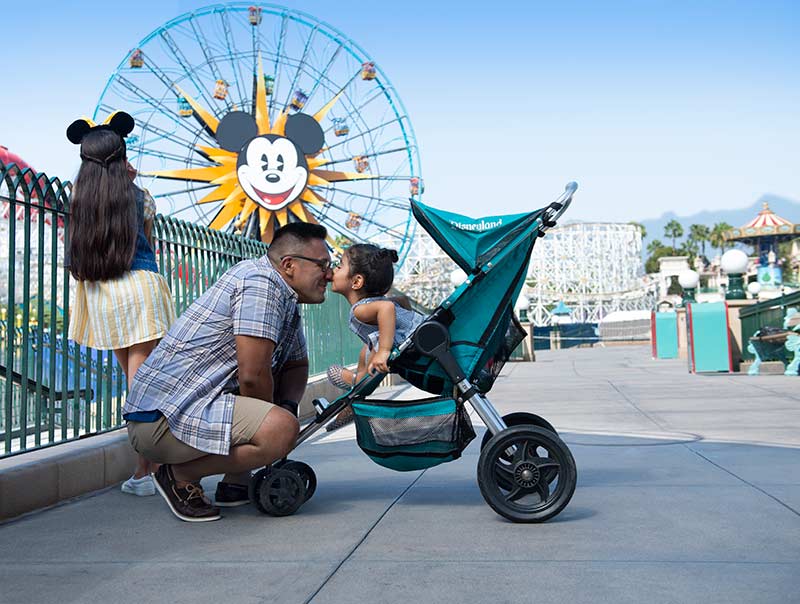 Disney California Adventure® Park Discount Tickets, Hours of Operations, and Location
There are several options for purchasing tickets for Disney California Adventure® Park. Assorted travel blogs offer ticket options; you can buy them through the official Disney site; you can even snag VIP tour passes. However, if you're looking for discount Disney California Adventure® Park tickets, you can't go wrong with CityPASS® tickets. Not only will you save some serious money on Disneyland® Resort park tickets, but you'll also get deeply discounted tickets to Southern California's top attractions like Universal Studios Hollywood™, SeaWorld® San Diego, LEGOLAND® California Resort, and the famed San Diego Zoo®.
Disneyland California Adventure® Park is located at 1313 Disney Drive in Anaheim, California. It takes about 20 minutes to get there from John Wayne Airport and 40 minutes from Los Angeles International Airport.
Disney California Adventure® Park Hours
Happily for all the Disney fans out there, Disney California Adventure® Park has fairly long operating hours. While opening and closing times are contingent on the day of the week and time of year, chances are you'll have over 12 hours to explore the expansive park.
For updated operating hours it's best to check the Disney website or Disneyland App before you visit. Registered Disneyland® Resort hotel guests can also take advantage of Extra Magic Hours to get in the park an hour before it opens to the public.
Disney California Adventure® Park Rides and Attractions
There are dozens of rides and attractions begging for your attention inside the park — with eight themed lands, you'll have a full day of delight ahead of you! Read on to see what piques your interest before you visit so you can plan your day accordingly.
Cars Land — Join the crew from the popular Cars franchise in some racing and dancing for a rollicking good time.
Paradise Gardens Park — A picturesque land inspired by the Victorian seaside resorts.
Pixar Pier — Disney took a cue from California's classic boardwalks to design the four neighborhoods in this area of the park, each of which is based on a Pixar movie.
Buena Vista Street — The Disney California Adventure® version of Main Street USA, complete with shops and boutiques designed to look straight out of the roaring '20s.
Hollywood Land — Step into the Golden Age of Hollywood and explore a reproduction of a backlot from a classic studio as well as a plethora of movie, television and theatrical themed rides and attractions.
Pacific Wharf — This waterfront area is fashioned after Monterey's Cannery Row and San Francisco's Fisherman's Wharf and is studded with charming restaurants, cafes and bars.
Grizzly Peak — The great outdoors meets Disney magic in a woodsy section inspired by California's national parks.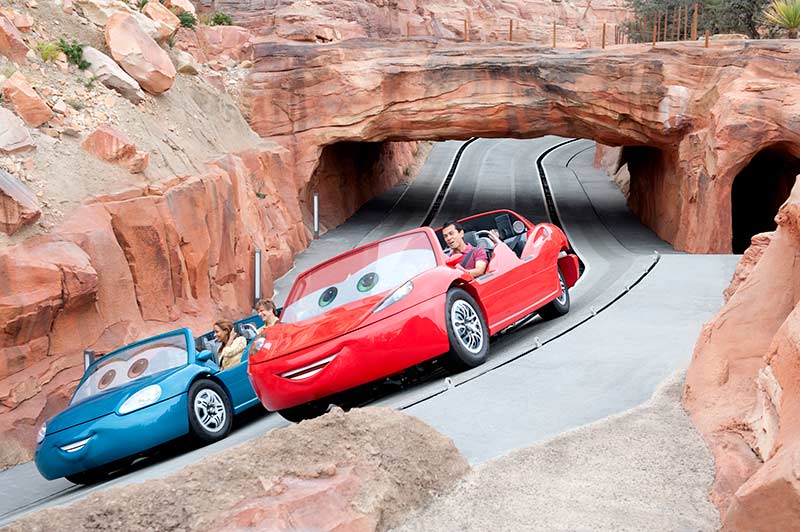 What do to at Cars Land
Cars Land in Disney California Adventure® Park offers exciting rides themed from the well-received Pixar Cars films. If hanging out with Tow Mater, Lightning McQueen, Doc Hudson, and a host of other characters from the lighthearted franchise sounds appealing, make a beeline for this section of the park.
Cars Land Attractions
Here are some of the best attractions:
Radiator Springs — You'll zip along a racetrack to cheers from your favorite characters from the Cars franchise in the most expensive theme park ride ever created.
Luigi's Rollickin' Roadsters — Hop into the front seat of a "dancing" car that sashays across Casa Della Tire's storage-yard-cum-dance-floor to peppy versions of Italian classic songs. You'll have a hard time keeping your eyes on the road though, with Luigi and his family performing some snazzy dance numbers on stage.
Mater's Junkyard Jamboree — Mater and his tractor pals have a penchant for square dancing, and you're invited to join their lively party. Jump aboard a tractor-trailer and hold on tight as it whips you around the dance floor to toe-tappin' tunes sung by Mater himself.
Ramone's House of Body Art — Snag some car-themed apparel from the Champions Custom Speed Shop, but don't forget to admire designer Chip Foose's world-famous car art, which adorns the interior.
Flo's V8 Café — Home-cooked American classic recipes at their best, served in a Route-66 inspired 1950's diner. You can even order ahead on your mobile device.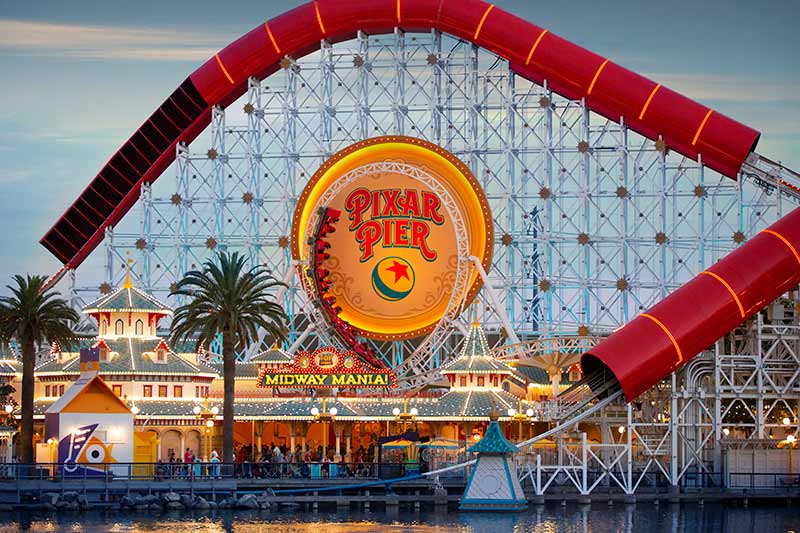 What do to at Pixar Pier
Pixar characters come alive in this whimsical land comprised of four unique neighborhoods: Toy Story Boardwalk, Incredibles Park, Inside Out Headquarters, and Pixar Promenade. Strut the boardwalks in each section and see if you can spot your favorite characters for a hug!
Top Pixar Pier Attractions
Keep an eye out for these top rides and attractions:
The Incredicoaster — Based on the immensely popular The Incredibles franchise, this heart-stopping coaster whips you through enclosed tunnels down steep drops all set to the tune explicitly created for the ride by Incredibles 2 composer Michael Giacchino.
Pixar Pal-A-Round — Catch a fabulous panoramic view of Disney California Aventure® Park from one of the sliding gondolas that elevate you 150 feet off the ground.
Jessie's Critter Carousel — Hitch a ride on a friendly woodland creature inspired by Woody's Roundup, the fictional classic television show from Toy Story 2.
Lamplight Lounge — Prepare to be wowed by the cuisine as well as the décor at this trendy spot, which is festooned with Pixar memorabilia and designs on every possible surface.
Knick's Knacks — The determined snowman from the Pixar short "Knick Knack" presides over the front door of this kitschy shop. Make sure to check out the Pixar concept art for sale, or work directly with an on-site artist to get a one-of-a-kind piece to take home.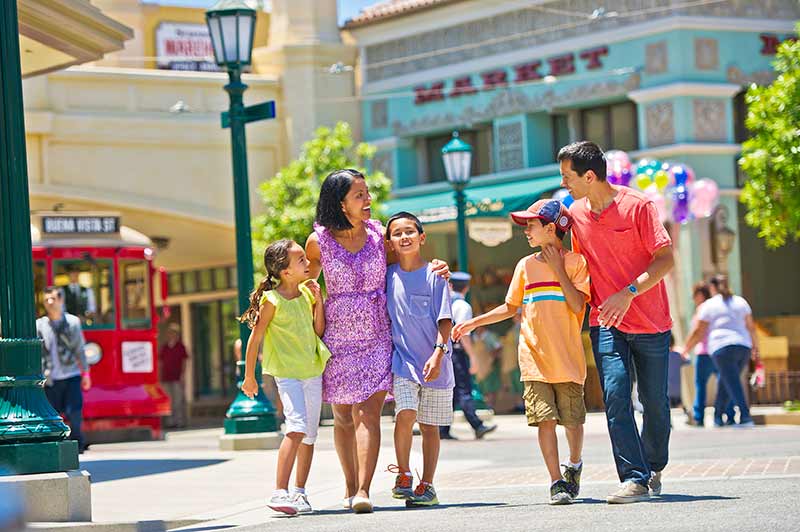 What do to at Buena Vista Street
Designed to evoke the exciting times of the 1920s and '30s when Walt Disney was just getting started, the entryway into Disney California Adventure® Park is lined with Art Deco and Jazz Age style facades and even features a roving trolley car transporting guests up and down the street.
Buena Vista Street Attractions
Be sure to make time for the following:
Red Car Trolley — Take a ride down Buena Vista Street in a streetcar fashioned after the Pacific Electric Railway, the trolley system that once ruled Los Angeles.
Elias and Company — Named after Walt Disney's father, this department store elicits nostalgia for the era prior to the advent of the shopping mall, complete with high ceilings and elegant wood paneling.
Carthay Circle Theater and Restaurant — A reproduction of the theater that screened Snow White and the Seven Dwarfs (Disney's first feature-length animated film) in 1937, it now hosts a stylish restaurant and lounge positively oozing with old-Hollywood glamour.
Five and Dime Jazz Band — A roving 1920s car holding the members of a swingin' jazz band that cruises down Buena Vista Street will make you want to swing your hips and tap your feet in time to their catchy tunes.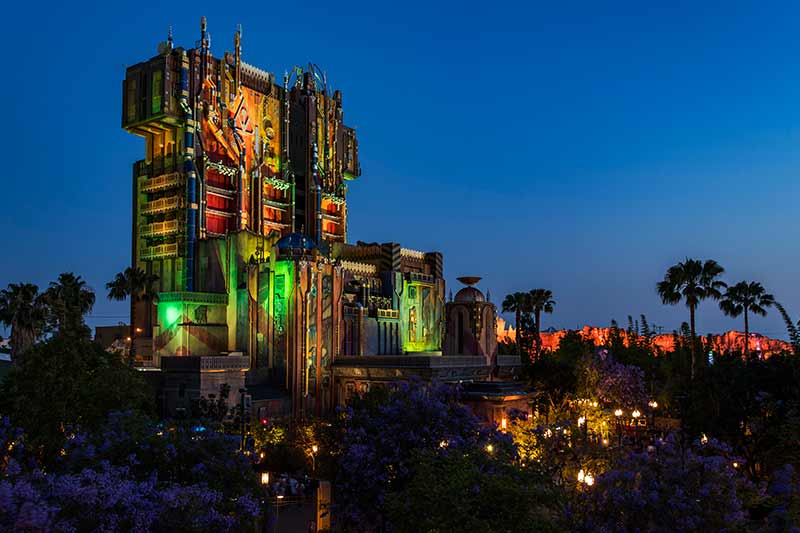 What to do in Hollywood Land
Embrace the razzle-dazzle of classic Hollywood as you explore a reproduction of a movie backlot, take in a show at the 2,000-seat Hyperion Theater, and shake your tail feathers at the Disney Junior Dance Party.
Top Hollywood Land Attractions
Read on for the most popular highlights:
Guardians of the Galaxy — Mission: BREAKOUT — Guardians of the Galaxy fans, this ride's for you. You'll help Rocket rescue his fellow Guardians from Taneleer Tivan's evil clutches while screaming with delight during the many free-fall drop sequences.
Monsters, Inc. Mike & Sulley to the Rescue! — Join the lovable duo from the Monsters, Inc. franchise as they race to find Boo, the young girl who unknowingly slipped into their world, to return her to her bedroom.
Animation Academy — For an experience that won't leave you breathless but will surely bring a smile to your face, try the Animation Academy. You'll get specific tips on how to draw your favorite Disney character from a real animator, and you can keep your drawing as a souvenir.
Award Wieners — Everyone's a "wiener" at this street-style outpost serving up top-notch hotdogs and sausages to hungry passersby. Remember to order ahead on your mobile device.
Off the Page — Bring home one of your favorite Disney scenes in the form of an animated film cell, limited edition prints, and other collectible artwork.
What to do at Pacific Wharf
Options for fantastic eats and a host of wine bars line this foodie-centric waterfront section of the park. Take your time admiring the view of the water, but aim to snag a bite or a drink at some of the most popular attractions.
Top Attractions at Pacific Wharf
Here's a list of the top attractions at Pacific Wharf:
The Bakery Tour — You'll smell the aroma of the freshly baked sourdough bread before you come upon Boudin Bakery, a joint where you'll get to see how they make the San Francisco staple.
Alfresco Tasting Terrace — Relax with an expertly chosen glass of vino on a sprawling terrace that overlooks the rugged topography of the Radiator Springs racetrack. Check the website for hours.
Ghirardelli® Soda Fountain and Chocolate Shop — Indulge in an Instaworthy sundae, milkshake, or simple scoop of your favorite flavor atop a crispy cone.
Pacific Wharf Café — Wet your whistle with hearty soups and salads served in Boudin Bakery's yummy sourdough bread bowls — they use a top-secret recipe created in 1849 for their dough!
Wine Country Trattoria — You'll feel like you've stepped into a Mediterranean villa garden as you enjoy fresh Tuscan-inspired cuisine paired with one of their 25 wines served by the glass at this charming restaurant.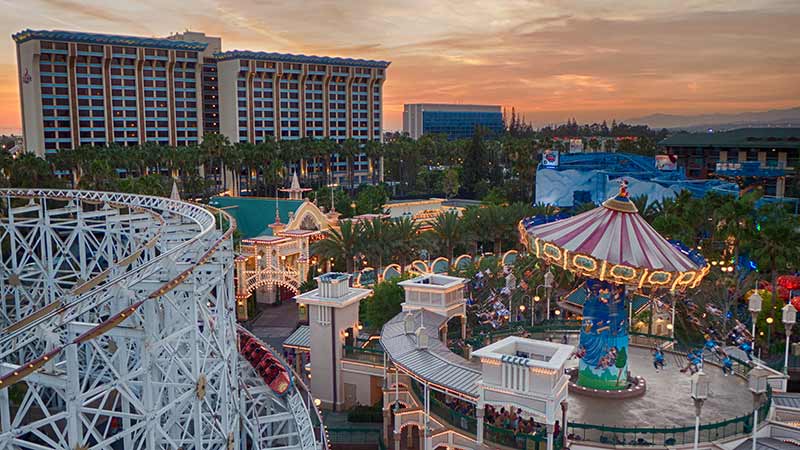 What to do at Paradise Gardens Park
Formerly known as Paradise Pier, this seaside-themed section of the park features a foot-stompin' band, fun rides for all ages, and even an awe-inspiring nightly hydrotechnic show.
Paradise Gardens Park Attractions
Try a few of these top rides and attractions:
The World of Color — A breathtaking nightly show filled with pyrotechnics and lasers shooting across the midnight sky, all set to a rockin' soundtrack.
Golden Zephyr — Hold tight on this retro rocket ride that swings you around in a 1920s science fiction-inspired gondola, complete with fins and glittering chrome trim.
Goofy's Sky School — Younger kids will adore this three-story-high roller coaster that takes a cue from the 1940s short Goofy's Glider.
Seaside Souvenirs — Influenced by retro seaside souvenir shops of yore, this open-air boutique hawks Disney merchandise of all types, including hats that can be custom embroidered for a style that's uniquely you.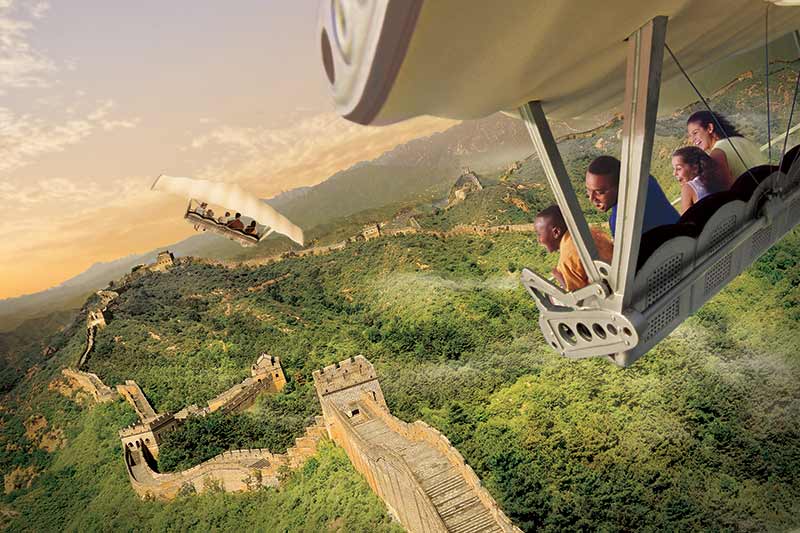 What to do at Grizzly Peak
Outdoor enthusiasts will feel right at home in this section of the park, designed with Yosemite and Redwood National Parks' rugged appeal in mind.
Grizzly Peak Attractions
Enjoy the following attractions at Grizzly Peak:
Soarin' Around the World — An 80-foot projection dome makes this virtual hang-gliding tour around the world incredibly realistic and 100% fun.
Grizzly River Run — If it's a hot day and you're craving some relief from the unrelenting sun, look no further this multi-person whitewater raft adventure that will leave you soaked.
Redwood Creek Challenge Trail — Kids of all ages will love clambering up rock walls and ropes courses or tackling the mighty tire swing at Sequoia Smokejumpers Training Tower.
Rushin' River Outfitters — Shop for all manner of outdoor gear here, including ponchos and hats if the weather takes a turn for the worse.
Smokejumpers Grill — Inspired by the brave firefighters who combat California's devastating wildfires, this fiery joint offers blazin' burgers, hearty bison chili, and even a barbeque jackfruit sandwich among other delights.
Hotels Near Disneyland® Resort
If you're jonesin' to stay as close to the magic as possible, Disneyland® Resort has three hotels inside the resort. Each of the Disneyland® Resort hotels have their own unique characteristics, and each offer a fantastic night's rest close to the Resort.
Disney's Grand Californian Hotel® and Spa — Luxury lovers will adore top-notch service and a world-class spa that will leave you feeling refreshed.
Disneyland® Hotel — This mid-range option boasts three themed towers (inspired by the original three lands) and a sleek modern design.
Disney's Paradise Pier® Hotel — Budget-conscious travelers who still want to stay in the resort will enjoy these seaside-themed accommodations.
Hotels Near Disney California Adventure® Park
If you prefer to take a break from the magic of Disneyland® Resort during the night or are unable to secure an on-premise room, there are plenty of hotels in close proximity to Disneyland® Resort. Disney even has partnerships with almost 50 hotels––collectively known as "Good Neighbor Hotels"––that are of Disney caliber but aren't situated in the Disneyland® Resort. Virtually all Good Neighbor Hotel packages will run you at least $700 per night, but depending on the room, can sleep up to six adults and include a Disneyland® Resort Park Hopper® Souvenir Ticket that can be used for as long as you are staying the hotel. The hotels range from "moderate" to "deluxe" and are happy to accommodate groups of all sizes and ages.
If you're looking to save your pennies for souvenirs, there are a number of options in the Anaheim area including the Anaheim Marriott, Hilton Anaheim, and Four Points by Sheraton Anaheim that are more moderately priced. You can easily score rooms for well under $200 a night and sometimes under $100 during the middle of the week. There are also more options for hotels that are within easy driving distance and offer free or discounted shuttle service to the park.
Navigating Disney California Adventure® Park
A map is a useful tool to help get around the park. You can find a Disney California Adventure® Park map on Disney's site, or you can download the Disneyland® Resort app. The app also shows you wait times for rides, gives you the option to buy tickets digitally and make dining reservations, along with a whole host of other actions.
They say "you're only young once," but at Disney California Adventure® Park, you'll feel like a kid again, no matter what your driver's license says.
Visit Disney California Adventure® Park for Less With CityPASS® Tickets
Now that you know where to stay, where to eat, and which rides to hit, you're ready to enjoy the park and soak up that California sun. Want to find out how to save money on tickets to this theme park and Southern California's most popular attractions? CityPASS® tickets help you score discounted admission to Disneyland® Resort, San Diego Zoo® or Safari Park, Universal Studios Hollywood™, SeaWorld® San Diego, and LEGOLAND® California! Just think of the money you'll save, and with some extra cash in your pocket, you may be able to visit more than one Southern California hot spot on your next trip!
Header image ©Disney ©Disney/Pixar