Articles by City & Category
Make Your Disney Vacation Even More Magical With Genie and Genie+ Services
June 8, 2022 By Alicia Russo
Make every moment of your Walt Disney World® Resort or Disneyland® Resort vacation count by using Disney Genie and Disney Genie+ services to save time, plan your days, and get tailored recommendations and updates in real time as you explore and enjoy the parks. Disney Genie and Genie+ have replaced FastPass and other services that Disney guests are familiar with, so read up!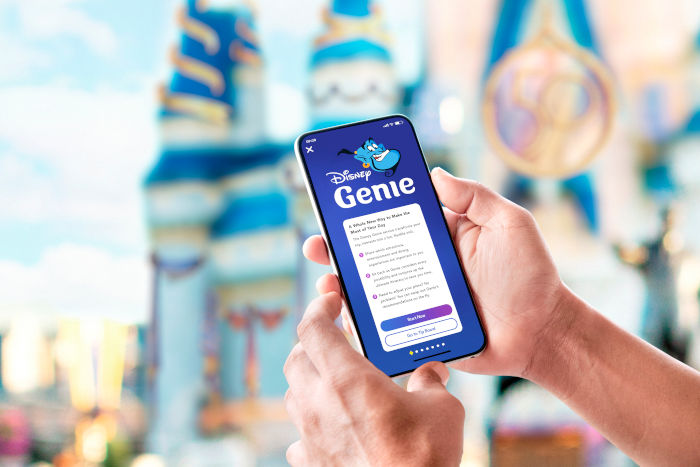 So, what is it and how does it work?
In short, Disney Genie is a new digital service designed to create your best Disney day. While there are a number of core complimentary features, guests can also choose to purchase additional features—including the new Lightning Lane entrance.
Complimentary Genie Services
With many years of knowledge and expertise in how guests visit the parks, Disney has created Genie to help you experience the parks as YOU want to experience them, and as efficiently as possible. Tell Genie what you want to do, and it will do the planning for you.
One of Genie's top features is the personalized itinerary it will create for you, with suggestions based on YOUR preferences. Select the attractions that interest you, and Genie will make a plan for you. Genie will update and adjust your itinerary throughout the day based on your activities, prioritizing ways to reduce wait times and building around your existing plans like dinner reservations. It will take into account the most up-to-date information on attraction wait times, Lightning Lane return times, attraction closures, dining times, mobile order pick-up windows, and more. Because it will update as you go through your day, you're not locked into anything—you still have the flexibility to be spontaneous and go with the flow. You'll find all of this in the "My Day" tab.
Genie will help you create personal tip boards, one for dining and one for experiences. You can find these in the "Your Tip Board" tab. Your tip boards will display current and forecasted future wait times, so you can plan around those. You can also join virtual queues at certain attractions, make dining and experience reservations, place mobile food orders, get help from a virtual assistant, and more.
Genie+ Services
With this launch, Disney is also introducing Genie+, which gives guests access to the new Lightning Lane entrance. For $15 per day per ticket at Walt Disney World® Resort and $20 per day at Disneyland® Resort , you can choose the next available time to arrive at a variety of attractions and experiences. You can make one selection at a time throughout the day of your visit; see details for Disneyland Resort here and for Walt Disney World here. Lightning Lane selections can be used across multiple parks for those with Park Hopper® Tickets. One big difference from MaxPass and FastPass to keep in mind: you can only book each ride once per day.
Disney Genie+ will also include Disney parks-themed audio experiences and photo features, including augmented reality photo lenses, to capture your memories. At Disneyland, Genie+ will include PhotoPass, but it does not at Disney World.
Note that kids ages 2 and under don't need to purchase Genie+ and will be grouped with their adult party.
A la Carte Attraction Selections
Some of the most highly in-demand attractions won't be available for Lightning Lane in Genie+, but guests will be able to purchase individual Lightning Lane access for these attractions. This is limited to two different attractions per day, and pricing will vary by date, attraction, and park; be sure to check the My Disney Experience app on the day of your visit for current prices and attraction availability.
You can make individual purchases within the Disney Genie Service Tip Board or My Day itinerary in the app on the same day of your visit.
Our advice: Make your individual Lightning Lane reservations as early as possible, because they do sell out, sometimes quickly.
Note that attractions will continue to offer a traditional standby queues and virtual queues (at certain attractions), so guests who don't wish to purchase Genie+ or individual Lightning Lane selections can still access their favorite attractions.
How do you get Genie+ and/or individual Lightning Lane selections?
At Disneyland Resort, Disney Genie+ service is available for purchase as an add-on with new ticket or vacation packages before your visit, or as a single-day purchase for existing ticket holders through the Disneyland app on the day of your park visit after park entry. At Walt Disney World Resort, you can purchase Genie+ through the My Disney App on the day of your park visit after park entry.
Individual Lightning Lane selections can be purchased for up to 2 different attractions per day on the same day of your visit through the My Disney Experience or Disneyland Apps.
Orlando CityPASS® tickets and Southern California CityPASS® tickets let travelers create and save on ticket packages to the most famous theme parks in those regions: Walt Disney World® Resort, Universal Orlando Resort™, SeaWorld® Orlando and LEGOLAND® Florida Resort in Orlando, and Disneyland® Resort, Universal Studios Hollywood™, SeaWorld® San Diego, LEGOLAND® California Resort, San Diego Zoo® and San Diego Zoo Safari Park in Southern California. Select your parks and ticket options, and with one simple purchase, your tickets are delivered right to your inbox.
Header Image © Disney