Articles by City & Category
Visiting Universal Orlando Resort in 2020
February 21, 2019 By CityPASS
Universal Orlando Resort™ is firmly established as one of the world's leading theme park resorts. There's a good reason for this: comprised of three theme parks (including one water theme park), premium hotels, five-star dining and shopping experiences, Universal Orlando is one place where you could easily spend your entire Orlando trip.
If you're planning a trek to Florida and plan to include Universal Orlando in your itinerary, learn about the best time to visit, what options you have for accommodations and dining, and the ins and outs of each of the adrenaline-charged parks. There are so many exciting attractions in Universal Orlando to explore, you may start planning your return trip even before your vacation is over!
Planning A Trip To Universal Orlando
When it comes to planning a trip to Universal Orlando, timing is critical. While you may not be able to change your children's school schedule, keep in mind that the busiest times to visit are during the winter holidays and the summer. The best time to visit Universal Orlando is in January and February (the coldest days of the year in Florida) when all the kids are back in school, and just after Labor Day in September up until mid-November. Even if you visit during an "off-peak time," weekends tend to be quite a bit busier than weekdays.
If you're willing to shell out a little more to avoid lines, try the Universal Express Pass, which allows you to bypass the regular lines and join shorter Universal Express lines. Check out your options for Universal Orlando's Express Pass.
You should also consider where you're going to stay during your trip. Universal Orlando has a host of top-notch hotels and offers vacation packages that combine park tickets with hotel stays. You can choose from a variety of price levels and park admission choices to create your perfect trip.
JetBlue, Frontier, and Southwest Airlines all have hubs in Orlando, making it easier to find a cheap flight. Check travel planning sites like Skyscanner, Expedia, and Orbits to find travel packages and the best flights.
Universal Orlando provides some guidance on planning your trip that includes information like what to pack, options for buying tickets, and great tips to ensure your visit is enjoyable and memorable.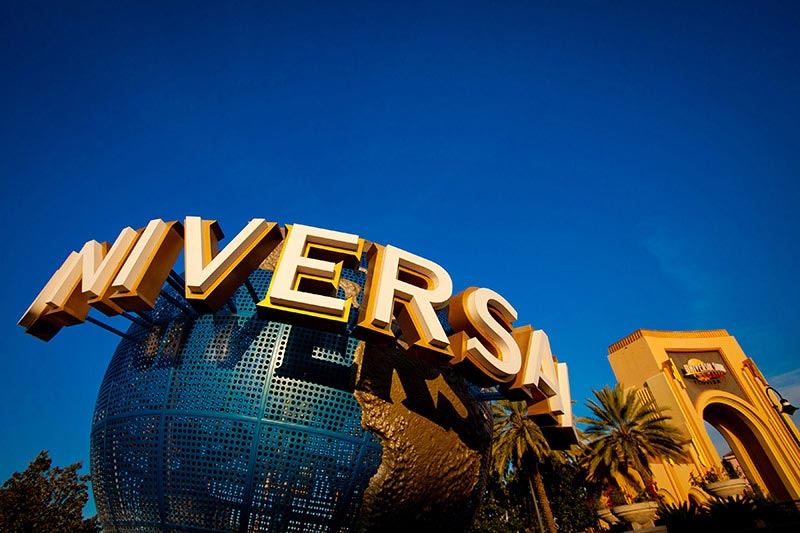 Universal Orlando Discount Tickets, Hours, and More
Universal Orlando is located at 6000 Universal Blvd, Orlando, Florida. Hours of operation differ for the various sections of the resort and can change based on season and day of the week.
The parks generally open at 9am daily, but closing time can vary. Check the Universal Orlando Hours of Operation for the most up-to-date information.
Universal Orlando tickets can be purchased online through the official resort site, but if you're looking to save a little money, try Orlando CityPASS® discount tickets, where you can find discounted rates for top Orlando attractions like Universal Orlando.
Universal Orlando Attractions
Universal Orlando is comprised of Universal Studios Florida™ theme park, Universal's Islands of Adventure™ (which includes The Wizarding World of Harry Potter™) theme park, Universal's Volcano Bay™ water theme park, and Universal CityWalk™.
Each of the parks are jam-packed with engaging attractions for every age. Movie fans will love starring in their own adventure behind the scenes of their favorite movies in Universal Studios Florida, and those sweating under the hot Florida sun will appreciate the refreshing water rides at Universal's Volcano Bay.
Scream your heart out at the adrenaline-spiking Doctor Doom's Fearfall® or enjoy a more relaxing jaunt down The Wizarding World of Harry Potter - Hogsmeade's™ charming streets in Universal's Islands of Adventure.
After a day of excitement, take some time to appreciate a delectable meal at one of the many first-rate restaurants in Universal CityWalk.
Where To Stay: Universal Orlando Resort™
Universal Orlando Resort has six (soon to be seven) hotels to accommodate weary guests – all with their own special theme. Their close proximity, beautifully designed décor, and extensive amenities all come together in an indulgent trifecta that ensures you'll enjoy every minute of your trip to Universal Orlando. But don't worry: if you're looking to stay outside the resort, options are plentiful as well.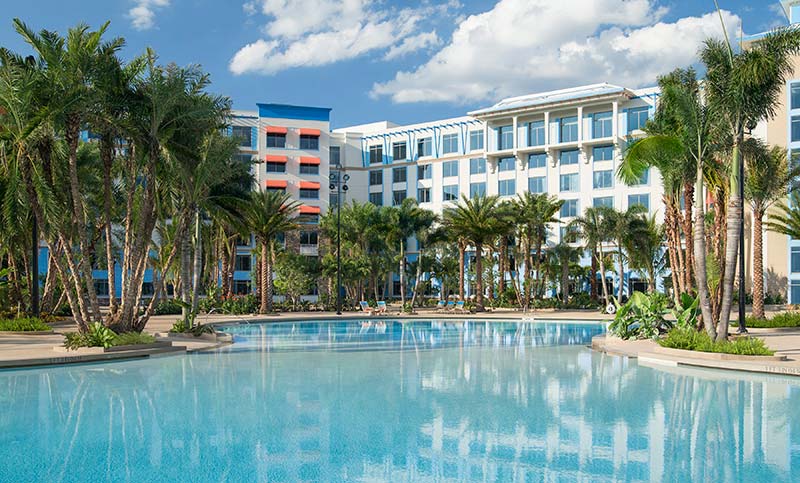 Universal Orlando Resort™ Hotels
From budget-conscious to lavish accommodations, you'll be sure to find a Universal Orlando Resorthotel that perfectly suits your needs for your trip to Universal Orlando Resort. Florida residents are eligible for special pricing, and, even better, if you're staying at a Universal Orlando Resort hotel you'll get to enter the park an hour before official opening time. Less time spent commuting means more time for fun in the sun. There's no shortage of places to stay at the Universal Orlando Resort — with price points to accommodate any budget!
Value Hotels
Universal's Endless Summer Resort – Surfside Inn and Suites is a value-priced hotel slated to open Summer of 2019. With beach-themed, two-bedroom rooms that sleep up to six guests, it's the most budget-friendly option for those who want the 24-hour Universal Orlando experience.
Opening Spring of 2020, Universal's Endless Summer Resort – Dockside Inn and Suites lets you soak up the scenes of a coastal style escape and save with awesomely affordable rates — all in the middle of a Universal Orlando™ Resort vacation.
Prime Value Hotels
Kitschy-chic décor inspired by 1950's and '60's Florida beach resorts make Universal's Cabana Bay Beach Resort an affordable and fun treat for all ages. Pop into an expansive food court for a quick bite to eat or take a dip in one of the giant pools after an exhilarating day at one of the theme parks.
Universal's Aventura Hotel's curvaceous modern architecture and relaxing vibes make this hotel an ideal choice for those looking for a modestly-priced oasis of calm amidst the thrills. It also doesn't hurt that it's a short hop, skip, and a jump to Universal's Volcano Bay, but offers majestic views of all the parks.
Preferred Hotel
Loews Sapphire Falls Resort is perfect for those looking for a Caribbean escape. With blue waterfalls dotted along verdant grounds and hypnotic steel drum music playing softly in the background, this mid-priced hotel will surely lull you into a state of delicious relaxation, no matter how many heart-pounding rides you've been on that day.
Premier Hotels
Like its sister hotel Loews Sapphire Falls Resort, Loews Royal Pacific Resort is an island-themed lush paradise. On this resort, a white sand beach and refreshing lagoon-style pool beckon, and you may find it hard to tear yourself away to join the fun of the theme parks.
Escape to Italy without ever leaving the United States at Loews Portofino Bay Hotel. Inspired by the charming seaside village of Portofino, this hotel features an elaborate piazza that abuts a tranquil harbor.
Hard Rock Hotel® is a splurge but well worth it, thanks to impeccable service and exquisite surroundings that scream luxury. The restaurants alone will make you wish you had practiced guitar more seriously because living like a rock star is hard to give up.
Hotels Near Universal Orlando
Those who wish to stay outside Universal Orlando can choose from multiple nearby hotels offering amenities like full-service dining and outdoor pools. If you opt for a Universal Partner Hotel, you'll enjoy benefits like scheduled transportation to the theme parks and discounts on food at Universal CityWalk.
With over 30 hotels that range in price and distance from the parks (all are between one and five miles away), you'll surely find a hotel that suits your budget and the needs of your family. Orlando is filled with hotels for every need, so even if you choose a non-partner hotel, you'll be able to find one within reasonable distance to any attraction and amenity you'd want for a trip to Universal Orlando.
What To Do At Universal Studios Florida™ Theme Park
Universal Studios Florida is where you can live your dreams of being a movie star, enjoy interactive rides, step inside the world of Harry Potter, and more. There are live shows featuring foot-tapping bands, animal actors, and even death-defying stunts.
Don't miss out on the gourmet foods served up at full-service restaurants, or chomp on some churros before rushing into a hug with your favorite movie characters. Shoppers, get ready because there are plenty of options for souvenirs for sale to ensure your memories of your trip last a lifetime. If you happen to visit during the holiday season, make sure to catch The Wizarding World of Harry Potter - Diagon Alley™ all gussied up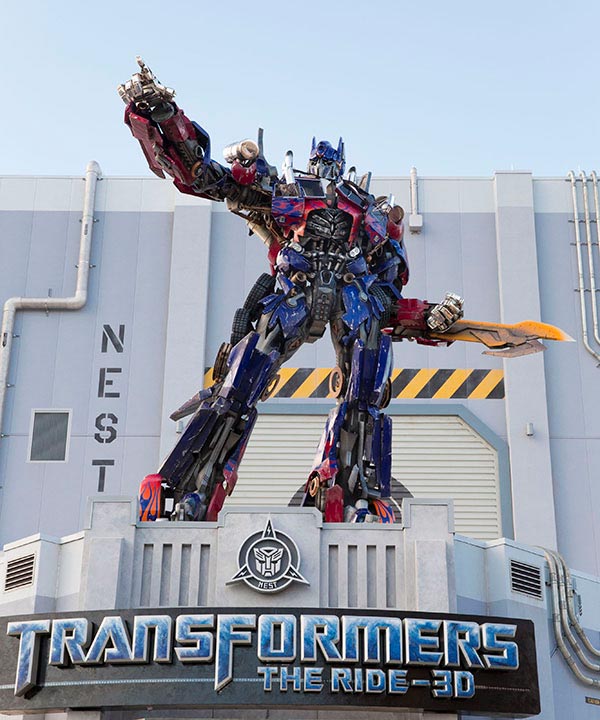 Top Universal Studios Florida™ Theme Park Attractions
There is so much to take in at Universal Studios Florida it can be difficult to decide what to experience first. Remarkably real-feeling simulators, amazing entertainment, and jaw-dropping sites abound. However, there are a few must-see attractions that should be first on your list:
As a freedom fighter, you'll do battle alongside your favorite Autobots and Decepticons as part of TRANSFORMERS: The Ride-3D. Tucked tightly inside your N*E*S*T vehicle you'll join Bumblebee and Optimus Prime to defend the AllSpark from Megatron's metal claws. The human race depends on you—are you ready to take on the challenge?
If you've got little ones who prefer a gentler experience, try E.T. Adventure™. You'll get to soar through the skies on a bike alongside the friendly extra-terrestrial to meet some of his otherworldly friends, all set to the rousing soundtrack written by John Williams, who composed the music for the movie.
If you enjoy watching live entertainment as much as you enjoy being the center of attention, you're in for a treat. Fear Factor Live lets you experience gravity-defying stunts yourself, or watch others face creatures that will make your skin crawl.
Relish the Studio Brass Band—a rootin', tootin', foot-stomping band that delivers 20-minute sets of your favorite retro hits near the entrance of the park.
For food that doubles as entertainment, be sure to stop by Eternelle's Elixir of Refreshment, where you can purchase elixirs that rapidly transform into colorful, tasty drinks when combined with water.
Lil' tykes will be delighted to explore Barney's™ Backyard, where hands-on experiences spark imaginative play. There's a tall treehouse, a sand area just begging for sand castles, and even stepping stones that make music when you jump on them.
What To Do At Universal's Islands of Adventure™ Theme Park
There's a reason Universal's Islands of Adventure has ranked #1 on TripAdvisor® Travelers' Choice Award for best amusement parks in the world for several years. It is the perfect combination of scream-worthy experiences and tamer rides suitable for young'uns, a feat which is hard to pull off—yet Islands of Adventure manages to do so with aplomb. Ranging from kid-friendly Dr. Seuss themed attractions to adrenaline-spiking options for adventure seekers, Universal's Islands of Adventure has enough attractions to keep busy for your entire vacation.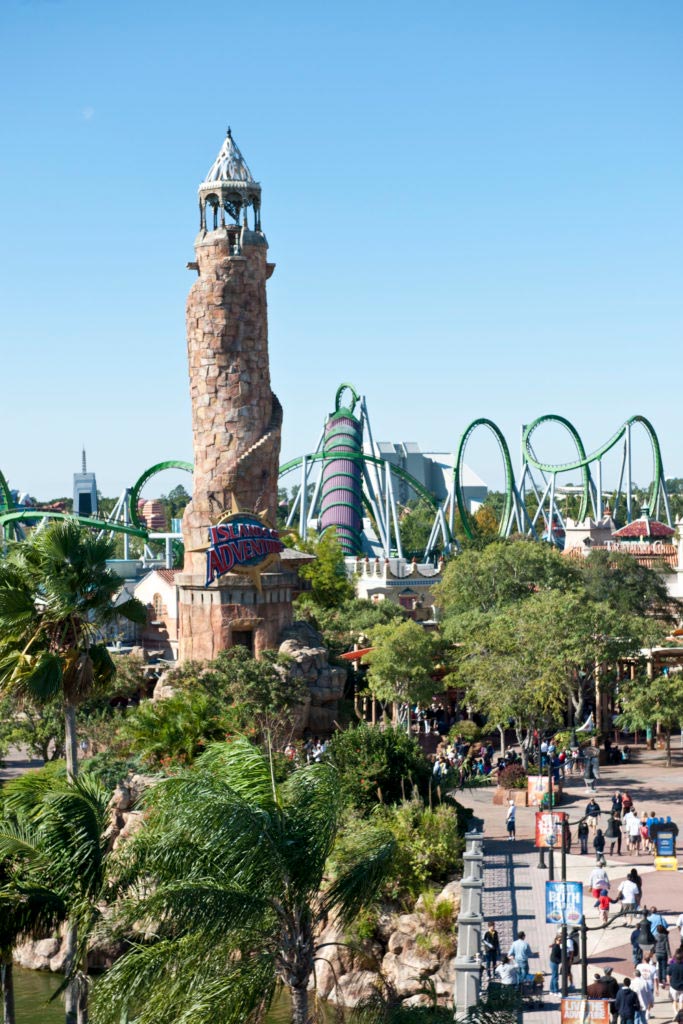 Universal's Islands of Adventure™ Theme Park Top Attractions
Get ready to have the time of your life at Universal's Islands of Adventure. Better start early––there's so much to see and do that you'll want to get in a full day's worth of memorable entertainment. Here are a few must-do attractions:
For a special effects spectacular, be sure to make time for Poseidon's Fury™, a live-action battle between our hero Poseidon and his arch-enemy, Lord Darkenon. Lasers and fireballs light up the ruins of the ancient temple as the two duke it out––will you make it out alive?
The High in the Sky Seuss Trolley Train Ride™ is a treat for kids too young to enjoy the more white-knuckle adventures at Universal Islands of Adventure. It's a placid trolley ride that wends its way above the whimsical buildings and other rides in Seuss Landing, all set to the uplifting tales of Dr. Seuss stories.
Young ones will also enjoy navigating Popeye's™ Me Ship, The Olive, where they can clamber onto climbing nets, slip down slides, and explore passageways with other pint-sized passengers.
When the awesome adventure of Doctor Doom's Fearfall® calls, answer it––you won't soon regret hopping aboard this 185-foot thrill ride that hurls you down to earth at a mind-blowing speed faster than the force of gravity.
Be prepared to be terrified out of your mind, and then soaked to the skin at one of Universal's Island of Adventure's most popular rides. Take a raft that veers off course into Jurassic Park's™ "restricted area" where you'll encounter a raging T-Rex who wants to make you his lunch. If you narrowly escape his wrath, you'll have to contend with an 85-foot drop into pitch darkness that ends with a splash.
Pop into Mythos Restaurant for a feast for the eyes as well as the stomach. You'll get to choose treats from Asian, Mediterranean, and American cuisines, all enjoyed in a cavernous dining room designed to look like a picturesque cave. The exterior features thunderous waterfalls and exotic carvings to boot, so make sure you take a few minutes to take it all in before heading inside.
What To Do At Universal Orlandos The Wizarding World of Harry Potter™
The appeal of The Wizarding World of Harry Potter™ is timeless for magical-minded people of all ages. Where else can you explore the charming shops of The Wizarding World of Harry Potter - Diagon Alley and Hogsmeade and enjoy a Butterbeer? Or fulfill your dream of casting spells that really work after attending wizarding school? Between the two lands (The Wizarding World of Harry Potter - Diagon Alley and Hogsmeade), you'll feel like a bona fide student at Hogwarts™ School of Witchcraft and Wizardry after spending a few hours at the real-life version of this imaginary locale.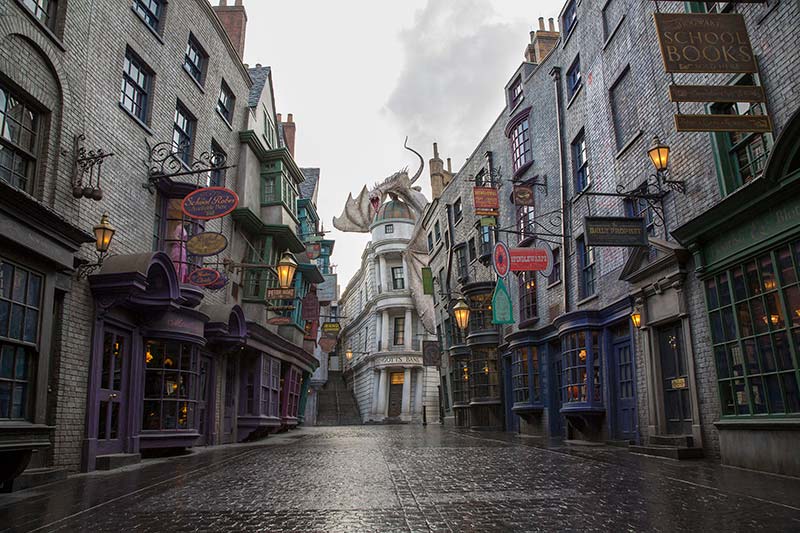 The Wizarding World of Harry Potter™ Top Attractions
Plan for at least a day to explore The Wizarding World of Harry Potter - Diagon Alley and Hogsmeade, the two worlds of The Wizarding World of Harry Potter. Each has its own charms, The Wizarding World of Harry Potter - Diagon Alley as the heart of the wizarding world set squarely in the middle of London, and The Wizarding World of Harry Potter - Hogsmeade as the charming village inhabited by residents with magical powers. Each is filled with unique charm and exciting attractions, shows, shops, and restaurants.
The Wizarding World of Harry Potter - Hogsmeade must-see attractions in Universal's Islands of Adventure
If you've ever dreamed of hopping aboard the majestic Hogwarts Express™ with Hermione, Harry, and Ron, now is your chance to make that dream a reality. You'll encounter characters from the movie series as you travel between King's Cross Station in London at Universal Studios Florida™ and The Wizarding World of Harry Potter - Hogsmeade™ Station in Universal's Islands of Adventure™ (or vice versa), and you'll find that this zany ride is anything but a tame jaunt through British countryside.
School was never this fun! Explore the intriguing corridors of Hogwarts as part of Harry Potter and the Forbidden Journey™, popping into Dumbledore's office, the Gryffindor™ common room, and other spaces featured in the movies. The best is yet to come, however, as you'll get to join Harry and his friends as they take flight to experience Hogwarts from a birds-eye view.
Make a point to stop into Dervish and Banges™ for your all your quidditch™ needs, or indulge your sweet tooth at the legendary Honeydukes™ candy and sweets shop (grab a Chocolate Frog™ to enjoy on the Hogwarts Express train ride just like your favorite characters).
If you're looking to take a breather from the excitement, take a break at one of the Three Broomsticks™, a rustic tavern staffed by friendly servers in traditional wizarding garb. Chow down on massive turkey legs and guzzle a non-alcoholic Butterbeer™ as you admire the cozy surroundings in this snow-capped establishment.
The Wizarding World of Harry Potter - Diagon Alley must-see attractions in Universal Studios Florida
Shop to your heart's content at Borgin and Burkes™ for curious oddities, Madam Malkin's for wizarding robes, Scribbulus for writing utensils suitable for young wizards and witches, Weasley's Wizard Wheezes (a novelty joke shop run by Ron's brothers Fred and George), and more.
Harry Potter and the Escape from Gringotts™ is a must, even for those who have never read the books or seen the movies. During this mind-blowing ride you'll pass under a fire-breathing (yes, real fire) dragon perched atop the fictional bank, narrowly avoid the poisonous evil of Voldemort™ and other villains, and get help from globally recognized heroes Harry, Hermione, and Ron to find your way back to Diagon Alley.
Peek inside the three-story Knight Bus™, rescuer of stranded witches and wizards. Filled with cushy beds, an exquisite chandelier, and even a talking shrunken head, this real prop from one of the Harry Potter movies is a fun photo op for the whole family.
Prepare for an amusing trunk show featuring a retelling of tales written by Beetle the Bard (a fictional wizarding storyteller from the 15th century), performed through puppetry and intricate props.
Dig into traditional British fare like Toad in the Hole and Bangers and Mash at the Leaky Cauldron™ restaurant. You can even try exotic drinks like Gillywater, Peachtree Fizzing Tea, and Frozen Butterbeer™ to wash it all down.
What To Do At Universal's Volcano Bay™ Water Theme Park
Universal's Volcano Bay water theme park is an aquatic wonderland where you can cool down in the most enjoyable way possible. Like its sister Universal Orlando theme parks, it has its share of rip-roaring excitement but also offers less dramatic attractions perfect for children and those seeking a relaxing respite from the hot Orlando sun. Even if you choose to visit during the winter months when the crowds are lighter, the water is still bathtub-temperature 85 degrees so you won't feel the chill. You can rent a cabana to take a break from the crowds or kick your heart rate up a notch with one of Universal's Volcano Bay's thrilling water slides. There's no shortage of entertaining activities to do here!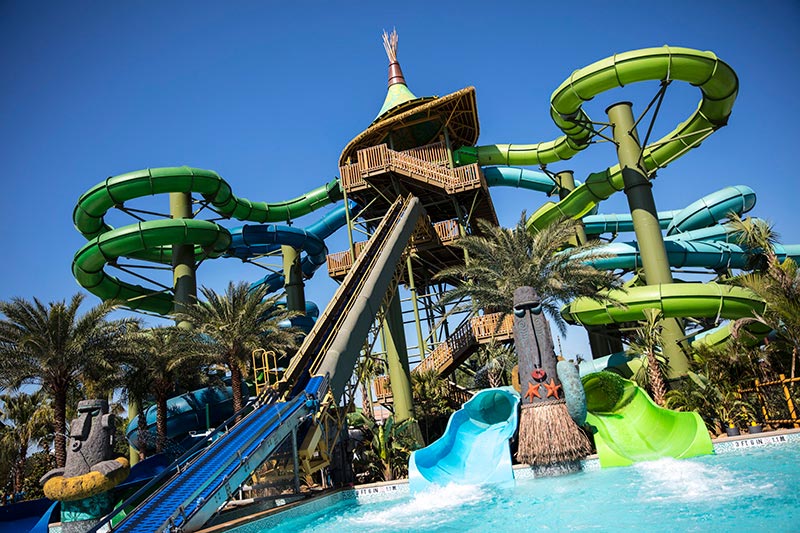 Universal's Volcano Bay™ Water Theme Park Top Attractions
If you decide to visit Universal's Volcano Bay water theme park, plan to spend at least a half day here, if not more. There are activities for every age group and personal inclination, and you may find yourself reluctant to leave its charms at the end of the day. Here are some of the top things to do:
Honu of the Honu ika Moana™ was inspired by the ancient Waturi people who surfed the ocean on the back of sea turtles. Instead of a sea turtle, you'll climb aboard a four-person passenger raft that twists and turns through a windy flume that will make you giddy with excitement.
If you're looking to pit yourself against the mighty power of whitewater tides, look no further than TeAwa The Fearless River™ where you'll strap on a life vest and battle your way through frothy rapids and waves.
Kids will love the Tot Tiki Reef, where a pint-sized water volcano and adorable tikis gently mist them with cool water. Don't miss the interactive whales that spray and sing in tandem with children raising and lowering their hands.
Waturi Beach is the perfect place to spend the day splashing around in picture-perfect surroundings. You'll enter through a verdant jungle, and the lagoon itself boasts the majestic Krakatau™ volcano, complete with cascading waterfalls, as an awe-inspiring backdrop for your adventures.
Those looking for a little extra luxury can opt for a private cabana rental, which includes plush lounge chairs, free bottled water and snack basket, and concierge service for additional food and drinks.
When hunger strikes, head to Whakawaiwai Eats for tropical-inspired delights like longboard-shaped Island BBQ and Hawaiian Pizzas and Jerk Mac & Cheese, all served in a convenient location.
What To Do At Universal CityWalk™
Universal CityWalk is the perfect place to get a taste of Universal Orlando without actually entering the parks or paying for admission. There are top-notch restaurants, entertaining shows, dance clubs to get your groove on, and more. This fun-for-all-ages "epicenter of awesome" hits all the right notes for a night out on the town, or even a little laid-back fun during the day.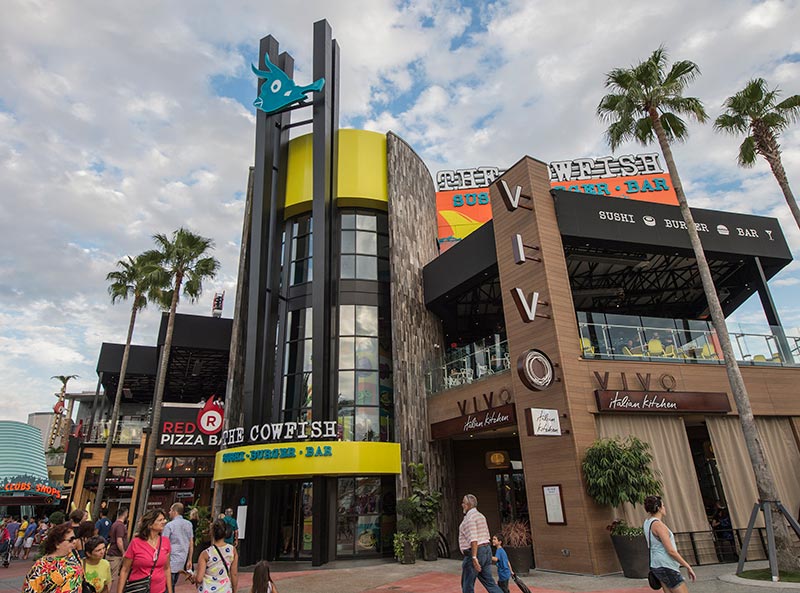 Universal's CityWalk™ Top Attractions
Residents and tourists alike flock to Universal CityWalk to enjoy its wide selection of appealing shops, restaurants, and entertainment. Here are some of the most popular attractions:
If you've never seen Blue Man Group, you'll get the perfect opportunity to see them live at Universal CityWalk. A combination of design, technology, beautiful music, and comedy, Blue Man Group is like nothing you've ever seen before––which is exactly the way they intended it.
Las Vegas meets Cuba at the Red Coconut Club, a stylish tiki-chic lounge-cum-club. Dance the night away to heart-thumping tunes or enjoy a nightcap at a cozy table for two that overlooks the revelers dancing below. It's time to let down your hair and break loose!
Dig into traditional Mexican staples like Mar y Tierra and Mahi Veracruzana at the festive Antojitos Authentic Mexican Food™ restaurant. Mariachi bands strike up lively tunes, and if you like guacamole you're in for a real treat: Antojitos makes theirs tableside.
Choose from stadium-style seating or bleachers atop artificial turf in which you can enjoy authentic hot dog varieties from all over the United States at the Hot Dog Hall of Fame®. You've got your Milwaukee bratwurst, sauerkraut New York dog, relish-slathered Boston dog—you name it, they've probably got it on the menu. They even offer a two-foot dog on a fresh baguette for those looking for a foodie challenge.
The theme of Toothsome Chocolate Emporium & Savory Feast Kitchen™ is an eclectic mix of Steampunk and whimsical fantasy. Its towering smokestacks can be seen across Universal CityWalk and its costumed servers navigate the full-service restaurant and bar wearing kooky 19th-century apparel. Don't forget to pop into the on-site confectionary, the Candysmith, in which you can purchase all manners of sugary decadent delights.
What You Need To Know About Visiting Universal Orlando Resort
With so much to explore, most people plan for a full day for each of the three Universal Orlando theme parks. Harry Potter fans will find that they can spend all three days exploring The Wizarding World of Harry Potter™ alone! It's a magnificent recreation of an imaginary world, well worth a visit even for those who are not ardent fans. If you can only spare a few hours there, make a point to ride Hogwarts Express and Harry Potter and the Escape from Gringotts.
Thrill seekers should make time for The Incredible Hulk Coaster® and Doctor Doom's Fearfall in Universal's Islands of Adventure. Both rides whip you around at incredible speeds leaving you breathless, exhilarated, and ready for more.
If you visit during the muggy summer months, Universal's Volcano Bay is a must to cool down. You can dial up the excitement with thrilling water slide rides like the Krakatau Aqua Coaster™ (which actually goes inside the massive volcano) or relax in the most beautiful lagoon you'll ever see outside of nature at Waturi Beach.
The most popular times to visit are during the winter holidays and the summer months, but even during the off season Universal Orlando gets crowded on weekends. Starting early in the day is key to avoiding crowds even during peak season.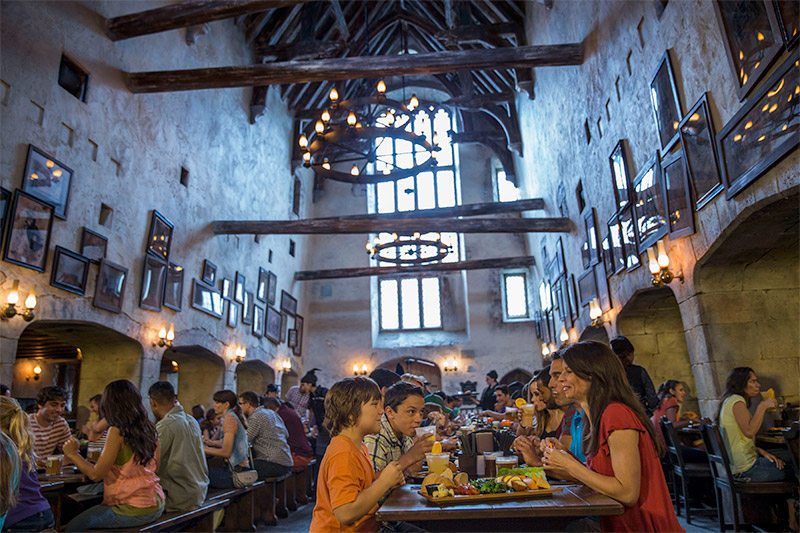 Start Planning Your Trip To Orlando
Orlando's balmy weather, fanciful theme parks, and plentiful flight options make it one of the most popular tourist destinations in the United States. Outside of the major theme parks, take advantage of world-class golf courses, the Kennedy Space Center, and even LEGOLAND Florida if you have little ones. It's a vibrant city that always has something going on; it's simply impossible to be bored when you're there.
If you're looking to save a little money when visiting Orlando, especially when visiting the more expensive theme parks like Walt Disney World® Resort, there are plenty of options for budget-conscious food and accommodations, and you can get great discounts on all the top Orlando theme parks with Orlando CityPASS® tickets. See more and save more with CityPASS® tickets for a win-win!
Header Image: HARRY POTTER characters, names and related indicia are © & ™ Warner Bros. Entertainment Inc. J.K. ROWLING'S WIZARDING WORLD&trade J.K. Rowling and Warner Bros. Entertainment Inc. Publishing Rights © JKR. (s18)