Articles by City & Category
The 2020 Guide to Visiting SeaWorld Orlando
February 22, 2019 By CityPASS
Dolphins and penguins and whales, oh my! You may know that SeaWorld has a host of loveable aquatic creatures, but did you realize it also has adrenaline-spiking and shirt-soaking rides as well?
You're in for a treat when you visit SeaWorld Orlando because it has everything (and we mean everything) you could want in a memorable vacation. If you're only planning on spending one day, you may want to consider extending your trip a few days to experience the full magic.
This guide is intended to give you the lowdown of the best things to see, eat, ride—and even frolic with—at SeaWorld Orlando, as well as best places to stay during your visit.
Planning A Trip To SeaWorld Orlando
First things first: SeaWorld Orlando is a big theme park. They offer a map on their website that is highly useful when planning out your must-see attractions. Once you arrive, pick up a map of your own to help you navigate its twists and turns, or download the helpful SeaWorld Official Park App that includes wait times for all the rides, showtimes, GPS navigation, and more.
If you're willing to splurge a bit to bypass the lines, they offer a "Quick Queue" pass that allows you to jump ahead of everyone waiting in the regular line. If you're planning on strategically visiting the rides to avoid longer lines, it's best to go early or late, or both, as the rides take on a completely different vibe at night.
Dress Accordingly
Appropriate clothing is crucial at SeaWorld. If you're planning on going to any of the shows or water rides, prepare to get wet—and possibly soaked. Make sure to wear quick drying clothing and maybe bring a small towel kept in a plastic bag. If you visit during the cooler months, you may want to bring rain gear – no joke!
Another thing to consider is your comfort inside attractions like Wild Arctic. These attractions are kept quite cold to mimic the animals' natural environment. If you or someone in your party gets chilly easily, bring a sweater or a shawl.
See the Shows!
If you are planning on seeing some shows (which you should, they're part of the fun!) arrive at least 20 minutes early to secure a seat; some of the shows have limited attendance and seats fill up quickly.
Parking or Shuttling at SeaWorld
When considering hotels near SeaWorld Orlando, find out if they offer a free or inexpensive shuttle to the park. Otherwise, if you choose to drive yourself, parking at SeaWorld costs $20 per day.
Height Restrictions
Like the other theme parks in Orlando, there are height restrictions on many rides, so if you're planning a visit with younger children be sure to check the qualifications for riding on each ride's page. Here is a list of all the rides at SeaWorld Orlando.
If you or your family are planning on riding some of them, you can take a sneak-peek to find out whether some of the little ones aren't too little to enjoy a ride. If they're not quite up to height restrictions or are not able to ride with an adult, not to worry! There are plenty of rides suitable for kids of all heights and ages!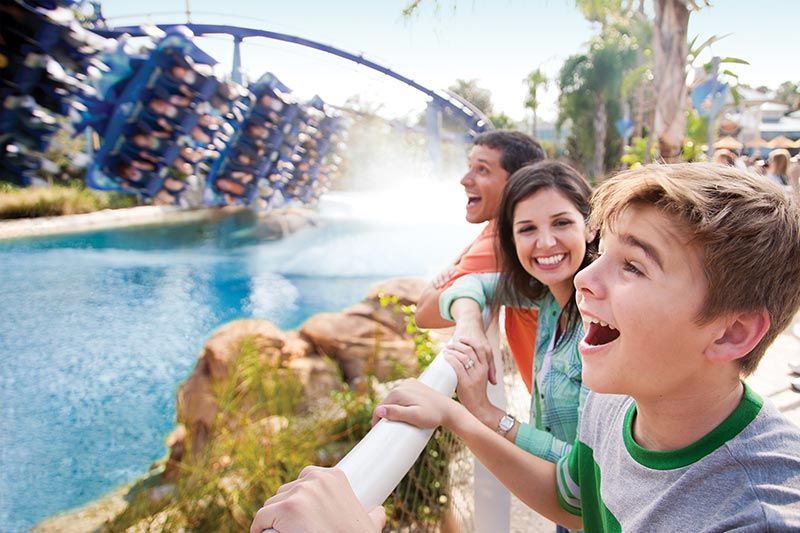 SeaWorld Orlando Discount Tickets, Hours, and More
SeaWorld is located at 7007 Sea World Drive in Orlando, Florida. During the warmer months, it's open from 9am-9:30pm, and during the post-holiday cooler months it's open from 10am-6pm. That said, when planning your trip, make sure to check the website for hours of operation, as hours vary from day to day and time of year.
There are a whole host of options for purchasing discount tickets for SeaWorld Orlando. You can buy tickets online at the SeaWorld Orlando site. Or, if you're planning a trip to Orlando, check out Orlando CityPASS® tickets for discounted tickets to SeaWorld, as well as many of the city's top attractions and theme parks. If you're a truly devoted SeaWorld fan, there's even an annual park pass option available.
SeaWorld Autism Services
SeaWorld's Certified Autism Center staff are trained to ensure they understand and respect the needs of children on the Autism spectrum. They have designated quiet spaces, pre-visit planning services, sensory guides, ride accessibility programs and inclusion programs. For more information on the services and resources provided, please visit the official SeaWorld website.
SeaWorld Orlando Attractions
SeaWorld isn't just for lovers of sea life and aquatic mammals. It's filled with heart-pounding rides, entertaining shows, tasty dining options, and hands-on animal encounters that will leave you astounded at Mother Nature's brilliance. And, of course, shopping opportunities galore let you bring home a piece of this magical park. SeaWorld has something for everyone, whether you're a young'un—or just young at heart.
SeaWorld also has an eclectic variety of events offered throughout the year. If you're visiting during the holidays you can enjoy their Christmas Celebration, complete with holiday-themed shows and tasty treats.
Foodies should take heed of the Seven Seas Food Festival in February through May, where you'll be able to get your fill of local craft beers and exotic flavors from around the world, or their Craft Beer Festival in September. Fans of Halloween will rejoice at the opportunity to trick-or-treat amongst their favorite undersea creatures during the Halloween Spooktacular, which takes place over several weekends leading to Halloween.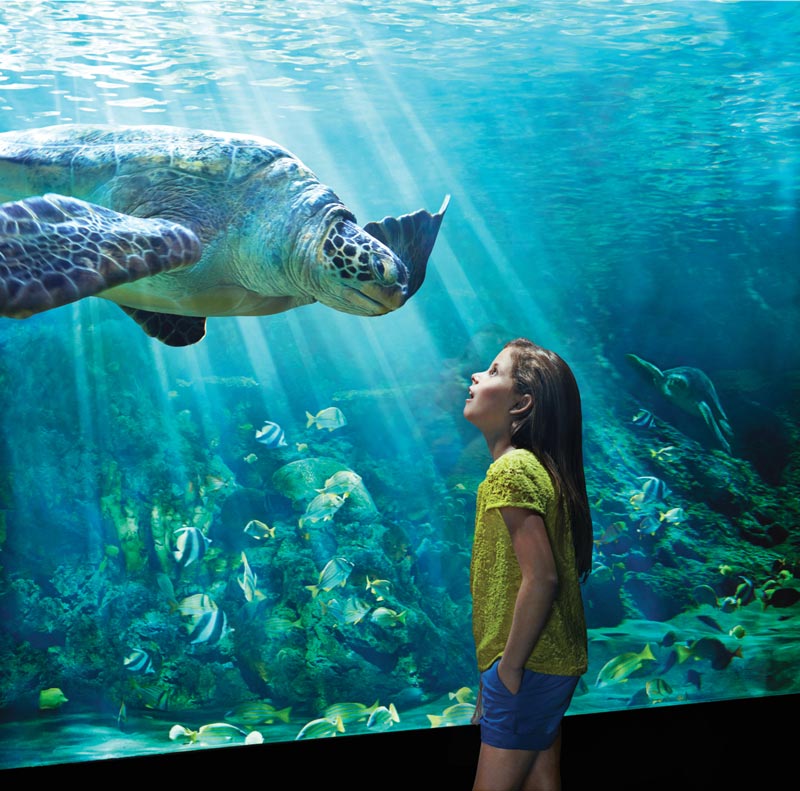 Here is an overview of top attractions to enjoy, watch, and experience at SeaWorld Orlando:
Animal Experiences: If you've ever wondered what a stingray feels like or wanted to see a deadly shark up close, now is your chance!
Rides and Roller Coasters: From a whimsical sea carousel to breathtaking roller coasters, SeaWorld will enthrall you; you'll never want to leave.
Shows at SeaWorld: The iconic killer whale shows are just the tip of the iceberg—at SeaWorld, you'll get to choose from dolphins, sea lions, and even potbellied pigs.
Animal Experiences at SeaWorld Orlando
At SeaWorld you'll have the chance to get up close and personal with a variety of ocean creatures, each comfortably housed in an environment that closely mimics its natural habitat. Here are some of the most popular:
Antarctica: Empire of the Penguin®: Don't bother booking a flight to Antarctica to see these tuxedo-clad birds because you'll have no better opportunity than at SeaWorld. Five species of penguins call this attraction home, and you'll get to watch them waddle about on land or glide effortlessly through the chilly water. Note: the temperature is kept cold for the animals' comfort, so you may want to pack a sweater for this Animal Experience.
Dolphin Nursery: It's hard to beat the Dolphin Nursery for the sheer cuteness—this attraction is filled with tiny dolphin calves frolicking and chattering with their mothers through clicks and other noises.
Manatee Rehabilitation Area: SeaWorld is not just an exciting park for visitors; it's also a haven for sick and injured sea creatures. Inside its Rescue Center, orphaned or otherwise disabled marine animals are nursed back to health—including manatees. You'll learn more about this gentle creature's plight in the wild and how you can help make a difference.
Manta® Aquarium: You'll be surrounded on all sides by over 3,000 marine animals spread among 10 naturalistic aquariums. Admire exotic undersea creatures like the massive Pacific octopus (which can weigh up to 33 pounds) or the mythical-sounding—but quite real—sea dragon.
Stingray Lagoon®: Dip your hands into the water to feel a stingray's velvety back as it serenely glides by your hand. Don't be surprised if you see one that looks bigger than you; some of the species living here can have wingspans of up to five feet.
Shark Encounter®: Experience the wonder of these ancient creatures like never before by walking through a glass tunnel that allows you to watch them silently slink by, unblinking.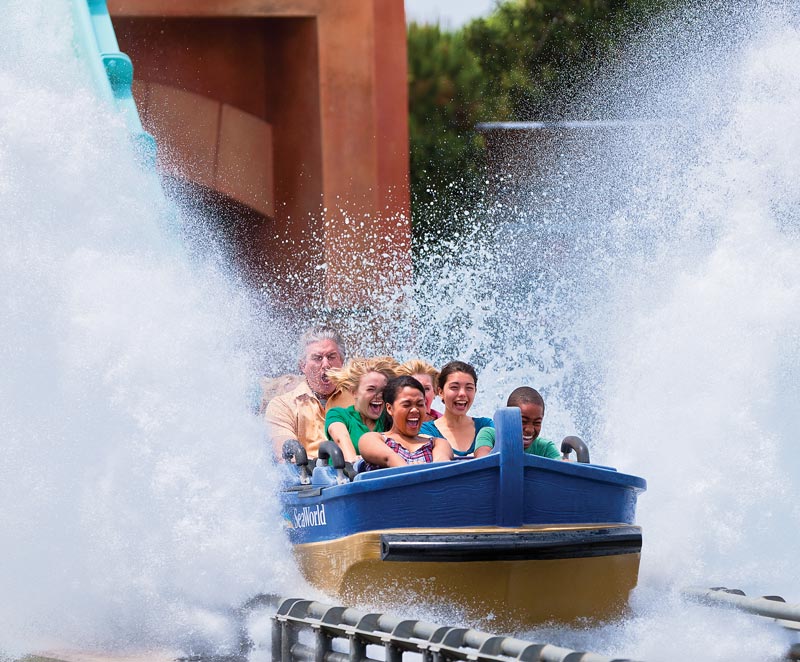 SeaWorld Orlando Rides & Roller Coasters
If you're vacationing in Orlando, you can't shake a stick without hitting a theme park filled with exhilarating rides and death-defying roller coasters. SeaWorld holds its own in this category, with both water- and land-based rides that are sure to elicit a wide smile or a delighted shriek of delicious terror.
Here are some of the most popular rides and roller coasters at SeaWorld – better get in line early!
Kraken® Unleashed: For sheer roller coaster thrills you can't beat Kraken. With seven full inversions and a 120-foot loop, this monster floorless coaster reaches heights of more than 150 feet during its breathless run.
Mako: Named after the ocean's fastest shark, this beast is currently the longest, fastest and tallest roller coaster in Orlando. With speeds of up to 73 heart-pounding miles per hour and soaring 200 feet above the earth, this is one roller coaster that takes no prisoners. Are you ready?
Manta: Inspired by the natural movement of stingrays, Manta is the only coaster in Orlando that lets you skim over the water in a face-down in an inverted nose dive and careen in a whirl through the air.
Sea Carousel: If you've exhausted your lungs at the roller coasters and need a ride that's a little more relaxed, hop aboard the Sea Carousel, where you'll get to choose from a seat atop all manner of marine life.
Sky Tower: This 400-foot tall attraction has overlooked SeaWorld since 1974, allowing riders to get a full aerial view of the park.
Journey to Atlantis: Based on the mythological "lost" city of Atlantis, this combination log-flume/roller coaster brings you through sunken waterways before plunging you into sprays of shimmering water.
Shows At SeaWorld Orlando For the Whole Family
It's showtime! And no one does it better than SeaWorld. The trainers pride themselves on the unique bonds they forge with their animals, which becomes immediately apparent upon watching them interact: their joy at working together is almost palpable.
You'll get the chance to witness incredible animal feats at SeaWorld Orlando shows. Make sure to snag a seat early, because these family-friendly shows fill up fast. And don't forget your rain gear!
Here are some of the most talked-about shows:
Dolphin Days: Starring one of the most playful ocean creatures, the Atlantic Bottlenose Dolphin, this show will educate you about dolphins and their importance to the ocean's ecology, while amusing you with a series of tricks (which include a rainbow of tropical birds).
One Ocean: Celebrate SeaWorld's iconic ambassador, the Orca (killer) whale, at an energetic performance of dashing aquatic acrobatics. If you can't get enough of the Orcas, catch an educational encore at the Ocean Discovery show, a special interactive presentation that will teach you all about their habitat and lifestyle.
Pets Ahoy: Not all of SeaWorld Orlando's animal performers are from the ocean. Join cats, ducks, dogs, and even potbellied pigs for a rollicking good time at this unique show.
Sea Lion High: A New Class: Go to the head of the class in SeaWorld's fresh new take on a day at Sea Lion High. Those lovable sea lion stars, Clyde and Seamore, are back in school and this semester the SeaWorld Mime is ready to join the fun. From the antics of Opie Otter to the splash-tastic water effects, Sea Lion High is once again your SeaWorld destination for laughs.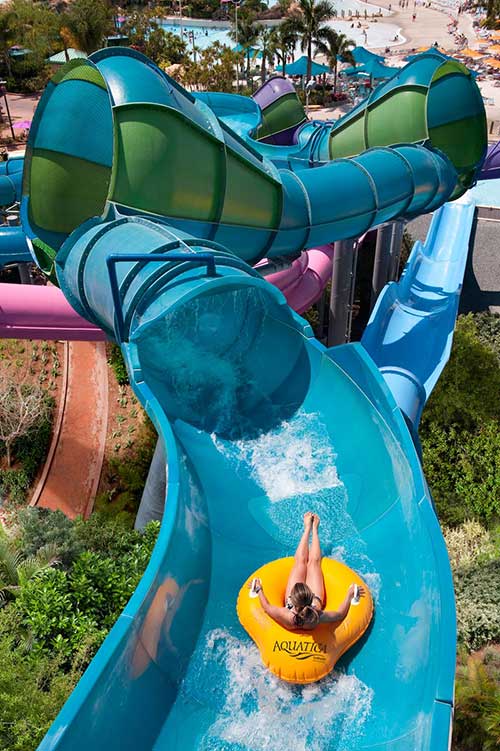 Aquatica Orlando Water Park
If you weren't aware of Aquatica Orlando, SeaWorld's award-winning water park, you are missing out on an ocean of fun. There are fast-paced rides for thrill seekers, a play area for kids, and even a sunny beach complete with the option for a private cabana. There are shopping opportunities with water-appropriate apparel as well as restaurants to make sure your growling tummy doesn't get in the way of your fun. For those who can't swim or are looking to improve their skills, Aquatica Orlando even offers swimming lessons. Aquatica Orlando is also a Certified Autism Center (CAC), with certified staff that have received special training to cater to all children, including those with special needs. Learn more here.
Don't miss out on the following attractions:
Water Slides and Pools: Whiz down slick slides that may or may not lead you into dolphin territory.
Kid-Friendly Areas: Tiny tykes of all ages will enjoy splashing around in "splashtastic" Kata's Kookaburra Cove or climbing the 60-foot-tall rain fortress, Walkabout Waters.
White Sand Beaches and Lazy River: Kick back and relax on a comfortable lounge chair on the beach, or meander down Loggerhead Lane in your own buoyant tube.
Rides & Slides At Aquatica Orlando
With so many top-notch rides and slides at Aquatica Orlando, it's tempting to just hop on the first one you see upon entering (which is totally okay!), but be sure to save time for some of the most popular rides:
Ray Rush: A family-friendly raft ride that takes you down twisting turns and dark tunnels, even leading you inside giant mantra wings and massive water sphere.
Dolphin Plunge: This is one of Aquatica Orlando's most popular rides, with good reason. Part of your exhilarating journey down a corkscrew tunnel takes you through an underwater world where eye-catching Commerson's dolphins live. Don't close your eyes – you may miss them as you zip past!
Ihu's Breakaway Falls®: Can you handle this precipitous multi-drop tower? Ihu, Aquatica's gecko mascot and the namesake of this ride, dares you to find out.
Taumata Racer: A competitive mat ride that pits you against seven other people who are also racing down a steep neon-colored slide face first. Trivia tip: this ride is named after a record-breaking 84-letter word.
Relaxing At Aquatica Orlando
Who says that you need to be whizzing down a slippery slope to have fun? Happily, for those who enjoy a more serene environment, Aquatica Orlando also boasts several opportunities for a little R&R:
Cabanas and Loungers: Take a catnap (or a day-long snooze) on a shaded beachfront lounger or luxuriate in your own private cabana. Feeling lazy? Everything you need is at your fingertips in the cabanas, from a cooling ceiling fan to chilled bottled water, and munchies are just a call away.
Loggerhead Lane: It wouldn't be a water park without a lazy river—and Aquatica's Loggerhead Lane does not disappoint. You'll even get to float through an underwater world filled with a rainbow of fish.
Cutback Cove & Big Surf Shores: Bob around on gentle waves or even bodysurf at one of these two wave pools, which rotate wave strength throughout the day.
Aquatica Orlando's Kid-Friendly Areas
Aquatica Orlando is an exciting adventure for all ages – it even offers an entire area that caters exclusively to younger children. Read on for the top activities for kids.
Kata's Kookaburra Cove: The kookaburra is a wee bird that seems to twitter with laughter—which is exactly what kids will want to do when they step foot in this adorable cove. They can frolic under waterspouts, enjoy beginner-level body slides, and splash around to their heart's content. Adults may want to join in on the fun!
Walkabout Waters: Kids will love this 15,000 square foot pool-cum-jungle gym. It's overflowing with pint-sized slides and water spouts and is filled with water that's just high enough for children to enjoy.
Underwater Viewing Commerson's Dolphins: While the Dolphin Plunge may be too much for little tykes, never fear because you and your kids can still admire the majestic creatures through the subsurface viewing windows near the ride.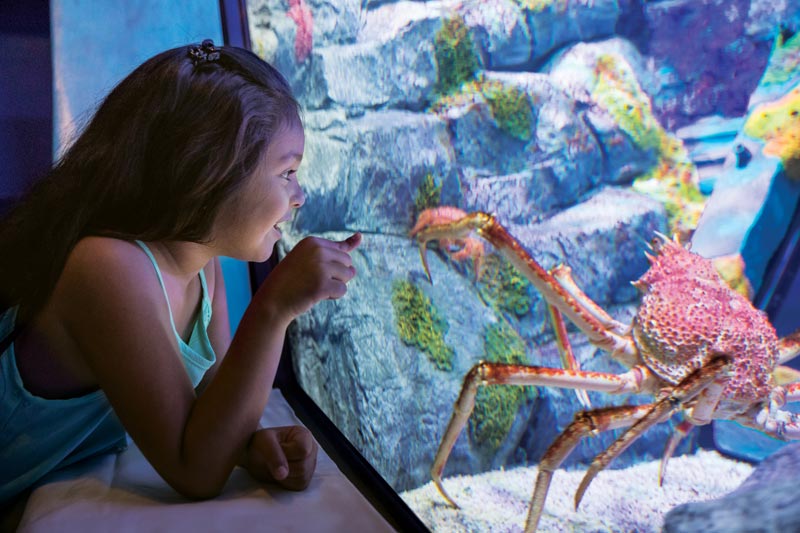 Where To Stay Near SeaWorld & Aquatica Orlando
Don't let the fun end when you leave the park—Orlando has plenty of enjoyable hotels close to the major theme parks. Here is a list of the Official Hotels of SeaWorld. All of them include great benefits like free shuttle service to SeaWorld, Aquatica and other Orlando attractions, FREE Quick Queue, front of the line access at SeaWorld, discounts on food & merchandise at SeaWorld, Aquatica and Discovery Cove, plus more!
Renaissance Orlando at SeaWorld
Experience an unforgettable stay at Renaissance Orlando at SeaWorld®. Ideal location and incredible amenities make this resort the perfect choice for every visitor. Settle in to the spacious guest rooms, the largest in Orlando - then explore all the fun on and near this hotel.
Holiday Inn Express & Suites Orlando at SeaWorld
Located in the heart of the International Drive area, the Holiday Inn Express & Suites at SeaWorld provides Orlando visitors with well-appointed accommodations near world-class attractions, entertainment, dining and shopping fun for the entire family! This new hotel is within walking distance to SeaWorld, Discovery Cove and Aquatica.
TownePlace Suites Orlando at SeaWorld
Whether it's a trip for families, couples, single travelers or friends, guests will enjoy the convenient location, balanced with soothing coastal elements and tropical accents, of this Official Hotel of SeaWorld near Orlando's best attractions and parks.
Fairfield Inn & Suites Orlando at SeaWorld
Infuse your travel routines with newly renovated, extra comfort and convenience at Fairfield Inn & Suites Orlando at SeaWorld. Located walking distance from SeaWorld Orlando and Discovery Cove, this hotel is the perfect place to relax after a day of thrill rides and memorable encounters.
Staybridge Suites Orlando at SeaWorld
The Staybridge Suites® Orlando at SeaWorld provides an "All-Suite" experience with convenient access to all of the areas attractions.
Hilton Garden Inn Orlando at SeaWorld
The Hilton Garden Inn Orlando at SeaWorld is conveniently located across the street from SeaWorld and just minutes from all of Orlando's world-famous theme parks and attractions.
Springhill Suites Orlando at SeaWorld
This newly renovated SpringHill Suites is everything you need, and comes with the Marriott standards that ensure a comfortable Orlando experience. Located just steps from the entrance to SeaWorld Orlando and the nation's #1 Water Park – Aquatica, this property also offers convenient access to all of Orlando's iconic theme parks.
Hampton Inn & Suites Orlando at SeaWorld
Encounter an exceptional experience at Hampton Inn & Suites Orlando at SeaWorld; conveniently based in the heart of Orlando's entertainment district, less than a mile from SeaWorld, Aquatica and Discovery Cove.
Residence Inn Orlando at SeaWorld
With newly renovated suites, lobby and more, the Residence Inn Orlando at SeaWorld is providing guests with an updated experience to spur comfort and adventure for your Orlando escape.
Doubletree by Hilton Orlando at SeaWorld
Located in the heart of Orlando's theme park and entertainment district, this beautiful 28-acre resort provides everything you'll need for a comfortably convenient family vacation or weekend getaway.
Hilton Grand Vacations at SeaWorld
Hilton Grand Vacations at SeaWorld is the ideal retreat for visitors to Orlando, Florida. This 33-acre resort hotel, combining the perfect blend of retreat and connected hotel, puts you in easy reach of SeaWorld Orlando, Aquatica, and Discovery Cove.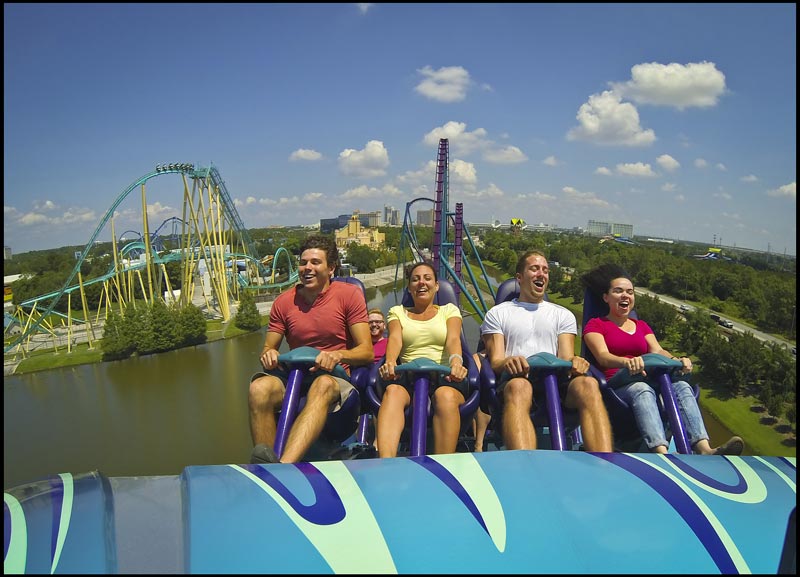 What You Need To Know About Visiting SeaWorld Orlando
Between the heart-stopping rides and riveting shows and animal exhibits, you can easily spend a full day at SeaWorld Orlando. If you want to visit Aquatica Water Park you should plan to spend at least one-and-a-half to two days.
Note to animal lovers: If you're really crazy about marine life you may want to tack on a third day. SeaWorld Orlando offers a bevy of behind-the-scenes tours and VIP experiences like Dolphin Encounter, where you'll get to feed and pet the happy creatures. Or, check out the Walrus Up-Close, which puts you up-close and personal with this remarkable marine mammal. With so many opportunities to engage with these ocean creatures, it's hard to limit your time to just two days.
Best Times of Year to Visit SeaWorld Orlando and Aquatica
If you're planning to visit both Aquatica and SeaWorld Orlando, the best time to visit is the period between Labor Day up until a few weeks before Christmas (with the exception of the Thanksgiving holiday). The majority of kids are back in school, and Florida's balmy weather means average high temperatures upwards of 70 degrees, even as you get closer to the end of December. There's less rain during the cooler months as well, sometimes more than 70% less than what you'd expect during the hottest summer months.
While SeaWorld can be a magical place to visit during the winter holidays, it's also one of the most crowded times for the theme park, so be prepared for longer lines and higher hotel prices if you choose to visit then. Summer means SeaWorld is at its most crowded (and hottest, with temperatures averaging 90+ degrees daily).
Planning a Short Day Trip to SeaWorld
If you can only spend one day at SeaWorld, there are few must-see attractions that should be top priority for your visit. First on your bucket list should be the two roller coasters, Kraken Unleashed and Manta. You'll feel like you're flying through the air and you'll be fighting to wipe a gleeful grin off your face for the rest of your visit. Journey to Atlantis takes the cake for most engaging "water coaster," and you're definitely missing out if you skip the Antarctica: Empire of the Penguin Animal Experience.
Visit Orlando's Top Attractions for Less!
Orlando is an exceptional vacation destination that people of all ages will enjoy. It's overflowing with theme parks to make you giddy, outdoor activities (think golf, gardens, and the Orlando Urban Trail, which weaves through multiple parks), and shopping opportunities galore. For families, it's an ideal destination thanks to multiple kid-friendly activities at all the major theme parks.
If you're planning a trip to Orlando to visit the major theme parks, make sure you check out Orlando CityPASS® tickets for discounted tickets to the area's top attractions, including Walt Disney World® Resort, Universal Orlando Resort™, and LEGOLAND® Florida Resort. You'll be able to see more and save more—a pretty sweet deal!