Top Things To Do
Save 47%

at 5 top Seattle attractions.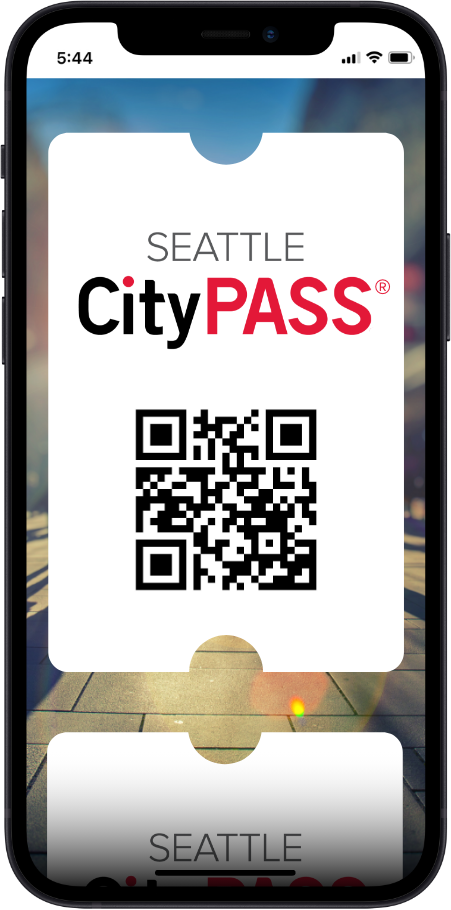 Get ready for your trip to Seattle!
Smart Savings. Best Value.
The research is done. The savings is significant. If you're looking for the best things to do in Seattle, you'll love the simplicity and convenience of Seattle CityPASS® tickets.
Includes admission to 5 attractions
Visit each attraction below.
Plus get admission to 3 more attractions of your choice. No need to choose now—decide later.
What's Included and What You Save
Frequently Asked Questions
Short on time?
We also offer Seattle C3® tickets, an option that saves you up to 30% on your choice of 3 attractions. View a comparison.
Instant Delivery of Mobile Tickets
365-Day Risk-Free Returns
Space Needle
Seattle's "must-see" is now a "must-do" with thrilling all-new, all-glass experiences on two levels. Lean out over the city against tilting glass walls and Skyriser glass benches on the open-air deck. Move one floor below to The Loupe, the world's first and only revolving glass floor, for never-before-seen views of the Space Needle and the city below. Top off your visit and sample the best of the Pacific Northwest food and drink while savoring iconic views of Seattle.
Seattle Aquarium
Discover playful sea otters and seals, a giant octopus, luminous moon jellies and all our SEAlebrities! Wonder at Window on Washington Waters, a 120,000-gallon habitat with daily dive shows. Touch live sea creatures in tide pools. Learn about our mission: Inspiring Conservation of Our Marine Environment.
Argosy Cruises Harbor Tour
The quintessential Seattle experience starts on the water! Cruise past iconic landmarks, learn the city's history and hidden gems from local, expert guides, and enjoy the natural beauty of Seattle.
Museum of Pop Culture (MoPOP)
Whether it's through your favorite albums, sci-fi and fantasy films, indie video games, or binge-watching that one TV show (again), pop culture is at the heart of our lives and for many of us, our identities. The Museum of Pop Culture takes you behind the scenes of your favorite fandoms through immersive exhibitions and stunning artifacts—from Nirvana to Horror and everything in between.
Woodland Park Zoo
Take a global journey at the award-winning Woodland Park Zoo's 92-acre urban oasis teeming with 300+ animal species and more than 900 animals in lush, naturalistic settings.
Chihuly Garden and Glass
Immerse yourself in a world where curiosity, creativity and color come to life. Visit the Galleries, ever-changing Garden and signature Glasshouse, where you'll be inspired by artist Dale Chihuly's innovation and passion.
Instant Delivery of Mobile Tickets
365-Day Risk-Free Returns
Read reviews from CityPASS® travelers.
Excellent Value and Selection
We highly recommend getting the Seattle CityPASS. We were really overwhelmed with all of the activities when we started planning our trip through Seattle; there is so much to do. It gave us a really well rounded tour of the highlights of Seattle.
The Way to Go
For your money's worth, the CityPASS Seattle is the best way to go. Not only did it include the best attractions in Seattle for the adults, it was perfect for the children, too.
We Rocked Seattle
Our family of four had great fun touring Seattle's best sites! Despite being locals, we don't often get the time to see all the fun family destinations that Seattle has to offer. These passes paid for themselves within the first two locations compared to regular entry fees.
CityPass Seattle
This was one of the coolest things we have ever purchased while traveling and I would recommend it to anyone! We saw all of Seattle, with two little kids, and we did it for half the price.
A no-brainer if you visit Space Needle and more...
Two trips to Space Needle alone is almost the price of the Seattle CityPASS. If you do anything nearby like Chihuly and MoPOP, you're already ahead.
Seattle CityPASS
is rated out of
5
by
9968
.
Rated

5

out of

5
by
Singing Betty
from
I didn't know I needed this
While walking pass Argosy Cruises's pier I saw the advertisement for the City Pass. It listed everything we wanted to do (and things we didn't know we wanted to do until it was suggested!!). I'm so glad we bought it - it was fantastic for our 2 day visit.
Date published: 2022-10-11
Rated

5

out of

5
by
Hviirvm
from
Unforgettable trip!
I bought tickets for my goddaughter and I. It was her first time visiting Seattle& I wanted her to have a full experience. There had been a few attractions I hadn't had the pleasure of seeing myself. The pass was a great purchase for a great deal. I had to buy more tickets for my next trip with my family. I'm so excited! You get to choose from some of the greatest sites Seattle has to offer. Every attraction we chose was unforgettable. It's super easy to have the tickets saved on your cellphone. Made check in super fast& simple. Definitely recommend!!
Date published: 2022-03-27
Rated

5

out of

5
by
NicciNix
from
wonderful
We went to Seattle for a weekend getaway with plans on going to space needle and the glass museum, but after acquiring the City Pass we did so much more! Very cost effective for the person on a budget.
Date published: 2022-03-03
Rated

4

out of

5
by
Mediocrephotographer
from
Efficient and Resourceful!
I bought the city pass for my seattle solo trip and it gave me something to do every single day! I 100% recommend it for anyone going for the first time and trying to save some money . The attractions were worth for a first time visiter !
Date published: 2021-10-08
Rated

5

out of

5
by
Boozy Flamingo
from
Easy & Fun Way to Explore Seattle!
My husband and I purchased Seattle CitiPasses for our visit and loved getting to see what Seattle had to offer! Unfortunately, the harbor tours that are usually included in the "pick 5" options was not available due to Covid, however, the 5 attractions included and open are fantastic! 3 of the 5 attractions are right next to each other at the Seattle Center (Museum of Pop Culture, Space Needle & Chihuly Garden) so be sure to schedule some time to explore each of these sites! The other two sites are also very interesting. The Aquarium is right by the water and Pike Place Market, and several of their exhibits look to use sea water and wave simulation for some of their animals. The Woodland Park Zoo was beautiful, and has a wide variety of animals to see, and very family friendly. Our tickets were available to use just a few minutes after purchasing them. The lines were relatively short, and we had no issues getting in when presenting out passes. The Space Needle comes with two entries, one during the day, and the other in the evening, which was a fun surprise.
Date published: 2021-03-31
Rated

5

out of

5
by
mommananc
from
Best weekend EVER!!!
WE loved the city pass everything was perfect except for due to COVID everything has restrictions and rules one for example would be everything closes early, and you should show up early to get a good time frame for everything. Otherwise it was all great fun for our family of 9
Date published: 2021-03-30
Rated

5

out of

5
by
Whit22
from
Making memories
Got a city pass for a family get away. We were able to see visit everything open. Couple things closed due to covid but we knew that before purchasing. All exhibits were enforcing social distancing and observed staff cleaning frequently. The mobile tickets were easy and fast to use. We had an amazing time making memories.
Date published: 2021-03-29
Rated

5

out of

5
by
Nagappan
from
Absolutely very useful and awesome places
I was happy that in 2021 at least we can roam around city and visit places with social distances
Date published: 2021-03-14
Rated

5

out of

5
by
LaRosa
from
Beautiful City
As I came to this city, I was not too sure if I would like it. The traffic is brutal and people are somewhat agresiva divers. However, as I entered the city the city is spectacular. The sceneries are breathtaking and best appreciated from the wonderful tower. Seattle it what one would think of a typical large city. I got the opportunity to visit the aquarium wish hold a nice selection of octopuses one of my favorite aquatic animals. The Pop Culture museum was a fantastic selection to visit. I got to learn many things about tattoos, pop singers and their guitars, and a lot more things. The Chihuly Garden. Oh what to say about the Chihuly garden... it is like no other. I thought I was at some fairies' house. It was all supper magical. Supper beautiful and romantic. Sadly I did not have time to visit the zoo on the short visit.
Date published: 2021-03-14
Rated

4

out of

5
by
A'ja
from
Great experience
Had a wonderful experience visiting seattle thanks to the City pass tickets. Worth every penny and the savings was remarkable. Best way to tour attractions!! Only a couple of places we couldn't go do to covid but still worth the purchase.
Date published: 2021-03-13
Plan your visit.
The My CityPASS® app has all of the details you need for a great experience, including reservation and entry information, attraction details, maps, and extra offers and discounts from our partners.
Explore attraction locations.
About Us
City Pass was created in 1997 by founders Mike and Mike to inspire travelers to see the most iconic attractions in North America, all while saving money.
Still family-owned today, City Pass is a small company of 50+ employees who share a passion for travel. We love to see our customers have fun and explore new places, and we hope you'll share your memories with us, too.