Articles by City & Category
Safari in the City: San Antonio Zoo's Exotic Marvels
August 14, 2023 By CityPASS
Do you want to explore the wild side of San Antonio? The San Antonio Zoo — one of the city's top attractions for families — has delighted school children and parents since its early beginnings in 1914. Back then, it was called Brackenridge Park and featured just a handful of animals. It was one of the first zoos in the country to feature cageless exhibits. Today, the zoo has a variety of animals representing 750 species from across the globe.
Looking at San Antonio Zoo reviews, you'll notice the zoo has several attractions for families to enjoy, including several different exhibits, an aquarium, a kiddie park, and the famous San Antonio train ride. In fact, the zoo had the only aquarium in Bexar County until SeaWorld opened in 1988. Its fantastic location means there are plenty of hotels near the San Antonio Zoo, too. With so many things to do at San Antonio Zoo, here's a handy guide for what to see during your visit.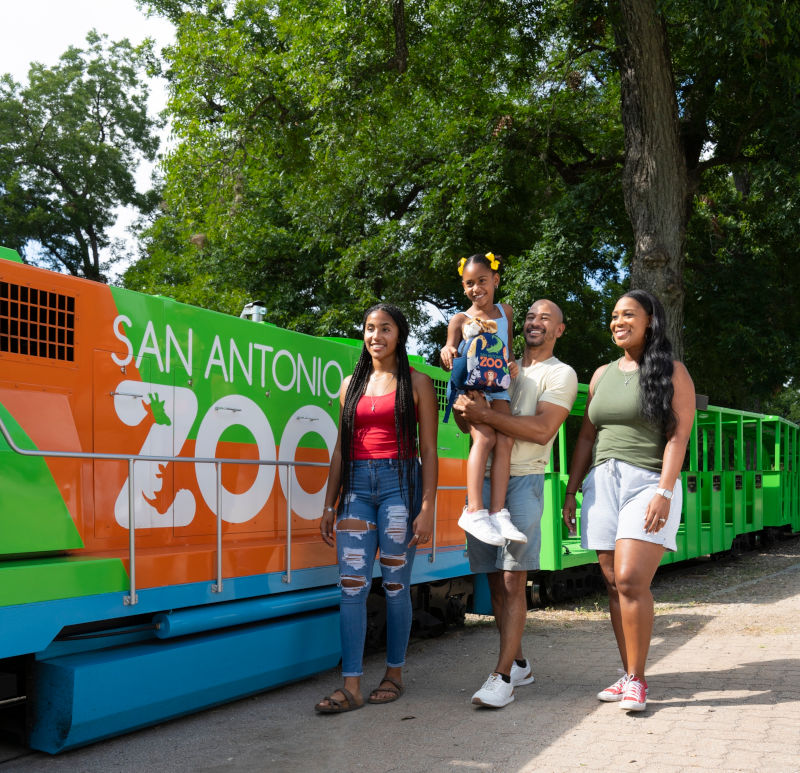 8 Exotic Marvels To Experience at San Antonio's Zoo
Before your visit, check out the zoo's website to see if any special events are happening, like Zoo Lights San Antonio during the holidays or Jungle Boogie Nights in the summer. Pick up a San Antonio Zoo map when you first arrive. This will give you a better sense of the zoo's layout and outdoor space. Now you're ready to see the wide variety of animals.
1. Africa Live!: The African Savanna
The zoo's newest habitat is Africa Live!, which has three different parts that allow visitors to explore the wilds of the African savanna. Majestic creatures like giraffes, African elephants, and the white rhinoceros roam their land habitats, while hippos and Nile crocodiles keep cool in their watery homes. The African Savanna is also home to favorites like zebras, ostriches, and cranes, all demonstrating this habitat's magnificence.
2. Neotropica: The Lush Rainforests of South America
Next, explore the lush waterway in Neotropica, which houses animals and plants from the Amazon. Within Amazonia, you can spot creatures like jaguars, anacondas, monkeys, and tamarins. This outdoor walk makes you feel like you're exploring a South American fishing village, spotting wild animals along the way. The waterway takes up a large portion of this exhibit, which is home to many birds, fish, and reptiles.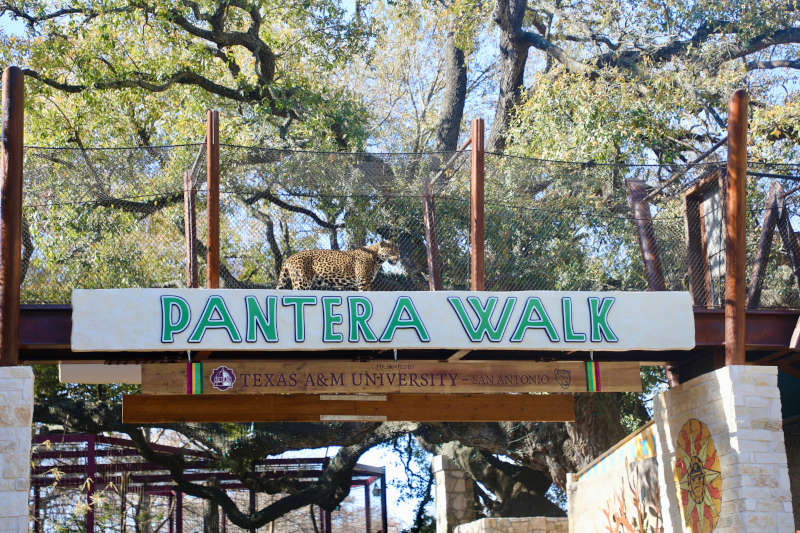 3. Big Cat Valley: The Majesty of Large Felines
Heading back to Africa, stop at Big Cat Valley, across from the African Savanna. Visitors can get a close-up view of the kings of the jungle and watch these felines roam and play. Redesigned in 2016, Big Cat Valley has reinforced glass that allows the lions to come up close to visitors, creating an immersive visit you won't find anywhere else. Besides the lions, Sumatran tigers, gazelles, warthogs, and addaxes also live in Big Cat Valley.
4. Kronkosky's Tiny Tot Nature Spot: Interactive Area for Children
If your little ones need a break, head to Kronkosky's Tiny Tot Nature Spot, an outdoor nature area that lets little ones up to five years old enjoy exploring nature. This award-winning play area has play structures that teach kids about various animals while using their imaginations. It's been a zoo highlight for nearly 20 years and lets new generations of nature lovers explore the wild world around them.
5. Gibbon Forest: Home of the Gibbon Primates
This habitat is home to the northern white-cheeked gibbons, a critically endangered species of primates. The Gibbon Forest was carefully designed to simulate the gibbons' natural habitat, as they like to stay high up in the trees. The habitat has ropes for them to swing on up above while small-clawed otters swim below them. Keep your eyes open, and you'll also spot a troop of François' langurs.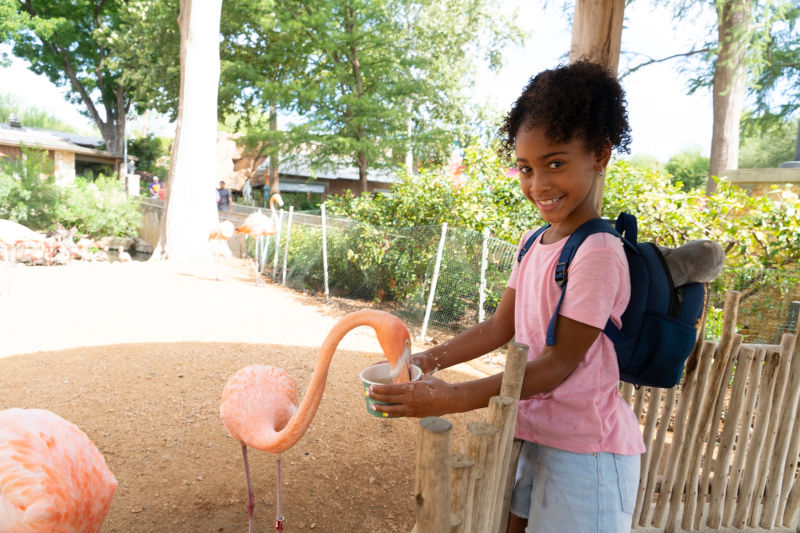 6. Asian Forest: Home of the Komodo Dragon
The Asian Forest no longer has Asian elephants, as the last one was recently relocated to a sanctuary in Tennessee. However, there's still plenty to see in this habitat, like the laid-back Komodo dragon. This is the largest existing lizard species, measuring a whopping three meters long and weighing 70 kilograms. While they can be fearsome and even dangerous to humans, these zoo residents are often spotted kicking back and relaxing in their habitat.
7. Kangaroo Krossing: Get Close to Kangaroos
Head down under to Kangaroo Krossing, where you'll come face-to-face with Australia's most famous animal. You'll notice two kinds of kangaroos hopping about: tree and red kangaroos. Strolling through this habitat, you can explore the world of the kangaroos before making your way to Wild Australia, where you'll find a number of other creatures from the Australian outback.
8. Amphibia: Exotic Amphibious From Around the World
Amphibia, formerly known as Toadally, is an indoor exhibit that houses amphibians from around the world. There are several species from North America, specifically Texas, so that visitors can learn more about local animals and their natural habitats. Amphibia has all kinds of frogs, toads, salamanders, and caecilians in all sorts of colors and sizes. See if you can spot them in the trees or splashing around in their watery tanks.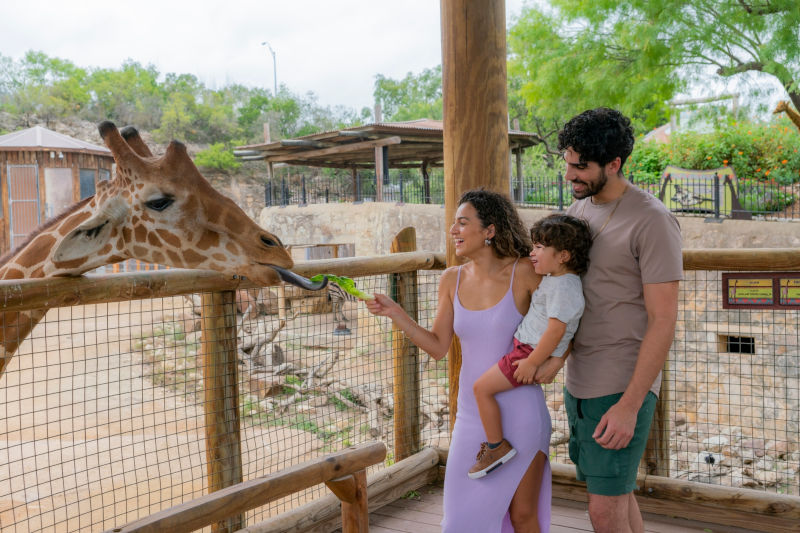 9. Behind the Scenes: Animal Encounter at Its Best
Want to truly get to know the animals at the San Antonio Zoo? The zoo has several animal encounters that visitors can check out to enhance their visit, such as a giraffe feeding, mingling with flamingos, or learning about animals like hippos and rhinos with an expert. These behind-the-scenes tours let guests experience nature in an exciting and educational way that teaches them about the beauty and importance of our natural world.
Get Your Admission Tickets at a Discount With CityPASS® Bundled Ticket
Forget worrying about admission prices and waiting in long lines to get your San Antonio Zoo tickets. When you buy a San Antonio CityPASS® ticket, not only will you get a San Antonio ticket discount, but you'll save up to on some of San Antonio's top things to do. With this ticket, you can choose up to four attractions including San Antonio Zoo, Go Rio San Antonio River Cruises, San Antonio Museum of Art, Tower of the Americas, San Antonio Botanical Gardens, The DoSeum, and the Witte Museum. All you have to do is buy a CityPASS® ticket, and you're on your way to a wild adventure!
San Antonio Lodging
To get the most out of your stay in San Antonio, we recommend finding lodging near San Antonio's top attractions. Use this map to find the right lodging for you:
Header Image Courtesy of San Antonio Zoo