Articles by City & Category
Dive Into Nature at the San Antonio Botanical Garden
July 21, 2023 By CityPASS
In the Texas Hill Country, San Antonio reveals its beauty with its rolling hills, historical buildings, and lively downtown core. The city is full of leafy green trees and carefully tended front gardens, showing that locals know the value of nature. As the pinnacle of nature in the city, the San Antonio Botanical Garden in mid-city's Mahncke Park is the perfect blend of botanical wonderland and local countryside pride.
What to Expect When You Visit the San Antonio Botanical Garden
A visit to the San Antonio Botanical Garden offers many opportunities to enjoy the colorful diversity of life. Flowering plants, shrubs, and trees work harmoniously with architectural designs, water, stones, and other landscape structures, creating a serene escape from the bustle of city life.
When you arrive at the 38-acre Botanical Gardens along Funston Place, you enter the Halsell Welcome Building glass doors and pass the discovery center, gift shop, vegetable garden, and interactive displays. Outdoors, you'll have your pick of meandering paths as you wander the gardens.
Explore the Beautiful Gardens
Get ready to take plenty of San Antonio Botanical Garden photos as you enjoy the botanical diversity, learning centers, and calming atmosphere. Read on for a closer look at the gardens and trails at the Botanical Garden in San Antonio, Bexar County.
The Culinary Garden and Outdoor CHEF Teaching Kitchen
As part of the 2017 expansion, the Culinary Garden and Outdoor CHEF Teaching Kitchen areas encourage kids and adults to broaden their gardening and culinary skills and welcome fresh herbs, fruits, and vegetables into each meal.
The Zachry Foundation Culinary Garden is a botanical center community project for learning how to plant, grow, and harvest fresh food. Immediately adjacent is the Outdoor CHEF Teaching Kitchen in the Goldsbury Foundation Pavilion. This kitchen, complete with cooking and prep space, continues the hands-on learning with expert-led classes. While visiting the San Antonio Botanical Garden, you can admire the leafy herbs and vegetables, gaining inspiration for your vegetable plot at home.
These areas are near the entrance, where the former Daniel J. Sullivan Carriage House transitioned into a San Antonio Botanical Garden restaurant. At Jardín, a farm-to-table Mediterranean-influenced restaurant, the carriage house brings additional culinary inspiration to the Botanical Garden.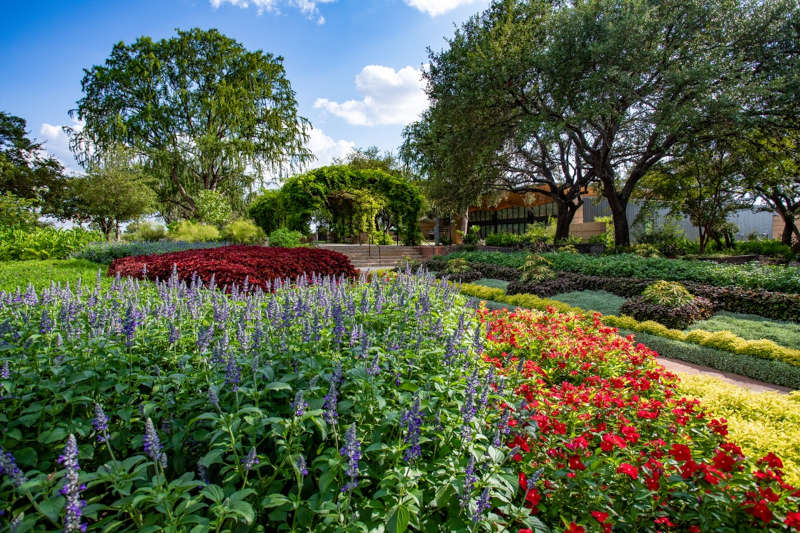 The Kumamoto Japanese Garden
This gorgeous area opened in 1989, paying homage to a Japanese emperor's summer house and garden. Featuring authentic detail, it was built with the professional labor of Japanese craftspeople and landscape artists.
Each part of the walled Japanese Garden has a special meaning, from the pond representing the Pacific Ocean to the central hill symbolizing Mount Aso. Yet the Kumamoto Garden also includes the Texas countryside, with the eastern portion reminiscent of the Hill Country beyond.
The Family Adventure Garden
The Family Adventure Garden is the largest part of the 2017 expansion. This is the ultimate place for kids to run, play, and learn, with more than a dozen nature-focused outdoor exhibits spread across 2.5 acres, including:
No Name Creek: A water feature with limestone blocks at Thunder Ridge, flowing downhill to Retama Recharge.
Muhly Maze: Uses shrubs and grasses to create a maze-like path.
Tumble Hill: A gentle slope of grass that lets kids run around in nature.
Watering Hole: Has built-in circular seating around the Acequia Tank, focusing on water conservation.
Backyard Explore: Features an explorer's tunnel built into a hill with local grasses and shrubs.
Bluestem Bluff and Limestone Ledge: Perched near the Prickly Pear Peak overlook with plants of the Texas Hill Country.
Prickly Pear Pavilion: Outdoor classroom and recharge station offering shade from the hot summer sun.
Secret Garden: A sandbox under the Little Onion shade structure, surrounded by cast-in-place sun chairs.
Thistle Theater: Has a fun wooden performance stage with props and costumes, with three fairy houses nearby.
Cypress Spring: A pond feature for learning about aquatic creatures.
Dry Rock Creek: Offers a rocky area for exploration, complete with the Big Onion shade structure and sandbox.
Huisache Way: A tree-lined path with several looms for weaving natural materials.
Pecan Grove: Offers a small grassy amphitheater for additional performances.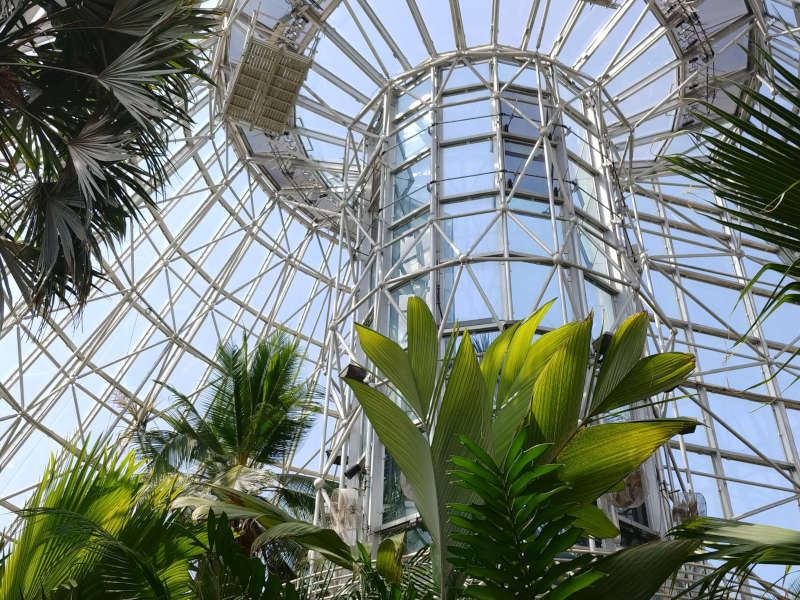 The Lucile Halsell Conservatory
An iconic part of the San Antonio Botanical Garden, the 90,000-square-foot Lucile Halsell Conservatory has five futuristic glass pyramids containing different plant gardens.
The Fern Grotto contains different fern species, some from ancient times.
The Desert Pavilion includes cacti and succulents from Mexico and Southern Africa.
The Exhibit Room has tropical plants like bromeliads and orchids that grow high up in rainforest canopies.
The Palm and Cycad Pavilion contains different species of palm and cycad, one of the oldest species on Earth.
The Tropical Conservatory brings the tropics to San Antonio with flowers, shrubs, and tree species like cocoa, rubber, and coffee.
The Texas Native Trails
Spread across 11 acres, these trails are split into three sections: South Texas Plains, Hill Country, and East Texas Pineywoods. Each section has native species, environmental stewardship, and landscapes that bring the greater Texas region to the Botanical Garden.
The Texas Native Trails also contain numerous relocated historical buildings, such as a farmstead with a smokehouse, pine log cabin, and adobe mud house. As you walk the trails, you're sure to enjoy discoveries around each bend.
The Bird Watch Structure
The Bird Watch Structure sits at the end of the South Texas Plains trail. This wooden structure has a glass front and water trough for resident and migratory birds traveling to their breeding and wintering grounds.
Seasonal Special Events
Along with its beautiful grounds, the San Antonio Botanical Garden holds family programs, kids' and adults' classes, and seasonal San Antonio Botanical Garden events like the following:
San Antonio Botanical Garden Lightscape: Held in the winter, this evening event features illuminated displays along a one-mile trail in the Botanical Garden.
Summer Nights: This summer series brings live entertainment, food, beverages, and a vendor market.
BOOtanica: This Halloween-themed event encourages kids and adults to dress up and enjoy the fall season.
LUSH: Twilight in the Garden: LUSH is a spring event with lawn games, live entertainment, and floral displays.
Immerse Yourself in Nature at the San Antonio Botanical Garden
With San Antonio CityPASS® tickets, you can save money on the San Antonio Botanical Garden cost of admission. Each part of this nonprofit organization caters to different interests, from growing food to learning about tropical or desert plants and watching birds and other wildlife. Get your San Antonio Botanical Garden tickets to enter the world of botanical wonder.
San Antonio Lodging
To get the most out of your stay in San Antonio, we recommend finding lodging near San Antonio's top attractions. Use this map to find the right lodging for you: