Articles by City & Category
Seven Seas Food Festival: A Can't-Miss Sea World Spring Event
February 28, 2023 By CityPASS
SeaWorld hosts festivals almost year-round. The Seven Seas Food Festival, a worldwide food and drink tour with diverse musical acts, is one of the biggest events on their calendar.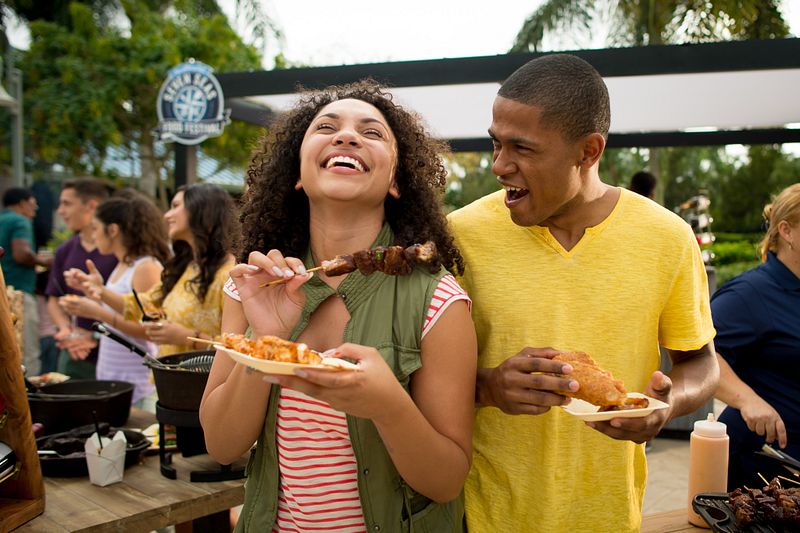 What Is SeaWorld's Seven Seas Food Festival?
SeaWorld's Seven Seas Food Festival is an extravaganza of food, drink, music, and special entertainment. The festival features 24 food and drink marketplaces and 26 live concerts during the warm spring months. It provides the chance to share dishes with your friends and family while grooving to live music from around the world.
Although alcoholic drinks are served throughout the event, the Seven Seas Food Festival has a reputation as very family-friendly. There are plenty of activities for kids to do while their parents sip on cocktails (or mocktails) and brews.
Although walking through the festival is included in the price of park admission, sampling the delectable food and drink offered costs extra. To stretch your budget, consider purchasing a Seven Seas Food Festival Sampler from the festival's Welcome Center or any of the booths. You'll be able to try any combination of 10 or 15 food and drink selections— all at reduced rates of up to 50% off.
At Which SeaWorld Locations Does the Seven Seas Food Festival Occur?
The SeaWorld Seven Seas Food Festival in Orlando is billed as the city's largest theme park food festival. But the annual food festival takes place at SeaWorld San Diego, too.
The Seven Seas Food Festival in San Diego is set to run from March 5 to May 2 in 2023, on Fridays, Saturdays, and Sundays most weeks. SeaWorld Orlando runs the event for longer — from Feb 3 until May 7 on most Thursdays to Sundays.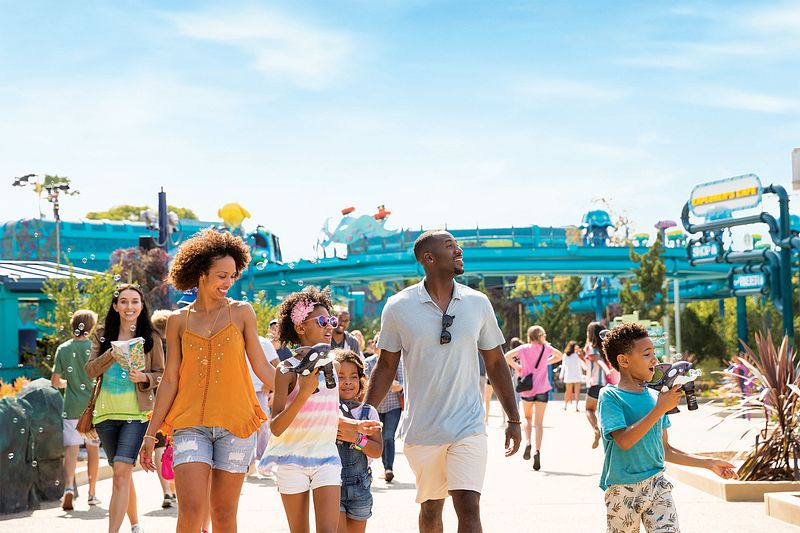 What You Can Expect at This Incredible Spring Event
2023's festival is set to showcase over 200 fresh, chef-curated dishes from 50 global cuisines. This vast selection should bring enough choice to satisfy dedicated foodies and fussy family members alike. When pairing food, you'll have your pick from over 75 delicious wine and cocktail choices (25 at San Diego), plus 75 international and craft beers.
While you bite into culinary delights, you can still explore SeaWorld's rollercoaster-riddled theme park and visit the huge number of animals that reside in the park. For more information on what's there, here's our guide to visiting SeaWorld Orlando.
Outdoor Markets With a Variety of Delicious Food
Get ready to show off your food photos back home — the festival's culinary experts dial it up every year to provide eye-catching variety and flavors. This year, the best foods at Seven Seas Food Festival in San Diego even include an all-new vegan-only station.
Although dishes will vary between Orlando and San Diego, here's a tiny sampling of the many food items that will be served in 2023.
Polynesian Market – Lamb Ribs – Tender lamb served alongside Hawaiian slaw, pickled red onion, sesame seeds, and a sweet and sour sauce
Asian Market – Gua Bao – Grilled pork belly topped with pickled cucumber and shredded carrot, garnished with micro cilantro packed inside a steamed bao bun
Italian Market – Italian Beef Arancini – Deep-fried rice balls stuffed with beef and served over San Marzano tomato sauce, with a fresh basil garnish
Brazilian Market – Pork Belly Feijoada – Pork belly cooked with black beans in a traditional Brazilian stew, topped with green onions
Mediterranean Market – Parmesan Truffle Fries – Thin-sliced potatoes sprinkled with Grana Padano, winter white truffle oil, and fresh parsley
All-American Market – Strawberry Shortcake a La Mode – Scooped vanilla ice cream and a slice of yellow cake, topped with strawberry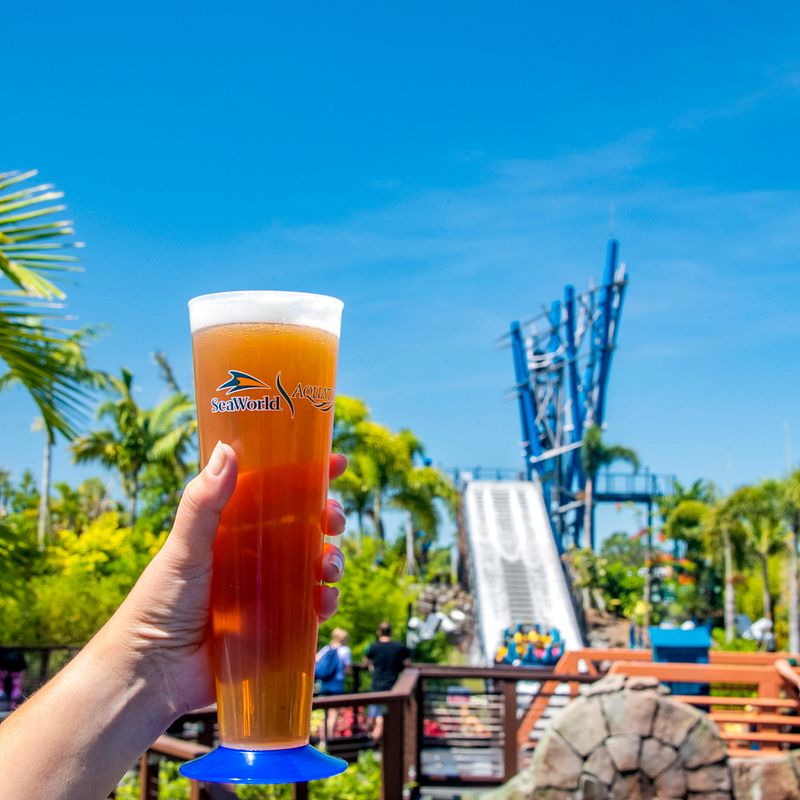 A Wide Range of Wine, Craft Beers, and Cocktail Selections
The Seven Seas festival features an expansive drink menu. Enjoy non-alcoholic and alcoholic beverages at scenic park locations, like San Diego's all-new Underwater Cantina or waterfront views of the sunset over Mission Bay.
Here are some of the more distinct beverages available across the Orlando and San Diego festivals.
Salted Rims – Jalapeño Margarita – A lively mixture of Jalapeño tequila, Triple Sec, and lime sour – of course, with a salted rim
Coaster Cocktails – Kraken – Tito's vodka with Japanese melon liqueur Midori, green apple, and pineapple juice
Mike Hess Brewing – Emperor Hazy IPA – Exclusive to SeaWorld San Diego, this limited-release IPA was inspired by the upcoming Emperor coaster
Caribbean Moonshine Tasting – Intriguing high-proof cocktails with names like Marmalade Mayhem, Passionfruit Prohibition, and PB&C Cannonball
Tomasello Winery – Peach Moscato – A perfectly floral, fruity wine with peach sorbet and holly flavors
3 Daughters Brewing – Tropical Hefe Hazy Wheat – An outstanding hazy hefeweizen with tropical notes of mango, pineapple, banana, and coconut
Live Music That Spans Cultures
While you sample as many tastes as your stomach can handle, be sure to soak in the live music. Depending on when you go to the festival, you can hear rock, country, Latin, nostalgic '90s tunes, and much more.
The lineup for Orlando's 2023 Seven Seas Festival is set to include acts like The Commodores, Don McLean, En Vogue, and Ludacris. Tribute acts for the Bee Gees and the Beatles will also grace the Bayside Stadium stage.
Meanwhile, San Diego will play music ranging between blues, rock, country, pop, bluegrass, and ska. That's not to mention the Polynesian Revue Fire Dance, which features breathtaking fire dancing and island stories every night.
If live music isn't your thing, use the evenings while others are enjoying the concerts as an opportunity to skip queues at food booths and rides.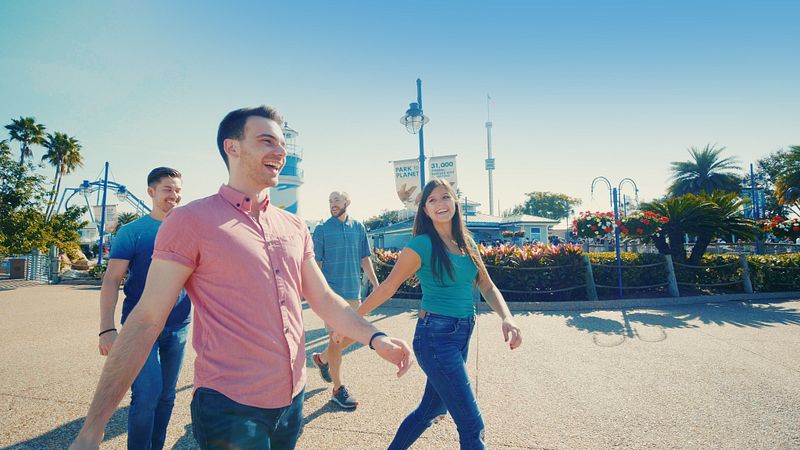 Satisfy Your Taste Buds at the SeaWorld Seven Seas Food Festival
SeaWorld's Seven Seas Food Festival is an eclectic celebration of global food, drink, and music not to be missed.
To save big on SeaWorld® Orlando and other famous theme parks in Orlando, check out our Orlando CityPASS® tickets. If you're planning to visit the biggest theme parks of Southern California, the home of SeaWorld® San Diego, take a look at our Southern California CityPASS® tickets.
Header Image © SeaWorld