Articles by City & Category
LEGOLAND Brick-or-Treat: A Monster Bash for All Ages
September 28, 2022 By CityPASS
Halloween is fun for kids of all ages. However, some festivals are too scary for younger children.LEGOLAND Brick-or-Treat is a perfect Halloween extravaganza for your whole family. This Halloween at Brick-or-Treat, there's a monster party with new LEGO monsters, a new 4D movie, and some new family entertainment and other holiday activities at two major locations.
Still wondering what LEGOLAND Brick-or-Treat is and what you should expect if you go? Then let's dive deeper into this Halloween festival happening on select dates in September and October.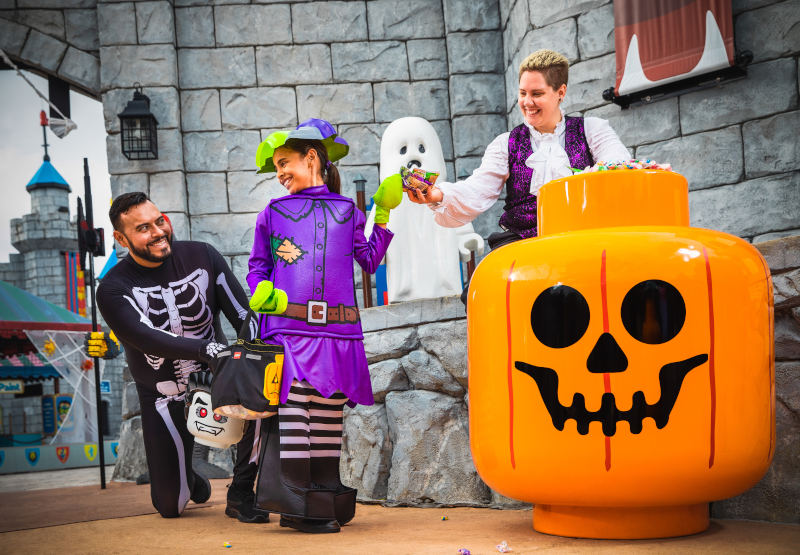 What Can You Expect From Attending LEGOLAND's Brick or Treat?
LEGOLAND Brick or Treat 2022 is a spooktacular event at LEGOLAND resorts. The festival offers Halloween fun for all ages every Saturday from September 17 through October 29 as well as Sunday, October 30 at LEGOLAND® California Resort. At LEGOLAND® Florida Resort, the party lasts from September 24 through October 30 on the weekends. The parks transform as monsters take control and have a little monster mischief this fall.
An all-new show lineup and exclusive LEGO characters are sure to make an appearance. In addition, Brick-or-Treat is included with theme park admission and certain annual passes. Let's check out some of the spooky stuff you can expect this year at LEGOLAND Brick-or-Treat.
Interactive Dance Parties
You can twirl and sway at multiple interactive dance parties at both parks. Lord Vampyre hosts a Very Important Monster (VIM) dance party. Dress in your scariest or fanciest Halloween costumes and enter the costume contest. You can show everyone your monstrous moves and get down on the dance floor.
Another new show your family can enjoy is the Zombie Cheer Crew. First, you can watch the Zombie Cheerleaders at tryouts. Then, you can join in, too — go team LEGOLAND!
At LEGOLAND Florida's Brick or Treat, be sure to check out The Jammin' Jacks. This LEGO jack-o-lantern trio comes to life before your eyes and sings Halloween tunes.
Another fantastic show coming to LEGOLAND Florida's Brick or Treat is The UnbeLEAFable Halloween Night show. A very peculiar plant grows amiss in a musical mystery performance filled with energetic singing and dancing. The show also features a surprise new monster at the party, the LEGO Plant Monster.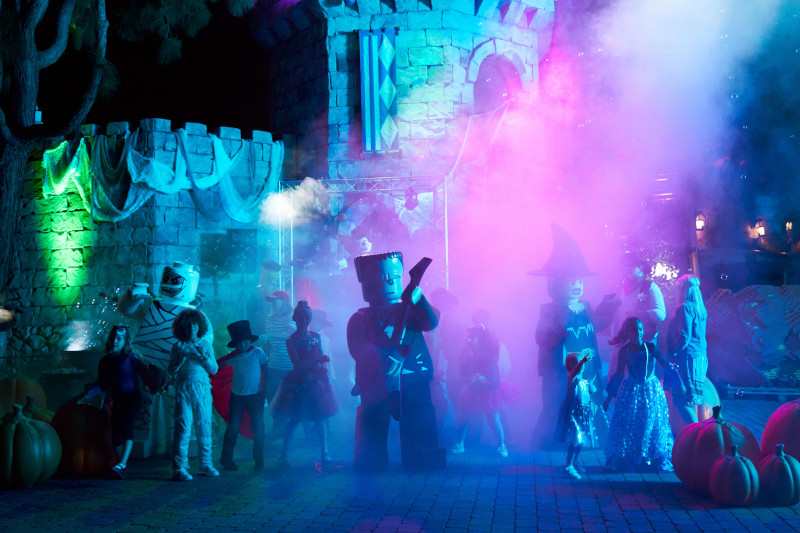 Trick or Treating Stations
There are also trick-or-treat candy stations in all the different zones around the park. The candy stations go with the theme of each spooky spot around the park. There is plenty of candy for the kids. They can trick or treat all over the area to collect an assortment of candy.
Throughout the park, you and the children can pick up a commemorative Brick-or-Treat LEGOLAND brick to take home as a souvenir.
Surprise Appearances
Some cool ghouls you can see include the Lord Vampyre, Rocking Frankenstein, and Mummy Monster. The LEGO Spider Lady will be there as well as some new faces.You can meet and greet with the LEGO Witch and pick up some candy apples over at Fun Town Brick or Treat Legoland California. Then you can meet Monster Rocker, Zombie Cheerleader, Tiger Woman, and Wolf Guy. They're all members of the monster's rock band.
Fun and Groovy Monster Soundtrack
You can ride the Disco Dragon Party Coaster and enjoy a groovy monster soundtrack. The coaster also has flashing party lights that you can enjoy while you ride.
Then you and the kids can enjoy a new 4D movie, "The Great Monster Chase." The short film is about some 'tweens that crash a monster party. The movie features some special effects that children will be sure to appreciate.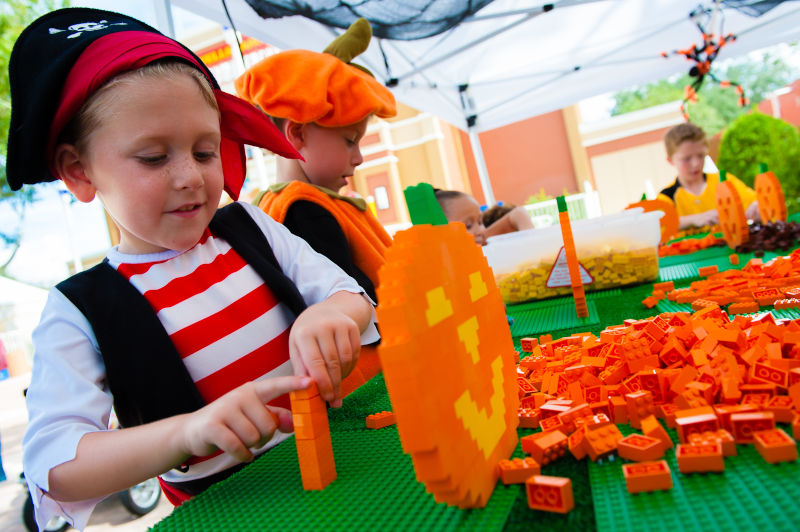 Don't Forget About the Other Theme Park Offerings
While Brick or Treat is fun, it is certainly not the only part of the Legoland experience. There are shows, shopping, and dining choices, not to mention the main attraction—the rides. Let's look at some of the additional activities you can partake in at LEGOLAND either before or after having fun at the Monster Party.
Outstanding Rides
There are so many rides to enjoy at these theme parks. Both parks offer some of the same rides, too. For example, "Coastersaurus" is a classic coaster that dips and speeds past life-sized LEGO brick dinosaurs.
If you have younger kiddos, they can ride their LEGO horse through a magical forest on "Royal Joust." "Safari Trek" is a safari ride where you and your family can look for LEGO animals out in the wild.
Plenty more rides are available at LEGOLAND California and LEGOLAND Florida, providing thrills for the whole family...
Favorable Accommodations
Staying the night at a beautiful LEGOLAND Hotel is the ideal way to visit the park. The hotels are designed for kids and offer admission packages. Additionally, each room has its own fun LEGO theme.
For example, LEGO NINJAGO rooms are made just for your little ninjas. In addition, adventure, kingdom, and pirate-themed rooms come with LEGO models and separate children's sleeping spots.
Besides super-fun themed rooms, the hotels offer swimming pools, which are great places for the whole family to wind down after a fun-filled day at the park. Be sure if you're going to make a trip to any LEGOLAND resorts that you make advanced reservations online.
Hot Breakfast Buffet
If you and your family stay at a LEGOLAND hotel, you don't have to wake up and cook breakfast—it's already waiting for you to enjoy. The steaming hot breakfast buffet comes with your hotel package at the resort. We're not talking about a little continental breakfast muffin, either. Instead, they have a myriad of mouth-watering foods to choose from. Even if your youngsters are picky, there will be a breakfast option they'll enjoy.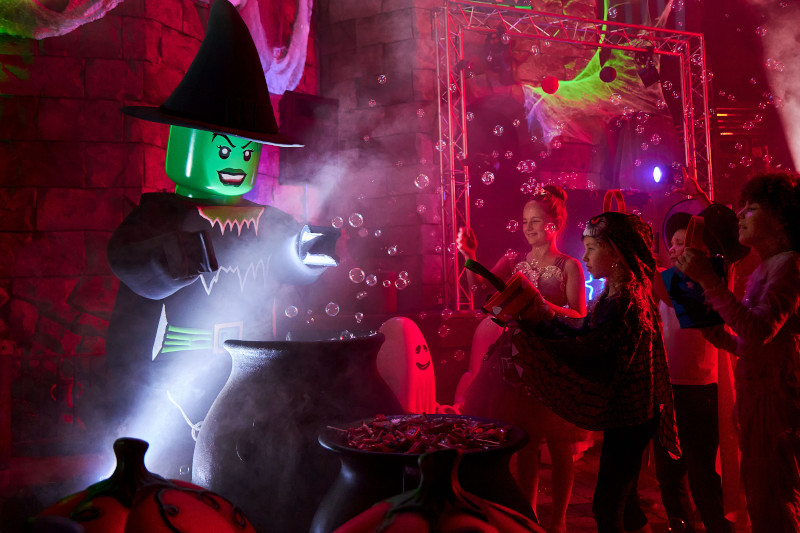 Get Tickets To LEGOLAND Florida Resort or LEGOLAND® California Resort Just in Time for Halloween
Are you going to take your family to LEGOLAND for Brick-or-Treat? If so, you should check out CityPASS® discounted tickets. Orlando CityPASS® tickets include LEGOLAND® Florida Resort. You can choose one, two, or three-day tickets.
If you plan to go to LEGOLAND® California Resort, you can get Southern California CityPASS® tickets or San Diego CityPASS® tickets. With San Diego CityPASS® tickets you can save up to on SeaWorld® San Diego, LEGOLAND® California Resort, or both, plus admission to three more attractions of your choice. You can't go wrong choosing CityPASS® tickets for your next family trip this Halloween.
Header Image © 2017 LOCK + LAND, Chip Litherland