Top Things To Do
Save 51%

at 5 top Houston attractions.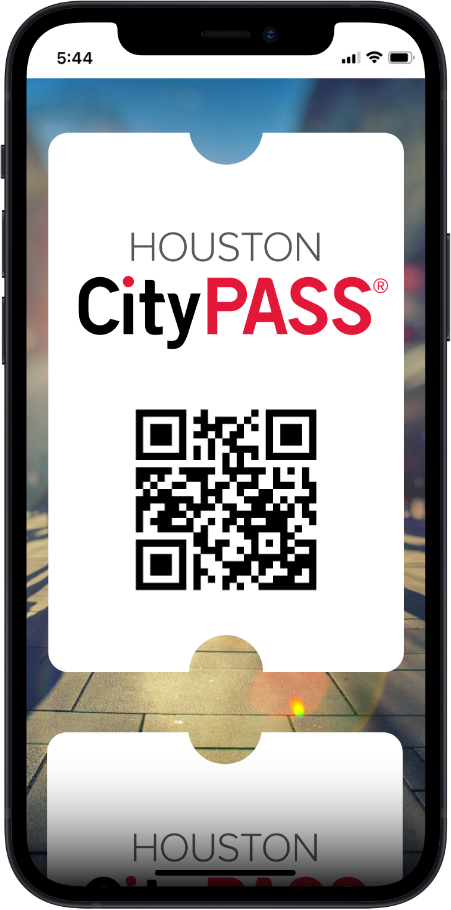 Smart Savings. Best Value.
The research is done. The savings is significant. If you're looking for the best things to do in Houston, you'll love the simplicity and convenience of Houston CityPASS® tickets.
Includes admission to 5 attractions
Plus get admission to 4 more attractions of your choice. No need to choose now—decide later.
What's Included and What You Save
Frequently Asked Questions
Instant Delivery of Mobile Tickets
365-Day Risk-Free Returns
Space Center Houston
Space Center Houston features more than 400 space artifacts, permanent and traveling exhibits, exhibits and experiences and theaters related to the exciting future and remarkable past of America's human space-flight program.
Downtown Aquarium
Dive into food and fun at the Downtown Aquarium - an underwater adventure! Dine out at the one-of-a-kind Aquarium Restaurant, experience the wonder of the Aquarium Adventure Exhibit, take a trip on the Shark Voyage train ride and enjoy amusement rides and midway games. It's fun for the whole family!
Houston Museum of Natural Science
Delight in the natural world at the Houston Museum of Natural Science, with four floors of dynamic permanent exhibits that will entertain and educate every age group. Explore the vast timeline of fossils, gems and minerals, African wildlife, Texan wildlife, and more. See prehistoric beasts "in action" at one of the largest dinosaur halls in the U.S. Learn about the Americas' indigenous peoples and explore energy development.
Houston Zoo
There's always something new and exciting at the Houston Zoo. Discover our playful elephants—including new additions to the herd. Feed giraffes in the African Forest, get eye-to-eye with curious gorillas, and so much more! When you visit you not only support the animals you see here at the Zoo, but you also help save animals in the wild.
Kemah Boardwalk
A fantastic waterfront location just 30 miles South of Houston, the Kemah Boardwalk is home to fabulous waterfront restaurants, charming retail stores, amusement rides, festivals and seaside shows every day.
Children's Museum Houston
America's No. 1 children's museum and Houston's ultimate family destination! Embark on a daily escapade filled with thrills, interactive activities, live demonstrations, and performances. Fourteen interactive galleries filled to the brim with exhilarating explorations include a big splash at our outdoor exhibit, FlowWorks, and connecting with nature in EcoStation.
Museum of Fine Arts, Houston
Explore one of the largest museums in the U.S. The MFAH is home to nearly 70,000 works of art from around the world, from antiquity to the present. Take advantage of an ever-changing schedule brimming with activities and programs for all ages!
Instant Delivery of Mobile Tickets
365-Day Risk-Free Returns
Read reviews from CityPASS® travelers.
CityPASS was a vacation life saver!!
My husband and I purchased two passes and it was THE BEST investment ever. Our weekend getaway was jam packed with exciting things to do. We didn't have to worry about carrying enough money or standing in long lines.
Great experience
It was easy to buy online, easy to use and was so worth it. We took the family to Houston to hit up all the museums, zoo, and aquarium; the works. We had an amazing time and had no issues using our CityPASS. We bought it online and printed the confirmation. Easy.
AWESOME!!
The CityPASS was the best thing I have ever purchased for one of our vacations! It gave us so many things to do and at a very affordable price for a family of 5! I will purchase a CityPASS every time we go on vacation from now on!
The BEST option for having fun around Houston
This is really the best option you´ve got. I had family visiting for a week and we decided to give it a try...it was totally worth it! The options available are on point, plus you get amazing discounts and coupons...all of this for a considerably lower price than you would if you paid for each option individually. So go for it!
Best Bang For Your Buck.
CityPASS ROCKS! I am a single parent to 3 awesome kiddos. This year I had family visit from CA and needed to show them the great state of Texas, but on a budget. I found the Houston CityPASS while doing a search and was I excited.
Houston CityPASS
is rated out of
5
by
4084
.
Rated

5

out of

5
by
Monayallo
from
Worth it!
First time in Houston from Dallas! This city pass took the stress away from planning activities with my kiddos. The only thing I'd like to see is a route map. So for instance, it's easy to see that Kemah boardwalk and the NASA space center are all within a good distance. The same with the museums. But all in all, we enjoyed our trip!
Date published: 2022-04-18
Rated

5

out of

5
by
NitaLovesToTravel
from
Houston was Amazing, thanks to City Pass!
I brought the city pass for Houston for myself and my two kids (age 4&9). We had a blast. I didn't think I would enjoy the space center. However, that was my favorite place to visit. My kids really enjoyed the Aquarium & Kemah Boardwalk. We went throughout the week. So we were able to enjoy these attractions without the big crowds…
Date published: 2022-04-15
Rated

5

out of

5
by
Bigswinger69
from
Super easy!
I'm very happy that I got the city pass for Houston, the attractions were great and it was so easy to get scanned and into everything we wanted to see! NASA was all general admission so if you come down here and do that, it's worth the price of the pass. No need to upgrade for anything there, also do not upgrade the aquarium, the only add on is the outside kid rides. We had an amazing time at the Museum of science and industry, the body exhibit was extra but there's plenty to see. Had a great trip and the city pass helped to make that happen! Highly suggested!
Date published: 2022-03-31
Rated

5

out of

5
by
SQREWSTON squad
from
Fun In SQREWSTON
My wife and I saved so much money in buy the city pass!!! We had a blast going to 5 attractions. This is the way to go for a fun event filled weekend. It's a sure buy for any city that has it. You get your money's worth with 2 attractions!
Date published: 2022-03-28
Rated

5

out of

5
by
Helen
from
Highly recommend
The CityPass saved us not only money but time. We did not need to line up to purchase tickets as we were able to just show our passes at the entry point. Further, we ended up going to more attractions as the pass allowed entries to more attractions than we had initially intended to attend.
Date published: 2022-03-18
Rated

5

out of

5
by
Travellovers-IN
from
Good deal!
We bought the CityPASS to tour some of the top sites to visit in Downtown Houston. We knew we wouldn't make it to every attraction but we felt we got our money's worth. We went to the Downtown Aquarium, Johnson Space Center, and the Zoo. We were there in late February so a lot of things at Kemah Boardwalk were closed for the season, and ran out of time to go to the Museum of Natural History. The weather wasn't cooperative but we really enjoyed all the locations we visited. The online tickets were easy to use, and since we didn't have children with us it covered the things were wanting to see, and some extras can be paid for separately at the aquarium and the zoo. We had reservations to make for the space center, and a time window for the aquarium, but went to the zoo without a plan. We will be visiting again next year and will buy it again to visit the locations we missed. It's worth it!
Date published: 2022-03-08
Rated

5

out of

5
by
Bube
from
Absolutely Unforgettable!
I bought a CityPASS when I got to Houston, Texas and I was so happy I did, I was planning to stay in Houston for a week plus I was thinking of a way to explore the city before I go back to my country and I came across the CityPASS. That encounter was the best thing that ever happened to me. I visited the Downtown Aquarium, Space Center Houston, and the Children's Museum of Houston and I had the best experience, not having to wait in line for tickets and having to explore more for less, this was really a wonderful experience for me. Thank you, CityPASS!!
Date published: 2022-03-02
Rated

4

out of

5
by
Debbie
from
Spring Break
I purchased 2 city passes spring break weekend..and I'm glad I did ..It saved me money and the trouble and hassle of standing in a longgggg line at the Houston Zoo and at Kemah Broad walk.....I would recommend this purchase to anyone that does no have time to waste..
Date published: 2021-04-03
Rated

5

out of

5
by
Julie
from
Absolutely amazing
We bought the city pass, and was able to do everything in 3 days. Will definitely do it again.
Date published: 2021-03-01
Rated

5

out of

5
by
TravelingMary
from
Exceeded my Expectations
Great pass, no issues whatsoever on any of the attractions, we did Nasa, Museum of Natural Science, Kama Boardwalk, Downtown Aquarium, and Zoo. We hardly encountered any lines entering, and everything was well organized, sanitized, social distancing. We loved it and are planning on another trip in the near future.
Date published: 2021-03-01
Plan your visit.
The My CityPASS® app has all of the details you need for a great experience, including reservation and entry information, attraction details, maps, and extra offers and discounts from our partners.
Explore attraction locations.
About Us
City Pass was created in 1997 by founders Mike and Mike to inspire travelers to see the most iconic attractions in North America, all while saving money.
Still family-owned today, City Pass is a small company of 50+ employees who share a passion for travel. We love to see our customers have fun and explore new places, and we hope you'll share your memories with us, too.