Top Things To Do
Save 44%

at 5 top Atlanta attractions.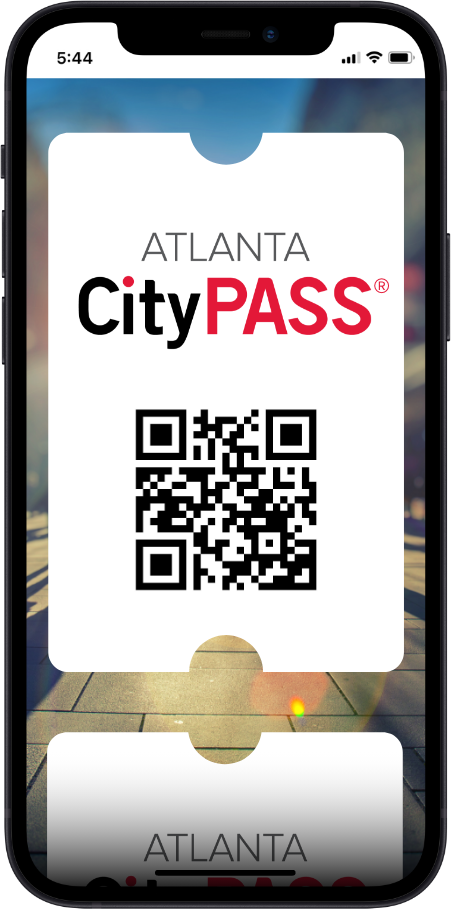 Smart Savings. Best Value.
The research is done. The savings is significant. If you're looking for the best things to do in Atlanta, you'll love the simplicity and convenience of Atlanta CityPASS® tickets.
Includes admission to 5 attractions
Visit each attraction below.
Plus get admission to 2 more attractions of your choice. No need to choose now—decide later.
What's Included and What You Save
Frequently Asked Questions
Instant Delivery of Mobile Tickets
365-Day Risk-Free Returns
Georgia Aquarium
Experience over 11 million gallons of awe-inspiring wonders at Georgia Aquarium. Visit and learn about whale sharks, beluga whales, manta rays, penguins, sea lions, and our newest Sharks! Predators of the Deep gallery. Don't miss the sea lion presentation and Dolphin Celebration presentations or The 4D Theater.
World of Coca-Cola
At World of Coca-Cola you can journey through the storied history of the iconic Coca-Cola brand, interact with a variety of exhibits, and sample beverages from around the world. Oh, and chill with the world's bubbliest polar bear. You in?
Zoo Atlanta
Be inspired by the majesty of the natural world in an urban oasis with something for everyone. Explore the wonders of more than 1,000 animals and help save species around the globe.
Fernbank Museum of Natural History
Fernbank Museum provides immersive, all-weather experiences including 75 acres of nature trails, indoor and outdoor seasonal exhibits, and floors of museum discoveries filled with dinosaurs, science and cultural artifacts.
College Football Hall of Fame
Take your fandom to the next level at the Chick-fil-A College Football Hall of Fame with interactive, immersive and entertaining exhibits. Explore the game's most legendary experience filled with fun for everyone from families to college football fanatics.
National Center for Civil and Human Rights
A powerful and uplifting journey that highlights the power of people—and our shared responsibility to take the rights of all humans personally. Sit at an interactive lunch counter and experience what heroic protestors braved, stand face-to-face with global human rights champions, view items that changed history and see the Morehouse College Martin Luther King Jr. Collection featuring Dr. King's personal papers & artifacts.
Instant Delivery of Mobile Tickets
365-Day Risk-Free Returns
Read reviews from CityPASS® travelers.
Exceptional Value and Time Saver to boot!
There simply is no other way to hit the hot spots in Atlanta than with CityPASS.
Summer Fun
Had an amazing "staycation" with my daughter. We were able to experience Atlanta the way it should be. CityPASS is an amazing deal. I will certainly be doing this again!!!
Highly Recommended
I do not just recommend the Atlanta CityPASS; I highly recommend it. This would be our first time vacationing in Atlanta, and it was great. I had no previous knowledge about a CityPASS, but it turned out to be a game changer. We visited all the main attractions without going BROKE!
Great Value!
Over three days, we viewed 5 great attractions, each of which made us all say "wow."
Atlanta CityPASS
We loved it. We were party of seven and this was the best way to see the city. It helped us plan and see 'must-see' places in Atlanta. It actually helped us connect with few other Atlanta pass holders who were also out of town visitors like us.
Atlanta CityPASS
is rated out of
5
by
6794
.
Rated

5

out of

5
by
Sara.mom08
from
You get your money's worth!
Went on a family trip to ATL with my parents and son. We used city pass and saved so much money. We had access to the top 3 attractions with no reservations or wait time! It is a must if you plan to visit Georgia's capitol
Date published: 2022-04-17
Rated

5

out of

5
by
Atlanta Spring Break
from
So convenient and great deal!
I traveled to spring break with my husband and two boys. The city pass was great. We went to four out of its five attractions and still saved money. Citypass made admission super easy and smooth - no waiting in line at each attraction for tickets and just one set of tickets that I kept for the family electronically on my phone. I would definitely recommend this and thrilled we decided to get it!
Date published: 2022-04-11
Rated

4

out of

5
by
Itsmejen
from
Very convenient
We got the CityPass and thought it was convenient to walk up and have tickets ready and scanned without haved it all scheduled. Our itinerary for these attractions changed so it was nice just to arrive without timed scheduling. Mobile check-in was easy and we were treated well like all others. I would say if you plan on doing less than 3 activities it wouldn't be such a great value ( they charge extra service fees) so plan on doing more to make it worth it!
Date published: 2022-03-15
Rated

5

out of

5
by
Kristy
from
Perfect Way to Explore
We were looking for a simple way to enjoy a couple of days in Atlanta. A friend mentioned the CityPass, and I was pleased to find all our preferred activities bundle together into one low price! Instead of a "no, we can't do it all" trip - it became a "YES" trip for our family.
Date published: 2022-03-02
Rated

5

out of

5
by
Tlynny79
from
Great Deal and Easy to Use!
I was very please with the affordability of the city pass in Atlanta. It made seeing all the sight affordable for my family. It was easy to use and the best deal out there. I would recommend it to anyone visiting a city and want to see the main attractions.
Date published: 2021-04-04
Rated

4

out of

5
by
Meesh87
from
So much to do so little time
We were in Atlanta beginning Monday March 15 and departed back to Orlando March 21. Most of the attractions on this pass are only open Thursday-Sunday. We did the Aquarium first. There is so much talk about this aquarium but being Seaworld pass holders for the past few years I didn't expect too much. Please note: you have to create an account on their website to choose a time to go in - however, we got there they didn't even look at our time. They just let us in. We picked 1330 hours, my parents had passes for 1530 and they came in with us. Awesome experience even though we couldn't get seats in the show. Wednesday we did Fernbank. My daughter enjoyed it. Thursday we did Coca Cola which was nice and immediately after we walked t the Civil Rights museum. That was the best experience EVER! The museum walks you through the different events going on during that time. Friday we did the Zoo. It was very clean and the exhibits were nice. It is HUGE and a lot to see. The parking lot we parked in was like a 0.25 away lol and it has a hill so beware. There is a closer parking lot that we didn't know about until after we took our hike. I wanted to do the College Hall of Fame but it wasn't open until Thursday and we didn't feel like driving. Overall it's a great pass. I would recommend it.
Date published: 2021-03-30
Rated

5

out of

5
by
auddie
from
So worth the money!
We bought CityPasses for our family of four and it was fantastic. No waiting in long lines, scheduling was easy. It was definitely worth the money!
Date published: 2021-03-10
Rated

4

out of

5
by
Yougottoshine
from
Great deal for top attractions in Atlanta
I bought the CityPASS to Atlanta and was pleased with the experience. I wish there was more options to select from but overall it was worth it.
Date published: 2021-03-07
Rated

5

out of

5
by
Tdog21
from
An adventure
City Pass is great most of the attractions it allows you to enter just by showing your phone or ticket And they are mostly all within walking distance best way to spend a day or two in Atlanta
Date published: 2021-03-01
Rated

5

out of

5
by
Truman the Traveler
from
Daddy daughter weekend
I brought my daughter's to Atlanta for a weekend before school starts back getaway. We enjoyed the World of Coke, Aquarium and the Atlanta Zoo. It saved me money and was super easy to get into all of the places with just my phone.
Date published: 2020-08-16
Plan your visit.
The My CityPASS® app has all of the details you need for a great experience, including reservation and entry information, attraction details, maps, and extra offers and discounts from our partners.
Explore attraction locations.
About Us
City Pass was created in 1997 by founders Mike and Mike to inspire travelers to see the most iconic attractions in North America, all while saving money.
Still family-owned today, City Pass is a small company of 50+ employees who share a passion for travel. We love to see our customers have fun and explore new places, and we hope you'll share your memories with us, too.