Articles by City & Category
Seeing San Diego on an Old Town Trolley Tour
March 3, 2023 By CityPASS
By the shimmering Pacific Ocean lies San Diego, California. San Diego has a diverse culture and is known for its warm sun, sandy beaches, and stunning parks. If you're planning a visit to the Golden State, you'll want to see some of San Diego's top attractions.
One of the best ways to see some museums, parks, and other iconic landmarks is to catch a ride on the Old Town Trolley. You won't have to use GPS or look for free parking when you ride around the city on the trolley.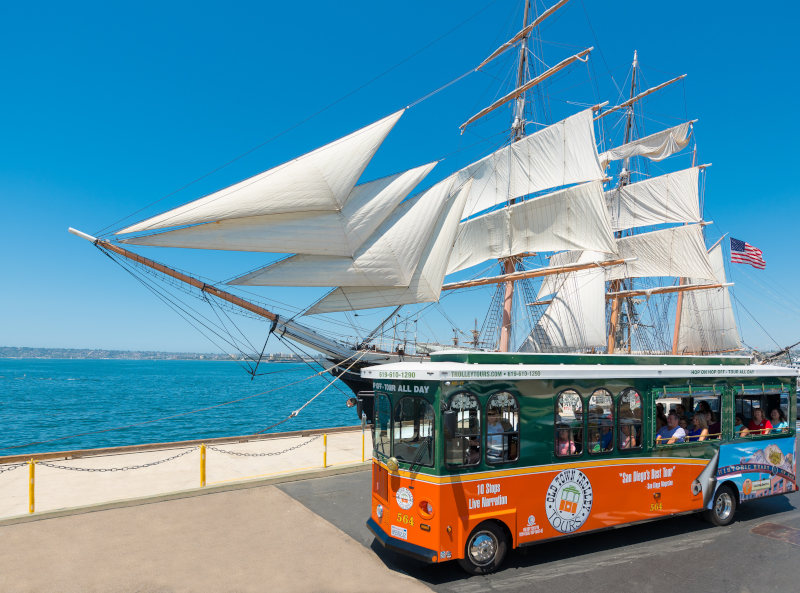 All About Old Town Trolley Tours in San Diego
For over three decades, Old Town Trolley Tours has been offering visitors a fun and easy way to see historical cities in America, including San Diego. They run the largest fleet of sightseeing vehicles in the city.
The company began in the 1970s when three people fascinated with historical preservation began to offer guided sightseeing tours to visitors in Key West, Florida. The company had just a revamped bread truck and a trailer until 1980, when they purchased a fleet of trolleys. They began their guided tours in San Diego in 1989. Now they operate their tour trolleys in seven different cities around the United States.
The colorful trolleys travel all through San Diego and over the quintessential San Diego-Coronado Bridge to Coronado. The open-air trolley vehicle travels a 25-mile journey that circles continuously until the last ride of the day. While there are other guided services in the city, Old Town Trolley Tours offers the only hop-on, hop-off option for touring. You can get back on as many times as you want all day.
The trolleys roll by the convenient stops every 30 minutes. They offer one-day or two-day trolley ticket passes. Depending on how long you plan to stay in San Diego, taking the trolley can help you save money on gas. It is fun to see all there is to see in San Diego from above.
With the hop-on and hop-off feature, you can expect to see anything and everything you want to see without having to tour places you don't want to, as is the case with many guided tours with a set and structured itinerary.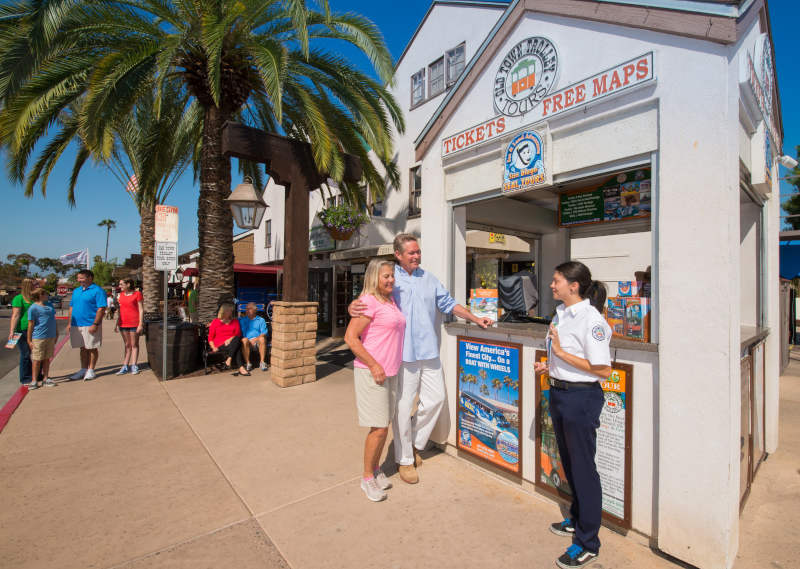 The Many Routes and Stops
The 25-mile journey takes you to exclusive stops in many different areas and neighborhoods. The Old Town Trolley Tour in San Diego has 11 trolley routes and stops:
Old Town Market
Maritime Museum of San Diego/Star of India
Embarcadero Marina
Seaport Village
Marriot Marquis and Marina
Gaslamp Quarter
East Convention Center - Petco Park and Hilton Bayfront
Barrio Logan
Coronado/Orange Avenue
Balboa Park/Zoo
Little Italy
The best part is that you can hop on and off at any location around the city. You don't have to follow the tour a certain way. Instead, you can create your own tour.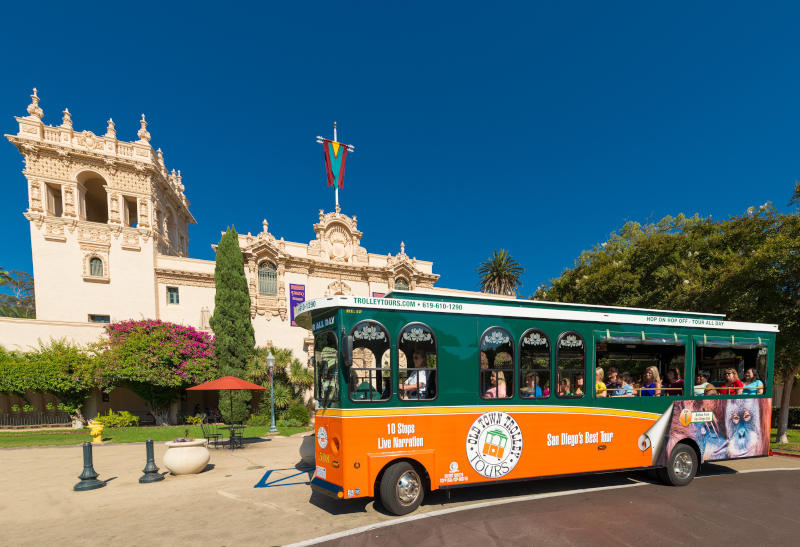 Attractions To See
There are so many fascinating places to see that you may need more than one day if you plan on visiting most of them.
Casa de Aguirre
If you see only one place in the Old Town Market, make it this one. Casa de Aguirre was the first home ever built in the first city of San Diego, Old Town. The landmark reflects the way of life of the original settlers of Old Town. The house is now a museum that takes you through life in the mid-1800s.
San Diego Waterfront Park
If you have any little ones, an excellent place to stop for a bit and let everyone cool off is the San Diego Waterfront Park. Located across the way at the Maritime Museum stop, the 12-acre park has a large splash fountain with 31 water jets where kids can get wet and cool off. The park also has other areas for children, including a rock wall and obstacle courses. Even if you don't have any kids, you can enjoy the park, especially its garden rooms, where you can bask among a variety of plants and immerse yourself in nature right in the heart of the city.
San Diego Zoo
The San Diego Zoo, located in Balboa Park, has some of the rarest animals and plants around. The vast zoo offers a wide variety of wildlife in its natural habitat. In the Urban Jungle exhibit, you can discover gazelles, American flamingos, zebras, and cheetahs. If you venture through the Asian Passage exhibit, you can spot many colorful birds and red pandas.
Coronado Ferry
You can take a ferry across the stunning San Diego Bay to Coronado's Ferry Landing Marketplace. You can grab a bite at one of the waterfront fine-dining restaurants here. In addition, you can shop at one of the many stores. You can also catch a bike or kayak tour. If you choose to kayak, you can explore the Embarcadero and the USS Midway from a different perspective.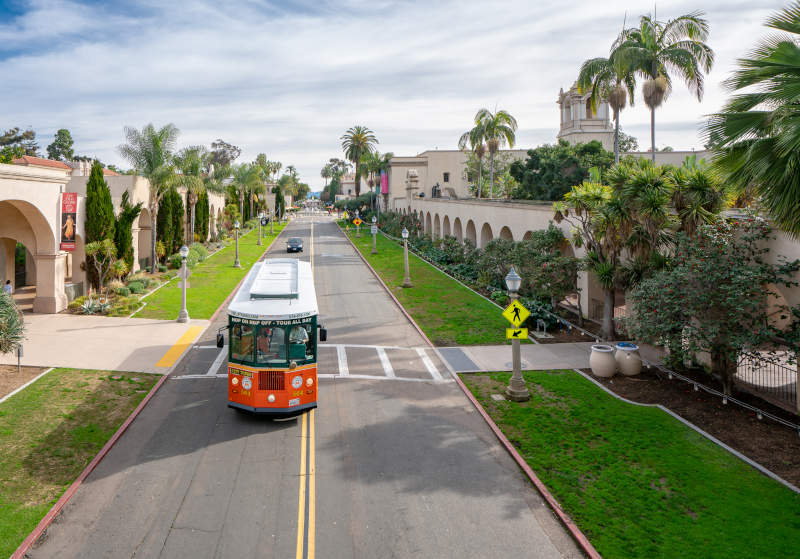 Fascinating Stories From Knowledgeable Guides
The Old Town Trolley in San Diego also includes a narrated tour by knowledgeable guides. You can learn and ride while sightseeing in San Diego.
The entire trip with narration takes two hours if you want to ride and learn about the area's history. The conductors offer fun facts and entertaining commentary to give you a memorable tour of San Diego. In addition, the conductors may ask trivia questions and tell lighthearted and humorous stories.
Why Touring by Trolley Is a Great Way To Enjoy San Diego's History
The best part about touring San Diego by trolley is that you don't have to pay for expensive parking or endure the stop-and-start of city traffic. Instead, you can catch breathtaking panoramic views of the city that you can't find in a car. In addition, you'll have more sightseeing time when you ride the trolley because you'll be doing less walking and driving.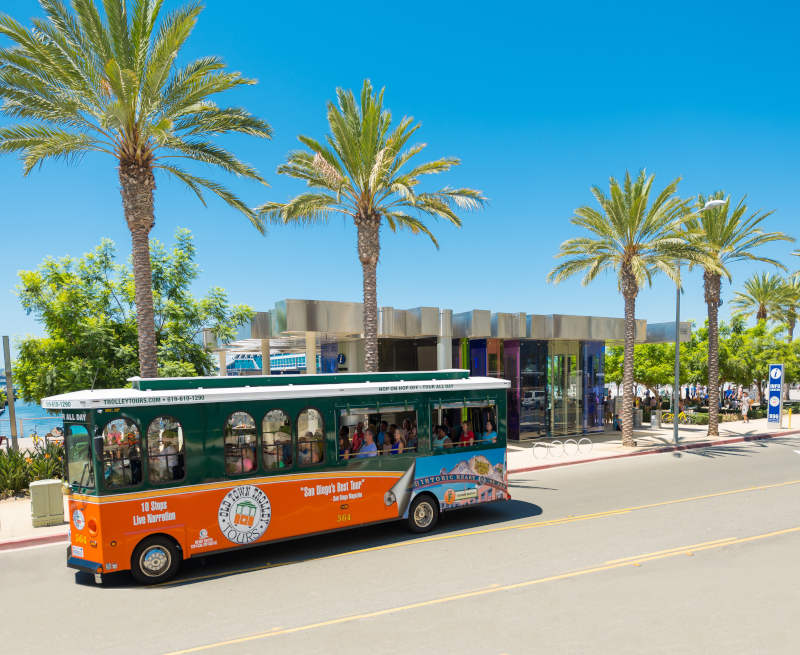 Ready To Have the Best Trolley Tour Experience?
Old Town Trolley Tours provides frequent service pickup at various locations throughout San Diego. San Diego CityPASS® tickets allow you to save money on trolley tickets and other attractions. For example, you can visit SeaWorld® San Diego, LEGOLAND® California Resort, or both, and get access to three more attractions for up to off the retail ticket price. Consider how much more fun you can have with the money you'll save by bundling attractions with CityPASS® tickets!
San Diego Lodging
To get the most out of your stay in San Diego, we recommend finding lodging near San Diego's top attractions. Use this map to find the right lodging for you:
Header Image Courtesy of Old Town Trolley Tours