Articles by City & Category
Disney World Throws World's Most Magical Celebration for 50th Anniversary
September 29, 2021 By CityPASS
Since opening October 1, 1971, Walt Disney World® Resort has been called The Most Magical Place on Earth. The world-famous resort will celebrate its 50th Anniversary Celebration beginning October 1, 2021, with "The World's Most Magical Celebration." During the 18-month event, guests will experience classic favorites and discover exciting new offerings including rides, nighttime spectaculars, thrilling visuals, character costumes, a Cinderella Castle makeover, and more throughout all four parks. Walt Disney World has even coined a new word — "EARidescence" — to describe what you'll see when you visit.
In honor of the golden 50th anniversary, a collection of 50 golden characters are spread throughout the four Disney theme parks. Comprising 36 statues (some depict pairs of characters), there are 19 in Magic Kingdom, six in Epcot, seven in Hollywood Studios and four in Animal Kingdom.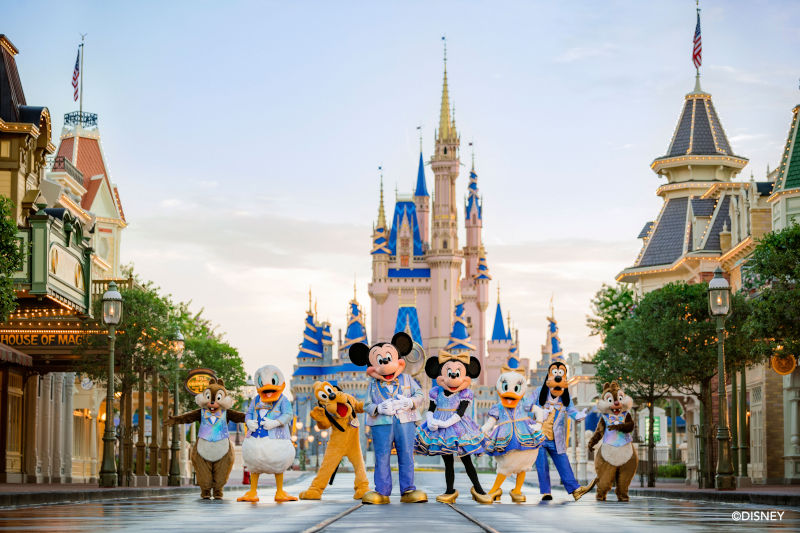 Magic Kingdom® Park
Cinderella's Castle, the iconic centerpiece of Magic Kingdom, has had a royal makeover. It's adorned with jewels and royal blue ribbons as gold draping surrounds its turrets and towers. At night, Cinderella's Castle will illuminate the park with lighting enhancements, creating a dazzling radiance that sparkles with pixie dust.
The 'Disney Enchantment' firework show will light up the night sky, featuring captivating Disney music, enhanced lighting, stunning fireworks and—for the first time—immersive projection effects that extend from Cinderella's Castle down Main Street, U.S.A.
Epcot®
At Epcot, 'HarmonioUS' will debut as the largest ever Walt Disney World nighttime spectacular and will celebrate how the music of Disney inspires people the world over. The show is a beautifully crafted medley of classic Disney music and visuals reinterpreted by a culturally diverse group of 240 artists from all around the world. It will bring to World Showcase Lagoon an innovative toolkit of massive floating set pieces that house a variety of show effects, including custom-built LED panels, choreographed moving fountains, colorful lights, lasers, pyrotechnics and more.
'Remy's Ratatouille Adventure' at EPCOT
October 1 will also mark the official opening of the highly-anticipated Remy's Ratatouille Adventure. The new ride is based on Disney and Pixar's beloved Academy Award-winning "Ratatouille."
The ride completely immerses guests into the story of "Ratatouille" in the most rambunctious way. Guests are reduced to the size of a rat and join Chef Remy and Emile in an uproarious race through Gusteau's kitchen and dining room, scurrying to escape the clutches of Chef Skinner.
It blends ingenious 3D effects, elaborate oversized set pieces, marvelous water effects, trackless rat vehicles with onboard tilting and bouncing effects, and a boisterous soundtrack.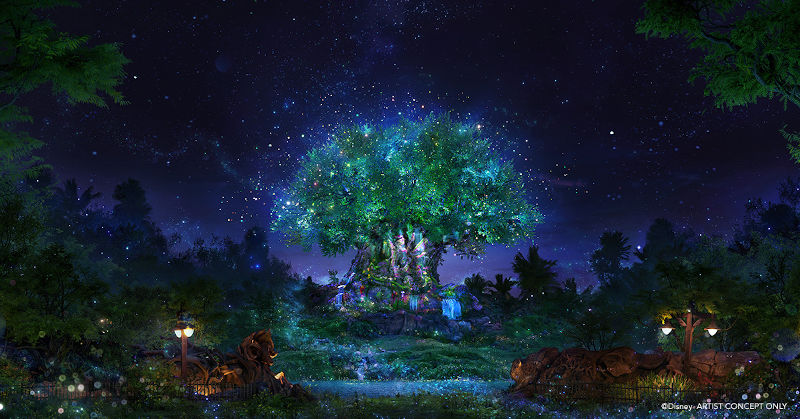 Disney's Animal Kingdom® Theme Park
"Disney KiteTails" will make its debut in the Discovery River Amphitheater. Performers will fly wind catchers and kites of all shapes and sizes, while out on the water elaborate three-dimensional kites–some stretching to 30 feet long–will depict Disney animal friends, including Simba, Zazu, Baloo and King Louie. These colorful creations will dance through the sky to the beat of favorite Disney songs in an uplifting, vibrant experience for the whole family. The innovative daytime show will come alive several times daily.
At night, The Tree of Life will be enhanced by a burst of fireflies colorfully buzzing about its branches for an electric light show. Fireworks will not be used at Animal Kingdom as to not disturb the animals.
Disney's Hollywood Studios®
Special new touches will be added to the Hollywood Tower Hotel at Hollywood Studios. All 13 stories of The Twilight Zone Tower of Terror will be aglow in a colorful bath of sparkling illumination evoking the golden age of cinema.
For the Foodies
Disney chefs and mixologists have created over 150 sips and bites full of color, whimsy, and a touch of EARidescent shimmer – with even more coming throughout the 18-month celebration.
Walt's personal recipes, Walt Disney World Resort attractions (past and present), beloved Disney Characters, and nostalgic dishes from 1971 were inspirations for the tasty offerings created for this anniversary celebration, according to the Disney Parks Blog.
Magic Kingdom highlights include savory favorites like Walt's Chili-Cheese Dog and Walt's Chili-Cheese Fries. Plus, discover dazzling desserts like the Firehouse Donuts and the Mickey Mouse Dome Cake. At Animal Kingdom, take a walk on the wild side with the EARidescent Firefly mocktail and the 50th Celebration Ice Cream Sandwich. Disney's Hollywood Studios features imaginative new menu items with glitz and glam like the Shimmer Over the Moon cocktail and delectable desserts like the Glimmer and Shimmer Blondie.
Epcot will debut two new dining experiences. As part of the France pavilion expansion, Epcot has a new restaurant that offers a menu inspired by France's Brittany region. La Creperie de Paris is a traditional creperie with a focus on made-from-scratch crepes and galettes. Disney has even imported buckwheat and three flavors of hard cider exclusively from Brittany.
Space 220 is located in Future World at Epcot. The dining room has virtual windows that seemingly look out into space, and a prix-fixe menu for both lunch and dinner. Reservations are recommended and can be made via the My Disney Experience app.
A full list of offerings can be found in the 50th Anniversary Celebration Sips and Bites Guide.
How to Visit
Orlando CityPASS® tickets are where you can also find discounted tickets for not only Walt Disney World® Resort, but also the other top Orlando theme parks, including Universal Orlando Resort, SeaWorld® Orlando, and LEGOLAND® Florida Resort. There is no special ticket for anniversary celebration special events at Disney. Your park pass will give you access, but reservations are required. It's a good idea to check availability for desired dates ahead of time.
Header Image ©Disney