Top Things To Do
Save 47%

at 4 top Dallas attractions.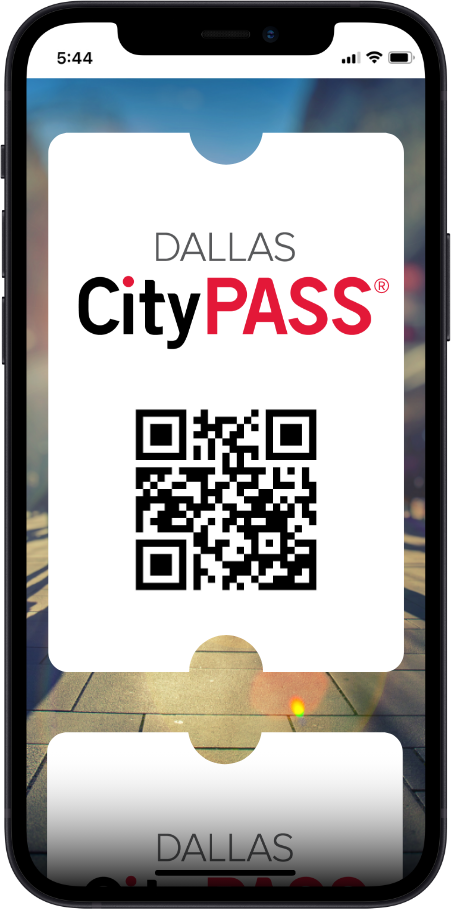 Get ready for your trip to Dallas!
Smart Savings. Best Value.
The research is done. The savings is significant. If you're looking for the best things to do in Dallas, you'll love the simplicity and convenience of Dallas CityPASS® tickets.
Includes admission to 4 attractions
Visit each attraction below.
Plus get admission to 2 more attractions of your choice. No need to choose now—decide later.
What's Included and What You Save
Frequently Asked Questions
Instant Delivery of Mobile Tickets
365-Day Risk-Free Returns
Perot Museum of Nature and Science
Located in the heart of Dallas, at the Perot Museum of Nature and Science visitors will find everything from dinosaurs to diamonds and space to sports, packed into five levels of hands-on discovery and adventure.
Reunion Tower GeO-Deck
Experience breathtaking 360-degree views of Dallas from 470 feet up at the only indoor/outdoor observation deck in Dallas, featuring high-definition zoom cameras, interactive touch screens, telescopes and photo ops.
Dallas Zoo
Go on an urban safari at Giants of the Savanna, where you can witness elephants, giraffes and other African animals interact in a natural grasslands setting. Feed a giraffe, watch a predator demo, and discover over 2000 fascinating animals that call the Dallas Zoo home.
George W. Bush Presidential Museum
Get an in-depth, interactive peek inside the presidency of George W. Bush. In addition to extraordinary special exhibits, museum highlights include A Nation Under Attack, remembering the events of September 11, 2001; Life in the White House, a peek inside 1600 Pennsylvania Avenue; a massive, 360-degree LED screen showing multimedia films; and the hands-on Decision Points Theater.
Dallas Holocaust and Human Rights Museum
The mission of the Dallas Holocaust and Human Rights Museum is to teach the history of the Holocaust and advance human rights to combat prejudice, hatred, and indifference.
Instant Delivery of Mobile Tickets
365-Day Risk-Free Returns
Read reviews from CityPASS® travelers.
Fantastic deal!
We got to see all the sights we were going to see anyway, at a fraction of the cost. Definitely made our trip planning (and budgeting) so much easier. Loved all the places we visited.
Made it to almost all the museums. Good deal!
Buddy and I made a quick dallas trip and this pass was a great way to see a lot the city has to offer. Definitely better and cheaper to go this route if you plan on seeing 3 or 4 of the venues.
CityPASS is a must!
If you want to do the tourist thing whether you're a visitor or a "Dallasite" then the CityPASS is a must-get.
Great way to see everything and save money, too!
I have 3 granddaughters and I am always looking for ways to entertain and educate them without breaking the bank. The CityPASS was a real blessing! I purchased the Dallas CityPASS and we were able to see and do something new and exciting every day!
Dallas CityPASS
The CityPASS is a win-win situation. You get to plan your stay better knowing that you WILL be visiting those sites and avoids the hassle of standing in line to purchase the tickets. Fast, quick, economical and FUN!
Dallas CityPASS
is rated out of
5
by
1116
.
Rated

4

out of

5
by
ShdStk
from
Good Selection of Attractions at a great discount
Bought the cityPass as it seemed like a great way to see the top attractions and save money, and get good recommendations on where to go. The price is unbeatable, saving at least 50% on the total cost of visiting. All of the attractions on the Dallas pass I bought were easy to locate and near to the DART system so were easy to access. The passes were emailed to me within an hour and worked flawlessly scanning off of my phone screen. All the attractions were well familiarised with them and didn't have arduous or overly long extra steps to take because I was using the pass rather than paying. Only issue I could fault it on was the range of attractions was slightly limited, and two great attractions (Museum of Illusions and the Sixth Floor/JFK Museum) aren't on there
Date published: 2022-06-14
Rated

4

out of

5
by
1adam12ks
from
Save some $$$!
We were visiting and wanted to see some sights in Dallas. The CityPASS combined some attractions for a discount. It was easy to use. Some of the online tips like reservations at attractions are not needed anymore now that capacity is back to more normal numbers allowed in the attractions. We would use this again if the attractions were ones that we wanted to see.
Date published: 2022-04-11
Rated

4

out of

5
by
Thumper
from
Fun and educational family vacation
Spring Break 2022. Enjoyed the Dallas Zoo, the Perot Museum , and especially Reunion Tower at Sunset. The Tower Ball was lit up in blue and yellow in support of Ukraine and that was awesome to witness. The JFK Sixth Floor Museum was no longer part of the Dallas City pass and it appealed to my family more than some of the choices available.
Date published: 2022-04-03
Rated

5

out of

5
by
Gio & Erick
from
You must get this!!
This was the SMARTEST buy we did for our trip to Dallas. Includes museums and 2 attractions. Vacations are always better when you save money & it's super quick! You feel like a VIP
Date published: 2022-03-02
Rated

5

out of

5
by
SanJoseJay
from
Worth every penny.
We had only 60 hours to spend in Dallas, so time management was slightly imperative; City Pass certainly saved us plenty of it.
Date published: 2022-02-28
Rated

5

out of

5
by
Principito
from
Celebrity experience ♡
Citypass is a lifesaver, so easy, so convenient and so good.. You really need this amaizing tool ! I felt like a Celebrity showing my code at the entrance of the venues, like ....Excuse me..I have Citypass lol... Love it !
Date published: 2022-01-28
Rated

5

out of

5
by
DallasExplorer
from
Incredible experience
TL;DR, get the CityPass. This saves you so much money AND includes some of the top attractions in Dallas that we would have visited anyway! For the Perot, you have to go in person to reserve your tickets for later that day - if you get lucky, tickets may be available for that exact time, so it only takes one trip to reserve and use your tickets. For Reunion Tower, go on a clear day so you can get the best views of the skyline. For all attractions, be sure to have your mobile QR code ready to scan to save time! Parking at Perot is $10, Reunion Tower $9, Dallas Zoo $10.
Date published: 2022-01-14
Rated

5

out of

5
by
KHuggie02
from
Love & I'd Do It Again
I have been dying to purchase a CityPass a few years now and just never brought myself to do it because "the timing was not right". My boyfriend works out of state and got an opportunity to spend the 4th of July holiday weekend with me. I thought it would a GREAT idea to fill our weekend with Dallas activities & that was exactly what we did! Crowds were moderate but we had a blast at the Perot Museum, Reunion Towers GEODeck, and the Dallas Zoo! The only cons I experienced was the limited validity of the timeframe (9 days to use it), and the limitations of the destinations (It would be much more worth it if the Aquarium, American Airlines Center, the Art Museum, the History Museum, a park, etc were added as options to the Dallas CityPass)! I also wish there was a Fort Worth CityPass available! But other than that the CityPass was a great experience and more than worth it! We had a great time!
Date published: 2021-07-17
Rated

4

out of

5
by
Ramosxn40
from
A fantastic value! However, reserve your tickets..
Definitely book your tickets online before you go places, and double check to make sure they aren't sold out they say you are going. The zoo, Perot museum, and the GEOdeck were fun, and using the CityPASS we had no problems getting tickets. for Dealey Plaza, definitely call or book ahead online. Otherwise this was well worth the money!
Date published: 2021-04-04
Rated

5

out of

5
by
Hlynn88
from
Easy to use
I bought the citypass for my trip to Dallas since everything on it was on a top 10 travel sites to see. We managed to go to 3 of the 4 things. Didn't make 4 because 6th floor museum was sold out. The other places still let us in w citypass, but not that one. Wish I had known that sooner so we could have gone to it too, but we had a lot of fun anyway. Well worth getting it. Since the other places were also looking pretty sold out, I wasn't sure if we would be able to use it, but we just showed up and got in even though we weren't scheduled.
Date published: 2021-03-30
Plan your visit.
The My CityPASS® app has all of the details you need for a great experience, including reservation and entry information, attraction details, maps, and extra offers and discounts from our partners.
Explore attraction locations.
About Us
City Pass was created in 1997 by founders Mike and Mike to inspire travelers to see the most iconic attractions in North America, all while saving money.
Still family-owned today, City Pass is a small company of 50+ employees who share a passion for travel. We love to see our customers have fun and explore new places, and we hope you'll share your memories with us, too.