Articles by City & Category
What to Expect When You Visit Birch Aquarium at Scripps
November 3, 2022 By CityPASS
Are you looking for an experience like no other? A fun, informative, and interactive day out for the whole family? Then, don't look further than Birch Aquarium at Scripps. This San Diego staple is full of fantastic aquarium creatures, entertaining exhibits, hands-on events and workshops, and much more.
Keep reading to find out all there is to know about this must-see attraction in San Diego.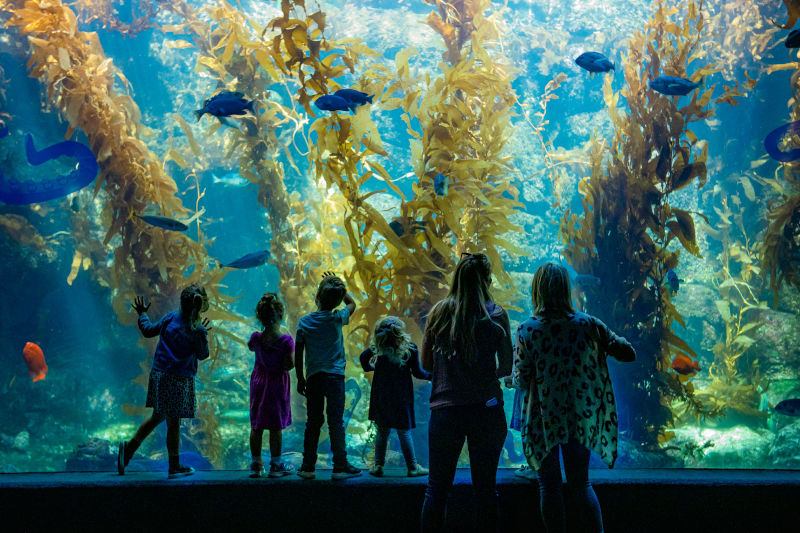 Can't Miss Exhibits at the Birch Aquarium
If you are visiting San Diego soon, you should add the Birch Aquarium to your to-do list. Depending on when you go, you will find unique Birch Aquarium exhibits that change from time-to-time but are always sure to keep the entire family entertained.
For example, you might be able to go on a seasonal adventure sponsored by the aquarium, or you might be encouraged to take part in activities that help you better care for the environment. And if your little (or not-so-little) ones are lovers of science and nature, they will find it super fun and educational to interact with staff members of the aquarium and participate in STEM events and summer camps.
While the exhibits keep changing, some fantastic things about this aquarium stay the same throughout the year, like the rescued Loggerhead Sea Turtle and the Giant Pacific Octopus in the Hall of Fishes.
Two-Story Giant Kelp Forest
Step into the beautiful world of this giant kelp forest and be prepared for a jaw-dropping experience. For example, were you aware that kelp can grow up to three feet daily? Here, you can look closely at how kelp grows underwater and what creatures live among it.
These include eels, black sea bass, leopard sharks, orange Garibaldi fish, and many more. Every day, divers feed the fish, taking the plunge into the huge tank for the daily Kelp Tank Dive Show, and are on hand afterward to answer any questions. Arrive a few minutes before the show's beginning to secure the best seats.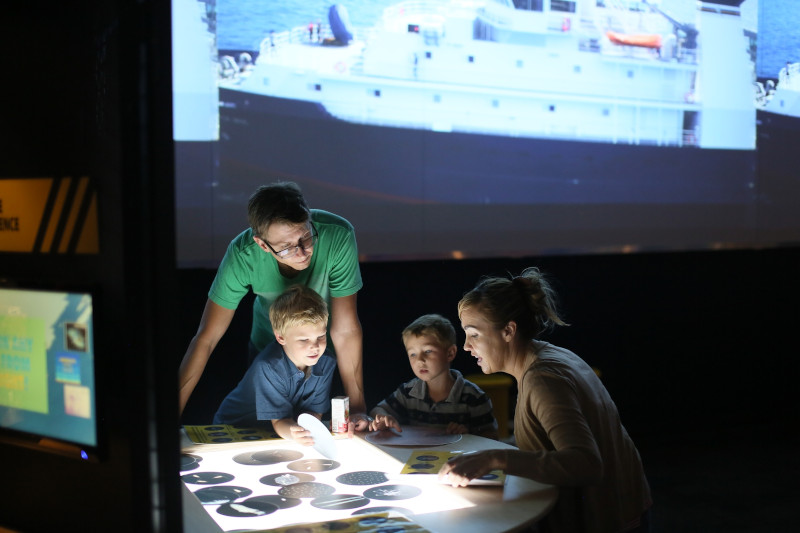 Tide Pool Plaza and the Birch Aquarium's "Oddities"
While you might be unable to check out the stunning local tide pools that occur along San Diego's coast during winter, a trip to the Birch Aquarium at Scripps will help you see the marine life in them.
At the Tide Pool Plaza, staff and volunteers will be available to answer your questions and let you gently touch the tide pool animals. Afterwards, remember to thoroughly wash your hands at one of the many outdoor sinks.
And if you or anyone in your family is a fan of comics, check out the aquarium's "Oddities." This exhibit is inspired by comic books featuring superheroes and displays what we may call the "superpowers" of some of the most fantastic ocean creatures.
How do they survive in such a hostile environment? And how did they come to inspire so much of our pop culture, from books to cinema and even engineering? Get all the answers by attending this unmissable exhibit.
Brightly Colored 100 Island Challenge
The brightly colored 100 Island Challenge has an exotic-sounding name from the 100 tropical islands replicated in this part of the aquarium. Scientists use this experimental coral reef to run essential research and test tools and equipment before they embark on remote expeditions.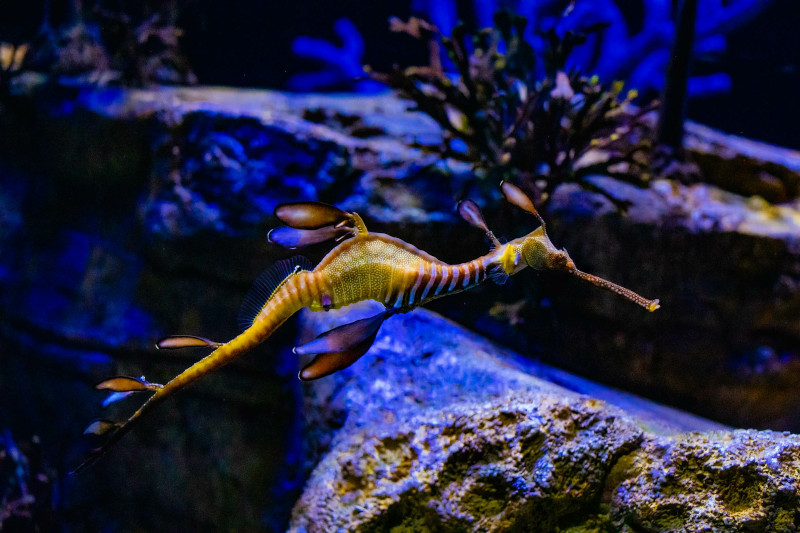 Seadragons & Seahorses
Welcome to one of the most popular exhibits! Here, you and your little ones will marvel at a dozen seahorse species and might even catch glimpses of seahorse babies. Dainty, colorful, almost magical, the beautiful animals on display here are the reason why the aquarium has decided to make this a permanent exhibit.
Birch Aquarium also hosts two of the currently three known species of seadragons, called Weedy and Leafy. Researchers from the aquarium have discovered a third species named the Ruby Seadragon. No Ruby Seadragons live in captivity at the moment.
Shark Shores
It wouldn't be a great aquarium if it didn't have sharks in it, right? Once again, Birch Aquarium at Scripps does not disappoint. Located on the Smargon Courtyard patio, this aquarium highlights some of the shark species that live locally, such as La Jolla's leopard sharks and elasmobranchs, as well as juvenile sharks and other shark species and rays.
You can check out these predators from the aquarium display tanks. If you feel brave enough, you can book one of the aquarium's snorkeling leopard shark tours during the summer at La Jolla Shores beach.
Beyster Family Little Blue Penguins
Cute and clumsy penguins are another must of any great aquarium, so you'll be pleased to hear that you'll find some of these adorable guys here, too. This exhibit is one of the newest.
The tiniest species of penguin alive, usually less than 12 inches tall in adulthood, the Little Blue Penguins are blue-colored birds native to the faraway coasts of Tasmania, New Zealand, and Southern Australia.
The exhibit runs across nearly 3,000 square feet and is complete with rocks and sand that mimic these animals' original habitat. Visitors can watch the penguins in their 18,000-gallon pool where the animals go about their day. Trust us, you won't want to miss a close encounter with these funny little creatures.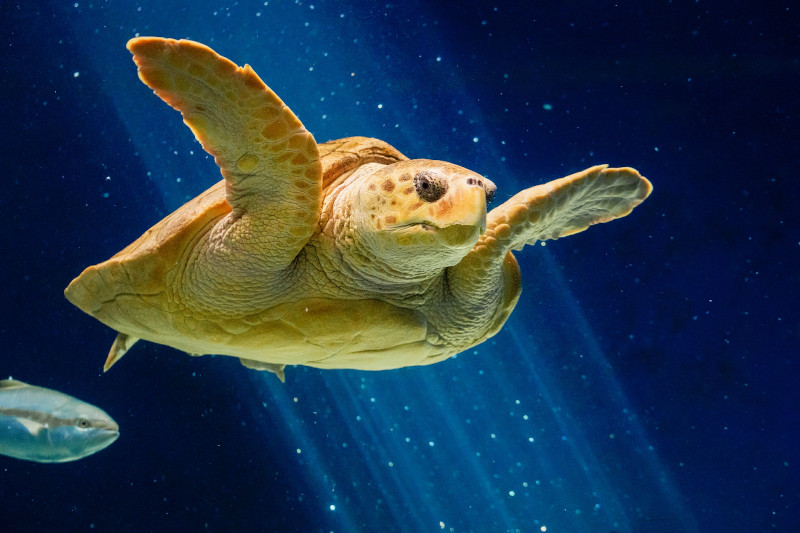 See Amazing Creatures of the Deep While Spending Less With CityPASS® Tickets
Want to set off on a remarkable journey? Then schedule a visit to San Diego ASAP! But know that the city offers so much more than stunning ocean views.
One of the best things to see in the city is the famous Birch Aquarium at Scripps. Here, you will get up close and personal with some genuinely incredible deep-sea creatures, learn awesome facts about the habitats of fishes, and participate in fun and educational activities.
And with San Diego CityPASS® tickets, you can visit the aquarium plus a number of other top San Diego theme parks and attractions for less, including LEGOLAND® California Resort, SeaWorld® San Diego, USS Midway Museum, San Diego Zoo and more. Discover how you can save BIG on your next trip to San Diego!
San Diego Lodging
To get the most out of your stay in San Diego, we recommend finding lodging near San Diego's top attractions. Use this map to find the right lodging for you:
Header Image Courtesy of Birch Aquarium at Scripps