Articles by City & Category
San Diego City Cruises: Your Guide To Breathtaking Views and Relaxation
April 26, 2023 By CityPASS
San Diego is a world-class city, but its laid-back charms give this metropolis an unassuming atmosphere. This is a city that knows the good life but would rather invite you to see it for yourself than praise its own qualities. From the city harbor and downtown districts to the miles of beautiful coastline, it's easy to fall in love with San Diego as a vacation destination.
This beautiful city has a unique mix of hidden canyons, mesas, coastal bluffs, and hills, leveling out at downtown and beachside neighborhoods. While San Diego is gorgeous to experience on land, it's even more incredible on the water. So if you're heading to San Diego, you'll want to add a City Cruise to your itinerary to enjoy the sights and sounds of this Southern California gem.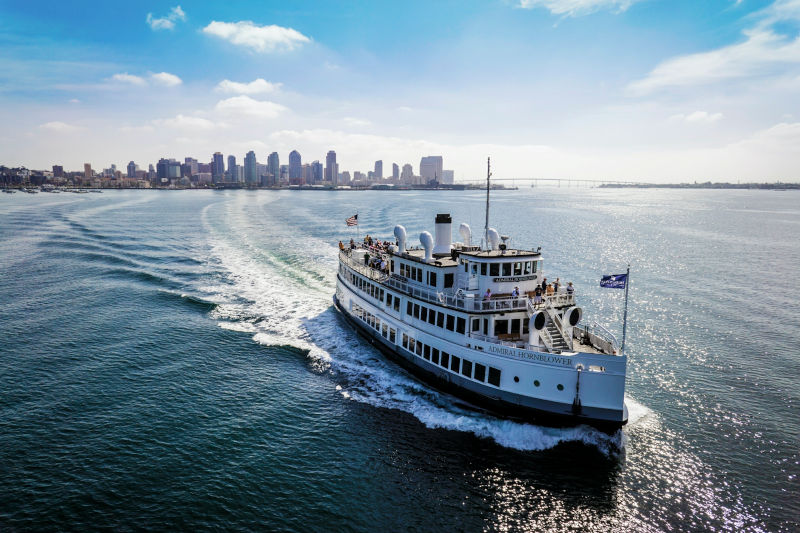 What To Expect on a San Diego City Cruise
A San Diego City Cruise blends history and local environmental efforts with city landmarks, marine life, and incredible urban and coastal views. As you enjoy the skyline, you'll mark another memorable event on your lifetime calendar. Here's what to expect from a San Diego City Cruise.
Professional Narrations of San Diego's History and Highlights
Professional narration is one of the key features of a San Diego harbor cruise. City Cruises from Hornblower Group have expert narrators on each cruise who share interesting facts about the city and its landmarks. Then, as the harbor tour passes different landmarks, staff members shift their stories to match what you see.
Tour leaders are also nature enthusiasts, and they share stories of San Diego's natural history and where you can find different species. In addition, they talk about historical city experiences, habitat restoration, other environmental efforts, and how important the bay is for people and nature.
A Picturesque Skyline and Historic Sites
As you gaze toward the land, you'll see a picturesque city skyline of San Diego and the downtown core as it rises into the hills beyond. To the west, the Point Loma peninsula is a beautiful shrubby area offering refuge for birds and land creatures, with the historic Point Loma lighthouse at its tip. You'll glimpse numerous landmarks, historical architecture, Navy ships, the bay's iconic sailboats, and the soaring Coronado Bridge.
Here are some of the most famous landmarks:
Star of India
Coronado Island
North Island Naval Air Station
Naval Amphibious SEALS Base
Seaport Village
Harbor Island
Shelter Island
Cabrillo National Monument
U.S. Navy fleet
From your spot on the water, you can also see downtown San Diego and the San Diego International Airport. You might even get to watch some planes during take-off and landing.
San Diego City Cruises tours last for one hour, with staggered departure times. The weather, season, and time of day can influence your experience, making San Diego City Cruises something to enjoy at different times of the year.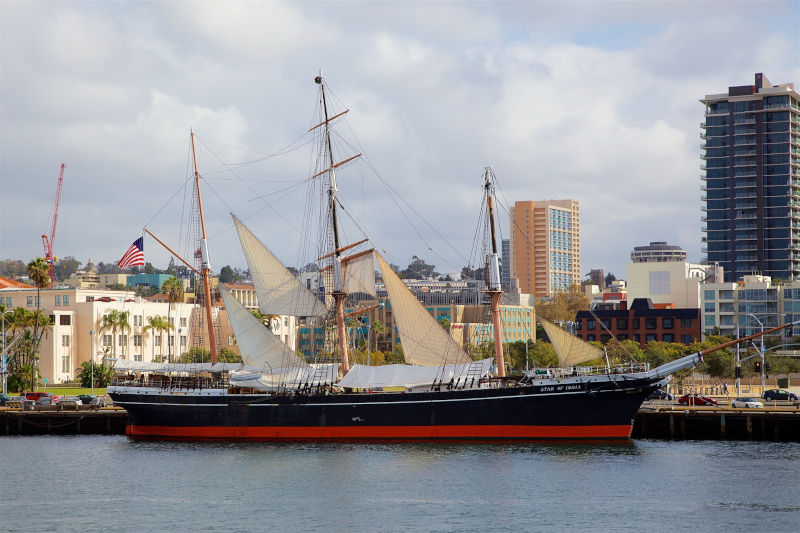 Sightings of Marine Animals
As a city on the bay, San Diego is home to many marine mammals and birds. The diverse environment draws wildlife to its waters and surrounding shorelines. Sea lions are often the most memorable animals, and they love to sun themselves along the bay. As you enjoy the breathtaking experience of a day cruise in San Diego, you'll often spot their familiar forms and hear their barks as they lounge on the bait barges and channel markers.
Apart from these fan favorites, San Diego Bay is home to many crustaceans and fish species, and birds often perch on retaining walls or soar overhead. Point Loma is another prime spot for marine birds, with seasonal sightings of blue herons, egrets, gulls, pelicans, and other water birds. San Diego Bay National Wildlife Refuge, a bit beyond the south bay tour, is where many migratory and native seabirds, shorebirds, and marsh birds live. Many like to move in flocks, and you might spot them from a distance!
Beverage and Snack Bar on Board
If you want to enjoy food and drinks on board, you'll find plenty of hot and cold options at the snack bar. Offerings vary, but you'll often have ballpark-style staples, like fountain drinks, alcoholic beverages, coffee, pizza, sandwiches and more.
Note that Hornblower policy states onboard guests can't bring outside food and drinks. So, to cover all bases, have cash and cards on hand for San Diego cruises.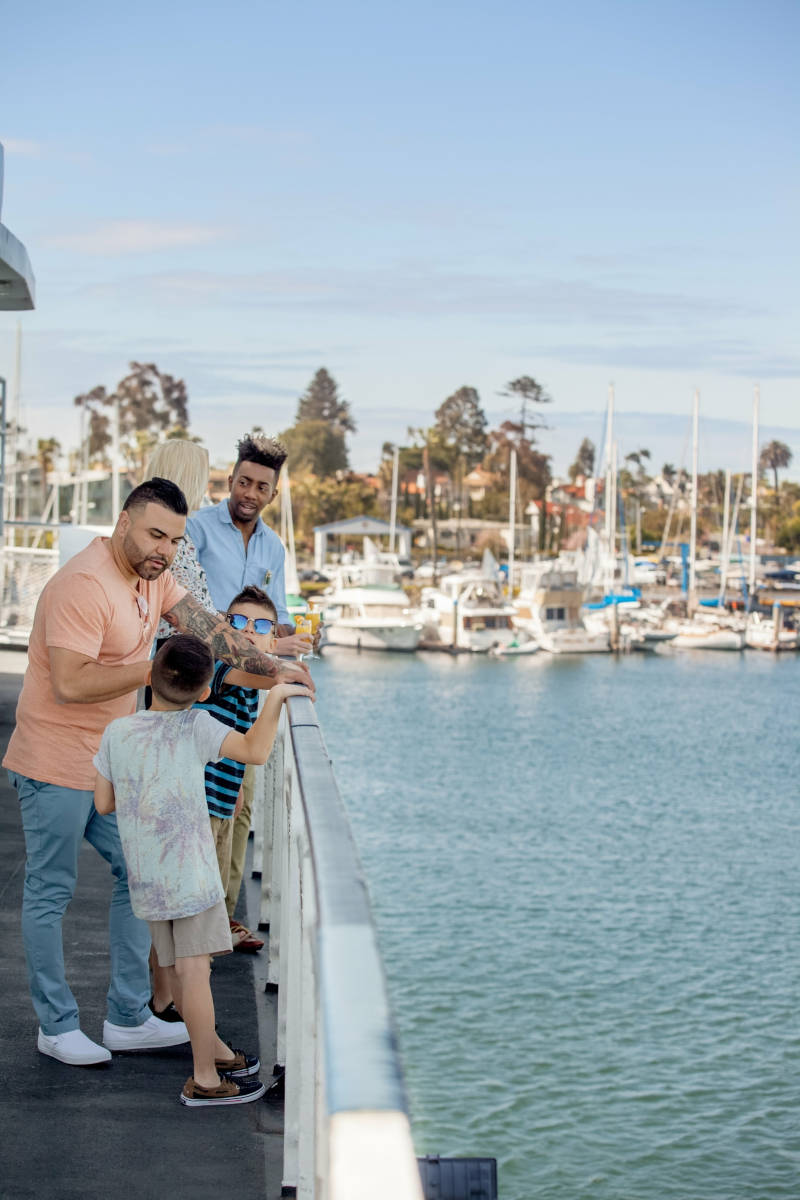 How To Prepare for a Sightseeing Harbor Tour in San Diego Bay
As you plan your San Diego vacation with a group or your family, make it memorable with a sightseeing boat cruise. Use these tips to keep your outing stress-free:
Know where to park. There is a parking garage and open lot on the Navy Pier next to City Cruises. Since it's along the Embarcadero and another prime destination — USS Midway — spots fill up fast. You'll want to come early to snag a space. Alternatively, you can park in the ACE parking lot at the corner of Pacific Hwy and Broadway or arrive by trolley, train, or bus at the historic Santa Fe Depot.
Wear layers. Even when the temperatures are warm, touring by boat can get breezy and cool. So wear a few layers and bring a jacket and a warm hat. In warmer seasons, don't leave home without your sunhat, sunglasses, and sunscreen.
Consider motion sickness supplies. Although the waters of San Diego Bay are calm, some people can be prone to motion sickness. If that's you, consider bringing some chewable tablets or other supplies to calm your stomach.
Book an Extraordinary Coastal Experience in San Diego With CityPASS®
Are you ready to mix land-based experiences with the perfect coastal adventure? Get your San Diego CityPASS® tickets today and save up to off the regular admission price of some of the hottest attractions.
San Diego Lodging
To get the most out of your stay in San Diego, we recommend finding lodging near San Diego's top attractions. Use this map to find the right lodging for you: