Articles by City & Category
What To Expect at San Diego Zoo Safari Park
December 15, 2022 By CityPASS
You might have heard of the fantastic San Diego Zoo. But did you know it has a sister park — the San Diego Zoo Safari Park? This incredible natural spot allows you to get up close and personal with African animals without ever leaving the US.
Let's take a look at some of the many adventures you can find in the park.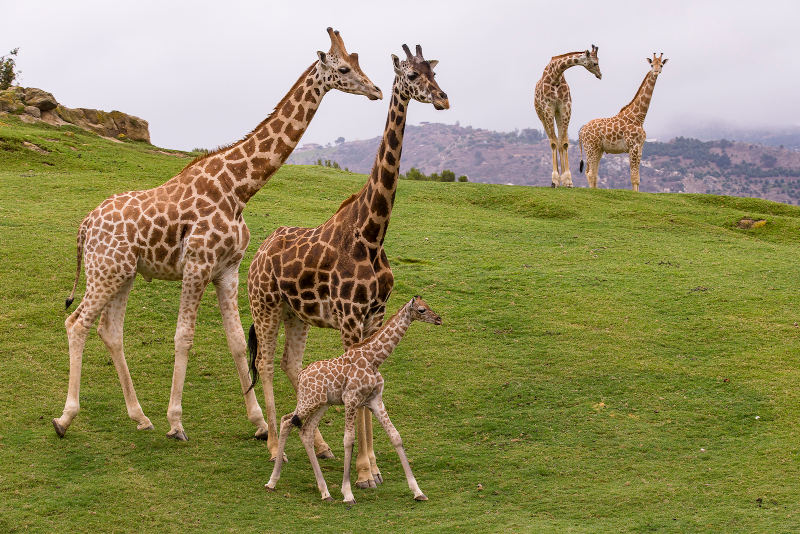 Awesome Adventures at San Diego Safari Park
The San Diego Zoo Safari Park is an 1,800-acre wildlife sanctuary. An extension of San Diego Zoo, the Safari Park allows guests to see an extra 3,000 animals. You'll be able to enjoy breathtaking safaris, exciting activities, and special events.
The Zoo and Safari Park are about 35 miles apart, or 45 minute drive time. If you plan the day with this in mind, everyone can see all of their favorite wildlife in one day.
Come Close to Your Favorite Wildlife With a Real Safari Adventure
Choose the Cart Safari Africa experience to travel in the back of an open-air safari truck. Traveling with an expert guide, you'll tour the expansive savannah habitats of the Safari Park at San Diego Zoo. You'll spot African animals including cheetahs, rhinos, antelopes, okapis, elephants, lions, and giraffes.
Opt for the Wildlife Safari and you'll get close to mixed species of mammals and birds. The Safari Park is home to countless breeds of impressive animals from all over the world — like Ruppell's vulture, the world's highest flying bird, or Przewalski's horse, the last truly wild horse left on earth.
Have a sleepover at the park on a Roar & Snore Safari, available in different packages for families, Girl Scouts, school students, and adults only. Choose between a Classic Tent with the camping basics, a Vista Tent with a view, or the glamping-style Premium Tent which comes with a queen-size bed and luxurious comforts.
Other safari experiences include:
Cart Safari Asia — explore the Asian savannah in the comfort of a safari cart with a knowledgeable guide.
Sun Up Cheetah Safari — see the Park before opening hours and witness a cheetah run at top speed.
Flightline Safari — soar 130 feet above the ground on a zipline, for a unique bird's eye view of the savannah.
Ultimate Safari — a 5–7 hour visit, tailored to your interests, with your own personal tour guide.
Behind-The-Scenes Safari — a sneak peek into otherwise secret areas of the park with an expert guide.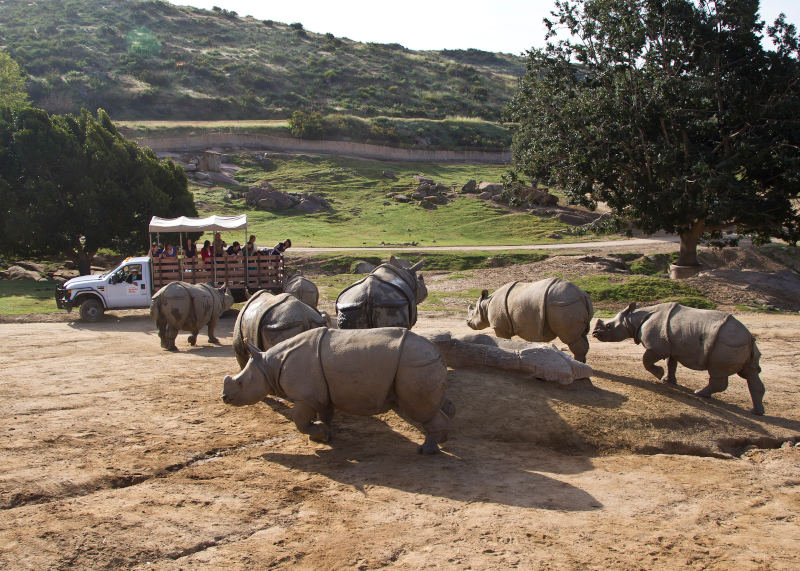 Experience a Unique Family Park Activity or Ride
If you're looking for some aerial excitement, the Balloon Safari's tethered helium balloon will take you up 400 feet. You'll see views of the park that only the birds would normally get to witness.
If you're visiting with younger children, a tram experience may be more your speed. The Africa Tram tour lasts 25 minutes and will take you around some of the park's natural habitat so you can get close to the animals. Other child-friendly activities at the Safari Park are:
The Petting Kraal — touch and brush the park's goats.
Conservation Carousel — a classic carousel ride featuring 60 different animals.
Village Playground — an interactive play area replicating an African village.
Savanna Cool Zone — palm trees spray a gentle mist while kids find toy animals.
Camp Play Area — a logging camp within a lush wooded landscape provides places to climb and slide.
Explore the Nativescapes Botanical Garden
Get lost among more than 1,500 individual plants that represent 500 species in the Safari Park's Nativescapes Garden. What's more, this botanical collection is a celebration of Southern California's native species. The four acres of garden features plants like the California buckeye, Apache plume, and monkeyflower.
The San Diego Safari Park also has other gardens to explore. If you love cacti and unusual succulents, visit the Epiphyllum Trail or the Baja Garden and Old World Succulent Garden. If you're a fan of bonsai trees, the Safari Park has dedicated the Bonsai Pavilion to them. The Herb Garden has more than 30 mixed species of herbs. Use your nose to sniff out plants with fragrances of cedar, apple, peppermint, lime, or rose. Or if the rainforest is more your scene, swing by the Hidden Jungle's climate-controlled dense canopy and tropical birds.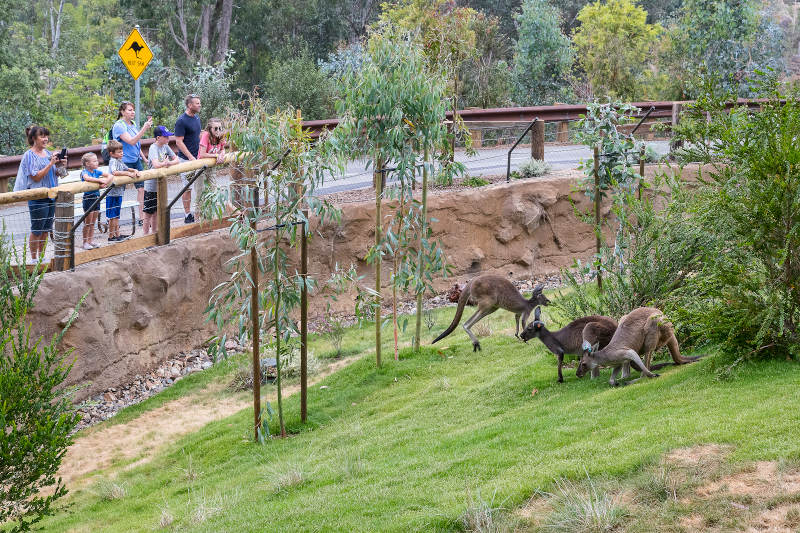 Spend Time at Any of the Park's Dining Spots or Gift Shops
San Diego Zoo Safari Park has no shortage of food and drinks to enjoy. The Watering Hole is the newest spot to open in the park. It offers an awe-inspiring view across the African savannah while you enjoy a salad, sandwich, and the full-service bar.
Nairobi Village is a hotspot for food within the park, with outlets offering items like chicken tenders, burgers, soup, freshly made fudge, and warm churros. The Walkabout Australia area offers traditional Australian food, salads, wraps, specialty cocktails, and craft beer.
Looking for a memento of your day? Countless stores across the park offer souvenirs, T-shirts, personalized hats, plush animals, authentic African artifacts, home decor, and even plants to take home.
Participate in Youth Programs and Conservation Efforts
Both the San Diego Zoo and Safari Park are run by the San Diego Zoo Wildlife Alliance, an international nonprofit conservation organization. You may find that your day out at the zoo leaves you or your child wanting to join their vital conservation efforts.
The park's Summer Camp gets kids from pre-K to 12th grade to discover wildlife, explore habitats, and learn about endangered animals in their native habitat. They'll have outdoor fun they'll never forget. The Conservation Corps program encourages 9th–12th graders to participate in conservation projects, public speaking events, and community service programs. San Diego Zoo also offers the opportunity for over-18s to volunteer as information ambassadors. This role involves welcoming visitors, helping them plan their visit, and inspiring them to support the zoo's conservation mission.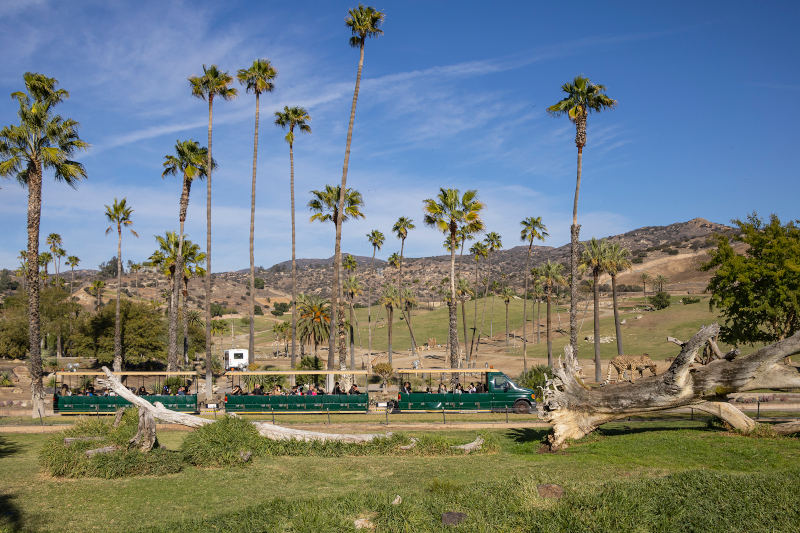 Create Lasting Memories in San Diego at a Discount
The San Diego Zoo Safari Park is a sprawling and spectacular natural place to spend a day or two while you're visiting San Diego. But it's far from the only location that makes San Diego an exciting holiday destination. Not convinced? Check out our 5 Reasons to Make San Diego Your Next Travel Destination.
Whatever speaks to you about this west coast county, pick up San Diego CityPASS® tickets and start saving up to at the best attractions.
San Diego Lodging
To get the most out of your stay in San Diego, we recommend finding lodging near San Diego's top attractions. Use this map to find the right lodging for you:
Header Image: © Jaimie Wells, Courtesy of San Diego Zoo Safari Park