Seattle CityPASS » Plan Your Visit
CityPASS Attraction Details
CityPASS Attraction Details
Address & Hours
CityPASS Admission
Highlights
CityPASS Entry
Special Exhibits Included with CityPASS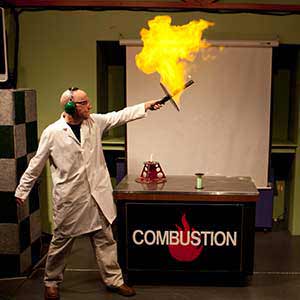 Pacific Science Center
Boeing and PACCAR IMAX Theaters
Your choice of one 2D or 3D showtime. Click here for current movies and schedules.

RACE: Are We So Different?
Through January 5, 2014
This exhibition brings together the everyday experience of living with race, its history as an idea, the role of science in that history, and the findings of contemporary science that are challenging its foundations. Interactive exhibit components, historical artifacts, iconic objects, compelling photographs, multimedia presentations, and attractive graphic displays offer guests to RACE an eye-opening look at its important subject matter.

The Photography Of Modernist Cuisine: The Exhibition
Through February 17, 2014
Introducing the world premier of The Photography of Modernist Cuisine: The Exhibition, a showcase of the stunning imagery produced by Nathan Myhrvold and his team at The Cooking Lab. This exhibition is in many ways the culmination of Myhrvold's lifelong interests in food, science and photography. It offers visitors a unique perspective on food in which the aesthetic beauty of plants, animals and cooking phenomena illuminates the fascinating, accessible science at work in our kitchens every day.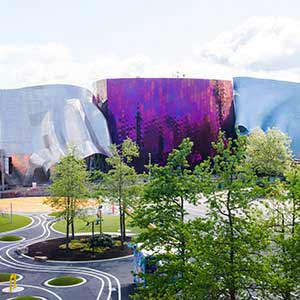 EMP Museum
Nirvana: Taking Punk to the Masses
EMP is proud to present the world's most extensive exhibition of memorabilia celebrating the music and history of Seattle grunge luminaries, Nirvana. The exhibit features rare and unseen artifacts and photography from the band, their crews and families.

Hear My Train a Comin': Hendrix Hits London
Featuring lyrics, personal instruments, original photographs, outrageous outfits, and rare concert footage, Hear My Train a Comin': Hendrix Hits London invites viewers to discover how Hendrix achieved prominence across the pond.

Martin Schoeller: Close Up
Through February 16, 2014
Martin Schoeller's large-scale photographic headshots place some of the most recognizable faces from the world of rock, cinema, the sports field, and the political podium alongside American teens and tribesmen from Tanzania and the Amazon. By placing nearly 50 of his hyper-detailed subjects on the same level, Schoeller underscores the human connection between us all.

Upgrades for CityPASS Holders
Advice for Visitors
During high travel seasons such as holidays and summer, entry lines can be longer than usual. Please keep this in mind when planning your visits to the attractions.
On-site Services
Getting There
Group Requirements
Unscheduled group visits may create a delay in entry. For your convenience, here is list of attractions with specific group requirements. We strongly recommend that you contact them prior to your visit based on the group sizes indicated below. Please feel welcome to also contact attractions not listed here to ensure a smooth entry.
City Information
Map
Transportation
King County Metro Transit
King County Metro Transit provides bus service in and around Seattle; find fare information here.
---
Seattle Center Monorail
Seattle Center Monorail travels a single route from Westlake Center to Seattle Center about every 10 minutes. Details here.
---
Sound Transit
Sound Transit provides rapid and affordable light-rail train connections between Seattle-Tacoma International Airport and downtown Seattle, with 11 stops between the airport and Westlake Station in downtown Seattle. The trip from the airport to downtown Seattle takes 37 minutes. Details here.
Weather
Currently
28°F
Light Rain
Hi: 31°F Lo: 25°F
5-Day Forecast
Sun
Dec 8
Hi: 29°F
Lo: 11°F
Sky Is Clear
Mon
Dec 9
Hi: 26°F
Lo: 12°F
Light Snow
Tue
Dec 10
Hi: 27°F
Lo: 19°F
Light Snow
Wed
Dec 11
Hi: 35°F
Lo: 23°F
Broken Clouds
Thu
Dec 12
Hi: 27°F
Lo: 24°F
Snow
Weather Averages
Month
Jan
Feb
Mar
Apr
May
Jun
Jul
Aug
Sep
Oct
Nov
Dec
Avg high
°F (°C)
47
(8)
50
(10)
54
(12)
59
(15)
65
(18)
70
(21)
76
(24)
76
(25)
71
(21)
60
(15)
51
(11)
46
(8)
Avg low
°F (°C)
37
(3)
37
(3)
39
(4)
42
(6)
47
(9)
52
(11)
56
(13)
56
(13)
52
(11)
46
(8)
40
(4)
36
(2)
Avg rainy
days
18
15
17
14
12
9
5
5
8
13
18
18
Avg snowy
days
1
1
1
0
0
0
0
0
0
0
0
1
Source: Wikipedia, NOAA
Dining
More Great Spots to Dine
Shopping
More Great Shopping
Nightlife
More Nightlife & Entertainment
Community
Blog
Forums
Photos
Buy Now
or at any CityPASS attraction
Seattle CityPASS
Adult

ages 13+

Enter Qty
$132.75 $74
Child

ages 4–12

Enter Qty
$85.80 $49
Add to Cart
Seattle CityPASS is a ticket booklet that saves 44% on admission to the 6 best attractions in Seattle.