San Francisco CityPASS » Plan Your Visit
CityPASS Attraction Details
CityPASS Attraction Details
Address & Hours
CityPASS Admission
Highlights
CityPASS Entry
Special Exhibits Included with CityPASS
California Academy of Sciences
Earthquake
Through January 31, 2017
Don't miss Earthquake, a major new exhibit and planetarium show exploring the seismic science that has shaped Earth's evolution and continues to impact our lives today.

Cosmic Collisions
Through January 30, 2014
Now showing in the Morrison Planetarium. Narrated by Robert Redford, this dazzling, high-impact, all-digital space show features images from space and immersive visualizations based on scientific data, revealing the explosive encounters that shaped our solar system, changed the course of life on Earth, and continue to transform our galaxy and Universe.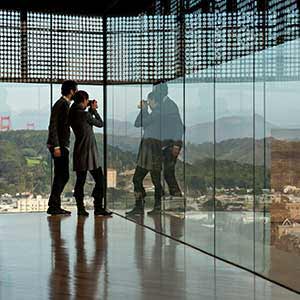 de Young Museum
de Young Museum
Modeled Bodies
Through February 9, 2014
The artist and the model—sometimes one and the same—are the subjects of Modeled Bodies. This exhibition centers on Richard Diebenkorn, Larry Rivers, and David Hockney, and the intimately known models who repeatedly populate prints made at specific moments in their careers. Phyllis Diebenkorn was the subject of numerous intaglio prints made by her husband as he explored printmaking seriously for the first time, in 1964 and 1965. Rivers turned his attention to model and one-time girlfriend Diana Molinari in the first half of the 1970s. Close friend and patron Celia Birtwell features in a group of lithographs Hockney made in Los Angeles in 1973. Examples of these works are joined by a selection of self-portraits and portraits of other artists and art-world figures, including prints by Marisol and Kiki Smith.

Legion of Honor
Matisse from SFMOMA
Through September 7, 2014
Celebrating the Bay Area's long-standing enthusiasm for Henri Matisse, Matisse from SFMOMA traces four decades of the artist's career—from his early, Cézanne-inspired still lifes to his richly patterned and brightly colored figural paintings made in the 1920s and 1930s. This intimate exhibition features 23 paintings, drawings, and bronzes from the internationally acclaimed collection of works by Matisse at the San Francisco Museum of Modern Art (SFMOMA), joined by two paintings and two drawings from the Fine Arts Museums of San Francisco's own important Matisse holdings.

Upgrades for CityPASS Holders
Advice for Visitors
During high travel seasons such as holidays and summer, entry lines can be longer than usual. Please keep this in mind when planning your visits to the attractions.
On-site Services
Getting There
Group Requirements
Unscheduled group visits may create a delay in entry. For your convenience, here is list of attractions with specific group requirements. We strongly recommend that you contact them prior to your visit based on the group sizes indicated below. Please feel welcome to also contact attractions not listed here to ensure a smooth entry.
California Academy of Sciences
Groups of 10 or more: Call (415) 379-5211.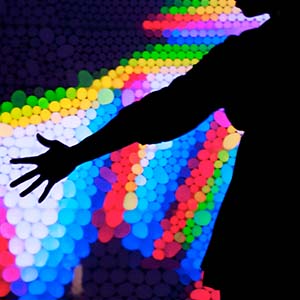 Exploratorium
Groups of 10 or more: Call (415) 528-4444.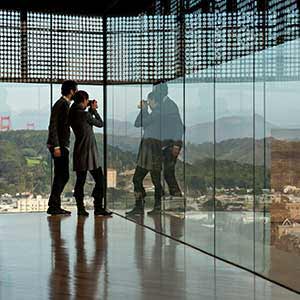 de Young Museum
Groups of 10 or more: Call (415) 750-3620.
City Information
Map
Transportation
San Francisco Public Transportation — Municipal Railway (MUNI)
A Muni & Cable Car 7-day Passport is included with San Francisco CityPASS.
The Muni passport entitles bearer to ride ALL Municipal Railway transportation within the city limits for 7 consecutive days from the date validated on the CityPASS booklet cover. The CityPASS Muni passport is valid on all Muni vehicles including Cable Cars. CityPASS holders may use the Candlestick BallPark Express for $8 surcharge.
A single one way ride on a Cable Car costs $6 (Muni bus: $2). The 1-day Muni passport costs $14 (3-day: $21 and 7-day: $27). Does not include BART.
How to get to each CityPASS attraction using Muni is listed on each attraction page on our website and also on the back of each CityPASS attraction ticket.
Click here
for up-to-the-minute alerts and notices about Muni services.
Weather
Currently
53°F
Sky Is Clear
Hi: 61°F Lo: 48°F
5-Day Forecast
Thu
Dec 12
Hi: 57°F
Lo: 30°F
Sky Is Clear
Fri
Dec 13
Hi: 56°F
Lo: 28°F
Sky Is Clear
Sat
Dec 14
Hi: 53°F
Lo: 24°F
Sky Is Clear
Sun
Dec 15
Hi: 52°F
Lo: 23°F
Sky Is Clear
Mon
Dec 16
Hi: 53°F
Lo: 28°F
Sky Is Clear
Weather Averages
Month
Jan
Feb
Mar
Apr
May
Jun
Jul
Aug
Sep
Oct
Nov
Dec
Avg high
°F (°C)
57
(14)
60
(16)
62
(17)
63
(17)
64
(18)
66
(19)
67
(19)
68
(20)
70
(21)
69
(21)
63
(17)
57
(14)
Avg low
°F (°C)
46
(8)
48
(9)
49
(9)
49
(10)
51
(11)
53
(12)
54
(12)
55
(13)
55
(13)
54
(12)
50
(10)
46
(8)
Avg rainy
days
12
11
11
7
4
2
0
1
2
4
9
12
Source: Wikipedia, NOAA
Dining
More Great Spots to Dine
Shopping
More Great Shopping
Nightlife
More Nightlife & Entertainment
Community
Blog
Forums
Photos
Buy Now
or at any CityPASS attraction
San Francisco CityPASS
Adult

ages 12+

Enter Qty
$145.90 $84
Child

ages 5–11

Enter Qty
$106.90 $59
Add to Cart
San Francisco CityPASS is a ticket booklet that saves 42% on unlimited cable car rides plus admission to the 4 best attractions in San Francisco